Excessive heat watch through Saturday: Here's how to take care of your pets
With temperatures spiking and heat indexes reaching 110 degrees in the next several days, the National Weather Service has issued an excessive heat watch for the St. Louis area through Saturday night.
The heat watch is in effect from Wednesday afternoon through 7 p.m. Saturday.
During the late afternoon on those days, temperatures could reach highs in the middle to upper 90s, with heat indexes reaching 105 to 110.
The NWS warns of "dangerously high" temperatures and humidity that can quickly cause heatstroke throughout the prolonged heat watch. The very young, the elderly and those without air conditioning are particularly at risk and are advised to limit strenuous outdoor activities.
Car interiors can reach lethal temperatures in a matter of minutes, the NWS adds.
Affected counties in the St. Louis region include St. Louis County, St. Louis city, St. Charles, Jefferson, Monroe in both Missouri and Illinois, Bond, Fayette, Madison, Montgomery, St. Clair, Franklin, Warren, Pike, Lincoln, Moniteau, Cole, Brown, Shelby, Audrain, Calhoun, Greene, Knox, Washington, Gasconade, Adams, Callaway, Marion, Osage, Boone, Macoupin, Clinton, Jersey, Marion, Lewis and Ralls.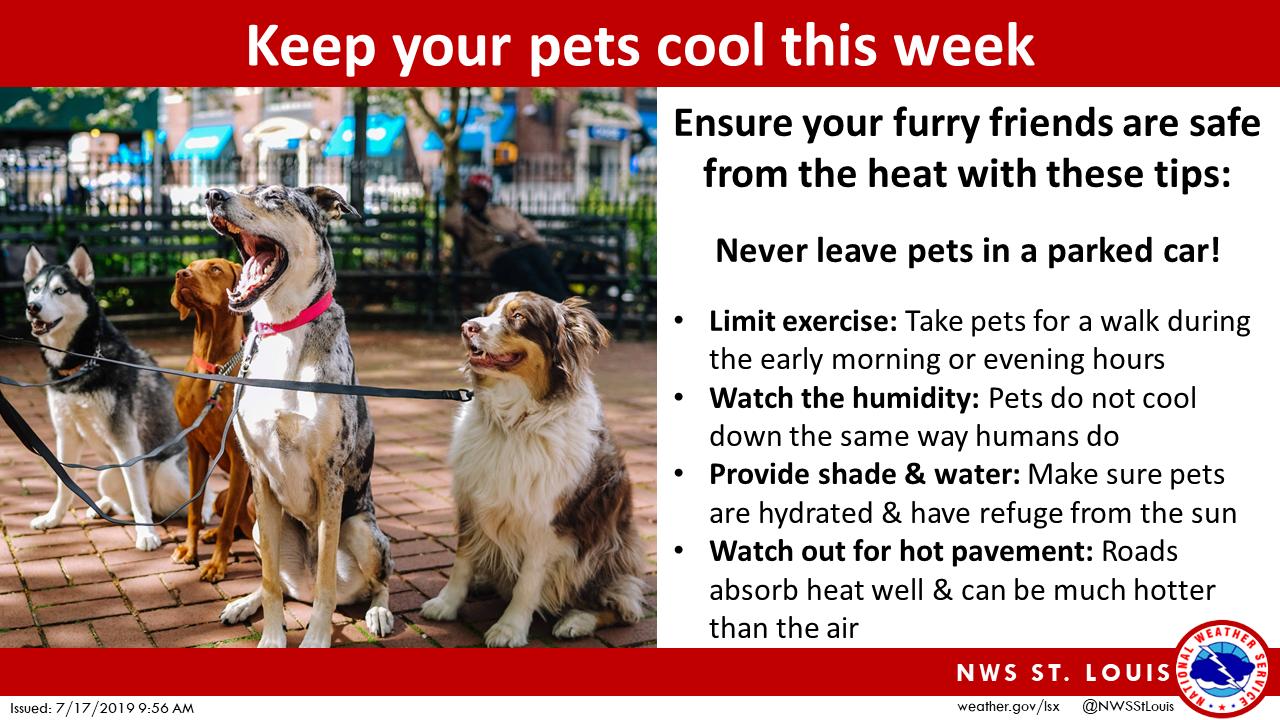 With temperatures 90-plus degrees, the Humane Society of Missouri is urging pet owners to take the proper precautions to ensure the safety of their furry friends in this extreme heat.
The Humane Society, located in St. Louis, offers these four summer safety tips for responsible pet ownership:
It Only Takes Minutes

Even when the temperature outside is a comfortable 70 degrees, inside a car, that can turn into well over 100 degrees before you know it. Remember the Humane Society of Missouri's lifesaving motto: "70 Degrees and Over, Don't Take Rover!"
Leaving a pet in a hot, unattended car, regardless if a window is cracked, is inhumane and can cause severe injury or death within minutes. If the Humane Society of Missouri staff see a pet left in a car, they will take action. Please understand they are acting in the best interest of the pet and attempting to avoid a tragedy.
Be Alert

If your pet needs to be outside, provide them with a shady spot and a bowl of clean water, ensuring they are protected from the sun at all times of the day. Secure a plastic (never metal) bowl to the ground so the bowl does not tip over or get too hot.
If your pet ever shows signs of heat exhaustion (excessive panting, vomiting, lethargic behavior, etc.), immediately apply cool water to their paws and stomach, then head to your veterinarian as soon as possible.
Don't Wait, Pick Up the Phone

Posting to social media that you've seen a pet alone in a car is not enough. If you see an animal in danger, don't be afraid to report it. You could save an animal's life just by picking up your phone. A pet showing signs of distress such as heavy panting, unresponsive behavior, seizure or collapse needs immediate attention. To report an animal in heat-related jeopardy, call your local police and the Humane Society of Missouri Animal Cruelty Hotline at (314) 647-4400
Leave Fido at Home

Beautiful sunny weather may tempt you into bringing your furry friend along for a run or bike ride, but heat stroke and possible death can occur in extreme temperatures. Pets will do everything in their power to keep up with their humans, putting their health at risk. Consult your veterinarian to see what summer exercise is best for your pet.
For more information on how to care for pets throughout the summer visit hsmo.org/hotweather.