Crestwood starts showing drive-in movies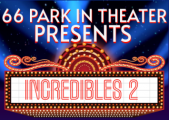 The city of Crestwood will show "Incredibles 2" as a drive-in movie, continuing its summer movie tradition even during a pandemic.
The Drive-In Movie will be shown at dusk Saturday, June 20 at the old Drive-In Theater parking lot, located behind the Crestwood Schnucks, 9540 Watson Road.
The movie will begin at dusk and everyone must stay in their vehicle throughout the event.
Registration is required and the cost is $20 per car, which must be handled ahead of time because no money will be handled the day of the event.
Click here to register (link).
This event is sponsored by the Crestwood Department of Parks and Recreation and Woodard Cleaning and Restoration.