Crestwood alderman announces run for mayor
Crestwood Ward 3 Alderman Scott Shipley is running for mayor in April. Current Mayor Grant Mabie will not seek reelection.  The position has a three-year term.
Municipal elections are Tuesday, April 4, 2023.
Shipley, who is in his second term as Ward 3 alderman after first being elected in 2019 and reelected in 2021, announced his run for mayor Dec. 6.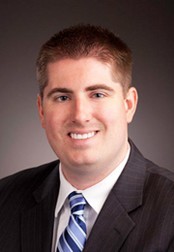 Mabie was first elected mayor in November 2018 after former Mayor Gregg Roby resigned halfway through his second term as mayor due to health reasons. Mabie was reelected in April 2020 at what would have been the end of Roby's term. Before his time as mayor, Mabie served two terms as the Ward 3 alderman from 2015 to 2018.
The mayor highlighted his family and professional obligations at Hein Schneider & Bond P.C., where he works as an attorney, as to why he is not seeking another term.
"I got involved in Crestwood government primarily to see through the redevelopment of the former Crestwood mall site. I am excited to see that goal on the cusp of fruition, along with economic growth and excitement all along Watson … I am confident that the future is bright," Mabie stated. "At this point, with a young family and increasing professional responsibilities … I have made the difficult decision not to run for a third term as the Mayor of Crestwood, Missouri."
The mayor also endorsed Shipley to take over the reins come April, stating, "I have every confidence that Alderman Shipley will continue to build on the recent progress we have made as a city."
"Mayor Grant Mabie has done a fantastic job and has provided Crestwood with strong leadership and vision. I am grateful for all the hard work that he has put in to make our community a much better place … and I am proud to accept his endorsement," Shipley stated in a press release.
A video announcing Shipley's intention to run for mayor can be found on his campaign website, shipley2023.org.