Court rules in favor of developer in Sunset Hills Court Drive lawsuit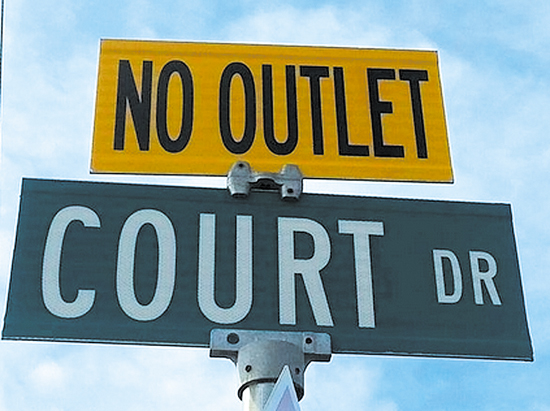 Whether or not Court Drive in Sunset Hills should remain residential or be rezoned to allow for commercial development could be up for question again after a St. Louis County judge ruled in favor of developer Dr. George Despotis, who sued the city in 2017 after officials repeatedly denied commercial rezoning for various properties he had under contract on or near Court Drive that were leveled in the 2010 tornado.
According to documents on Missouri Casenet, a judge ruled in July after five years of litigation that the city's repeated denial to rezone the tornado-damaged property from R-2 residential was "unreasonable, arbitrary and violated" Despotis's constitutional rights. Three times over the course of 2015 to 2017, Despotis presented plans to the city to rezone the tornado-damaged property on West Watson, Lindbergh and Court Drive to allow for a mixed-use development, petitioning that it made sense considering the increasing commercialization of Lindbergh Boulevard, which Court Drive is off of. The structures on parcels two through nine were destroyed in the 2010 tornado, as was a commercial piece of property owned by Despotis at 3825 S. Lindbergh Blvd., just north of the proposed development area.
The July judgment was later amended in October to award the plaintiffs the attorney's fees totaling $509,375, taxed against the city, after the plaintiffs filed a petition for fees under "special circumstances" to the general rule that a party must cover its own attorney and litigation expenses. Those special circumstances under Missouri law include "very unusual circumstances" that exist that equity "demands a balance of benefits" as well as a party's "frivolous conduct, recklessness or the absence of substantial legal grounds," both of which were cited in the final judgment.
"There's really two components to me that were noteworthy is No. 1, the fact that the court awarded attorney's fees at all under the special circumstances exception. It's pretty rare and it's particularly meaningful or particularly unusual … to have such an award against a municipality," Jill Rembusch, one of the plaintiff's attorneys, said to The Call.
City Administrator Brittany Gillett said the city cannot comment on an active case, however what happens next is largely up to officials since the court can't force a municipality to rezone. The draft agenda of the Nov. 9 Planning and Zoning Commission shows three petitions for a change in zoning, conditional use permit and preliminary development plan submitted by Olga Despotis Trust for a motor-vehicle oriented business at 12405, 12411 and 12417 W. Watson Road, which appears similar to one of the rejected plans in 2016.
"The court doesn't have the discretion to say 'You, Sunset Hills, have to zone this commercial' … All the court can do is tell the city it is unreasonable, it needs to be rezoned to something reasonable," Rembusch said. "I'm sure the city will appeal the judgment but in the interim, the Despotis Trust is submitting a petition to rezone … we expect the city will deny that … what happens if the city doesn't approve anything? I don't know."