'Black Lives Matter' sign causes Lindbergh High debate
A "Black Lives Matter" poster at Lindbergh High School hung for Black History Month sparked debate and some anger regarding race and students' rights in school.
The poster, which read "All Lives Can't Matter Until Black Lives Matter," spurred counterprotests by other students, which Principal Eric Cochran said were relatively small. Some students stood by the display holding signs that said "All Lives Matter."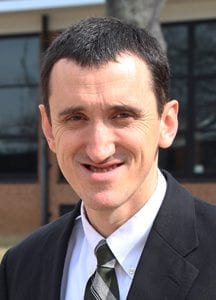 Cochran said of the events, "It's a real good opportunity to turn this into a teachable moment for our school and make us a better high school."
In early February, a group of students from the student group SIDE approached Lindbergh High School Ninth Grade Principal Madeline Raimondo about a Black History Month display. Cochran said the display is something that usually occurs every year at Lindbergh in February. But the wording this year focused on the "Black Lives Matter" movement.
"The question was asked to them, 'What's your rationale, what's your reason for wanting to do this? You'll have to be able to answer that question if people ask,'" Cochran said at the district's Student Life Committee meeting last week about the discussion that he and Raimondo had with students. "They said, 'Well, we feel that it was a very important event in black history and within the context of black history … we think that this will be something people talk about 50 years from now.'"
The administration approved including the piece in the display.
During the first two passing periods on Thursday, Feb. 14, students saw the poster, which had gone up overnight.
"I think what happened on Thursday was that the poster was up in a place that it wasn't clearly connected to some of the other things that were displayed, and I think some of our students took that as a political statement," said Cochran, who also said that other posters in the display highlighted Martin Luther King Jr. and other important civil rights leaders, scientists, political leaders, writers and other prominent members of the African American community.
The counterprotests happened during passing periods that same day, and the administration allowed the demonstration as long as students weren't disruptive and got to class on time.
"The majority of students who walked down the hallway were there out of curiosity," Cochran said. "It was a challenging day. I'm not going to pretend like it wasn't. It revealed some fault lines in our building that exist in all society."
Lindbergh Schools as a whole is majority white, with 84.7 percent of students enrolled in the district identifying as white, according to 2018 data from the Missouri Department of Elementary and Secondary Education, or DESE. Of other racial groups, 4.3 percent identify as Asian, 4.2 percent identify as Hispanic, 4 percent identify as multiracial and 2.5 percent of students in the district identify as black. At LHS, 85.9 percent of students identify as white, while 2.7 percent identify as black.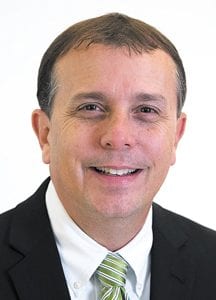 Some committee members questioned Cochran on how the administration was turning the event into a teachable moment.
"No. 1, ensure that students that were affected by what happened Thursday feel safe in our building," he said. "Job two is to make sure that we are hearing their voices. My other priority right now is to make sure that we are hearing from the students… At some point in time I'd love to see if we can get to a place where students on both sides of that poster are able to have some kind of dialogue. I think we need to get to a place though where we are certain that they're ready."
Assistant Superintendent Tara Sparks said that the teaching moments could fit into a larger ongoing effort of the district to support diversity and equity.
"We're doing it from a top-down component where we're doing some very specific, high-level training with our administrative staff," Sparks said at the meeting.
Sparks said they also plan to start an "Equity Team" comprised of teachers from each school, members of the Curriculum Advisory Committee, students and other board and committee members.
"That's all been the purpose of the work that we've been doing this year. Obviously it's highly relatable right now with what happened at the high school, but that's the direction we've been on," said Sparks. "We all know these are highly sensitive topics, so we have to do it well."
Rumors circulated that the sign had been placed next to a poster honoring late St. Louis County Police Officer Blake Snyder, who died on duty in Green Park in 2016, but Cochran said that was untrue and each of those displays were entirely separate.
Others questioned the legality of allowing students to hang political posters in schools, but Cochran pointed out the poster was meant within the larger context of a Black History Month display.
And even if it was political, public schools cannot completely stop students from expressing their First Amendment rights even while on campus.
"Kids do not check their free speech rights at the door," Superintendent Tony Lake said. "So as long as there isn't a substantial disruption to the learning environment, then kids have a right to their free speech. If that free speech is causing a substantial distraction to the learning environment, you can't have that happen, so the courts have been really clear about that."