As Stenger goes to prison, Page signs ethics executive orders that fire employees who don't report corruption
By Gloria Lloyd
News Editor
glorialloyd@callnewspapers.com
As his disgraced predecessor heads to prison for public corruption this week, County Executive Sam Page held a public signing ceremony to sign four executive orders for ethics reform that, among other things, will require county employees to report corruption or risk being fired.
Page took office April 30 after Stenger resigned April 29 and pleaded guilty May 3 to federal felonies of theft of honest services, bribery and mail fraud. The former county executive reports Saturday to serve four years at a prison camp in Yankton, South Dakota.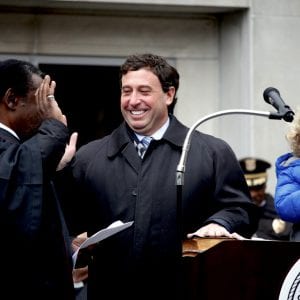 As Page signed the ethics orders Wednesday, he made much of the fact that he signed them at the same desk where former County Executive Steve Stenger — who he called a "power-hungry, prison-bound man" — "held court during his pay-to-play scheme, stuffing drawers with unsigned contracts until the winning bidder agreed to payoffs."
The symbolism of signing the executive orders at that very desk was intentional on the part of the new county executive.
"This is symbolic, yes, but it's also a clear sign that we are serious about good government in St. Louis County," Page said in a news release. "We are not only cleaning up the mess we inherited, but we're setting the standards for now and the future."
The executive orders will:
• Create a code of ethics for county employees.
• Establish a zero-tolerance policy for failure to report corruption.
• Implement a policy to always favor disclosure over closure regarding the Sunshine Law.
• Require a data portal on the county website to provide more access to the public.
The orders come on the heels of a whistleblower protection law that Page signed into law last month that will provide an anonymous fraud hotline for county employees who want to report wrongdoing, along with protections that those who blow the whistle on corruption will not be fired because of it. Days before signing the executive orders, he also proposed "cone of silence" legislation that would ban county contractors from contacting county officials during the bidding process.
Page said the executive orders, along with the previous and proposed ethics legislation, will create a "zero tolerance policy for corruption in county government" and expand ethics laws in the county to a level that have never before existed.
As he signed the orders, he said, "The 18th day of September is going to be a big day in county history, that's for sure."
He said he wanted to implement the reforms through executive orders rather than changing county ordinances because it was quicker and because the reforms mostly involve departments that he oversees, but he would eventually look into getting them codified into county law so that a future county executive couldn't revoke them.
The reforms cover all county departments, including the St. Louis County Police Department and the prosecuting attorney's office, but they do not cover the St. Louis Economic Development Partnership or the county Port Authority, which are operated under boards appointed largely by the county executive.
The biggest change among the reforms comes in the new county employee code of ethics, which requires employees to report corruption if they see it rather than idly stand by as some employees did during Stenger's administration.
"You have an obligation to report corruption, and if you're aware of something and you don't report it, you'll be terminated," Page said.
He contrasts that with what federal prosecutors have said of Stenger — that he threatened to fire employees who didn't take his marching orders. His attorney Scott Rosenblum, however, said at Stenger's sentencing that Stenger never actually carried through on any of those threats.
Employees can comply with the new ethics code by reporting any illegal activity or fraud directly to the county executive's office or through the whistleblower hotline.
The county will now also collect conflict-of-interest disclosures for all appointed county officials, matching the statewide requirement for all elected officials.
When it comes to responding to Sunshine Law requests for public records, Page said the county is going to start using more resources to properly respond to both requests and Sunshine Law complaints.
In the past, the county would reject requests that sought information that had anything that should not be released to the public, Page said. But going forward, the county will redact documents to take out health and other information that should not be released, and release the document with those redactions.
Of the data portal, Page said, "Everyone can see our transactions and we'll have more access to the public."
He plans to post the most frequently requested records through the Sunshine Law directly on the portal, and he would like to include county contracts and spending.
Although Stenger touted his budget portal featuring line by line budget items, Page noted that the approved budget is not the one that necessarily ends up getting spent and doesn't include the contracts to spend that money.
Elaborating on his desire to sign the ethics reform orders at the desk where Stenger once governed, Page showed reporters the cabinet behind the desk and said that once he moved in, he found a stack of unsigned county contracts from two years ago on the shelf inside. He surmises that Stenger was refusing to sign them until he received a campaign donation from those businesses.
"It was apparent that contracts that were sent here for signature, if they didn't have the right relationship with the county executive, they were just stuffed in a drawer and ignored," he said.