All Missouri businesses can reopen today with some restrictions, except in St. Louis
Starting today, all Missouri businesses will be able to reopen with certain restrictions under the first phase of Gov. Mike Parson's Show Me Strong Recovery Plan, which extends through May 31.
But the 1.3 million residents of St. Louis County and St. Louis city remain under stay-at-home orders issued by County Executive Sam Page and Mayor Lyda Krewson. Page promised Monday he would release his own plan this week to end his stay-at-home mandate, which is in effect indefinitely, but at least through May 15. Krewson has said her order will remain in place through at least May 15 too. Parson is a Republican, and Page and Krewson are Democrats. The St. Louis area has 65 percent of the cases in the state as of May 4. 
The Missouri Department of Health and Senior Services reported 8,386 cases of COVID-19 in Missouri as of 2 p.m. Sunday, including 352 deaths. That compared to the 7,171 cases and 282 deaths reported at the time Parson made his April 27 announcement. 
The governor's plan, unveiled April 27, rests on four pillars: expanding testing capacity and volume in the state, expanding reserves of personal protective equipment, continuing to expand the state's health care capacity if necessary and improving the ability to predict outbreaks using state data.
Parson said favorable data and approval from state health officials informed his decisions but that the process of fully reopening will be gradual.
"This will be the turning of a dial, not the flip of a switch," he said.
Reopening businesses
Parson said under the plan, hospitals can perform elective procedures they haven't been able to perform and that as long as certain social distancing requirements are met, people can go back to church, restaurants can reopen and retail and small businesses can reopen. People at manufacturing businesses can also go back to work, and barbershops can reopen with protective guidance in place.
For example, retail businesses will have occupancy limits based on their size. Restaurants can reopen with restrictions on the space between tables and the number of people at any one table.
"Opening these businesses is going to look very different for a while," Parson said. "But I am confident Missourians will abide by the guidance as we move forward…. All businesses can open under this order as long as the guidelines are followed."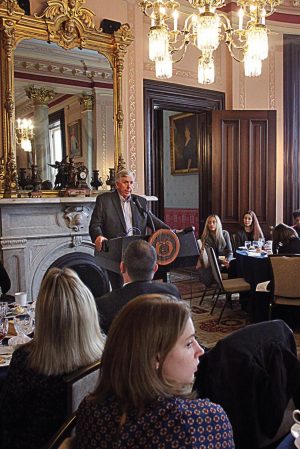 Nursing homes, long-term care facilities, retirement homes and assisted-living homes will continue to operate under significant restrictions, with access limited to those providing critical assistance or dealing with end-of-life circumstances.
Rob Dixon, director of the Missouri Department of Economic Development, said that reopening businesses is an important step in the recovery process, but that people must continue to be vigilant under a "new normal."
"This is not a return to normal, instead it's the beginning of a new normal, and all of us — our businesses, our communities, our citizens — are going to have to learn how to operate safely," Dixon said.
Modifying physical work spaces, limiting employee access to common areas and continuing teleworking, if possible, are some measures businesses can take to limit the spread of COVID-19 as part of the state's gradual reopening, Dixon said.
Parson said that people have different views about what could have been done throughout the state in response to COVID-19 but that ultimately people should remember how many Missourians stepped up to work together in the face of uncertainty.
"At the end of the day, we're going to look back on this, I believe, and Missourians are going to find out people made decisions they thought were right for the right time, for the right people across this state," Parson said.
Expanding testing
MO HealthNet Director Todd Richardson, the former House speaker, said Missouri has rapidly expanded its testing capacity and its access to testing supplies, and that these expansions have prompted the Missouri Department of Health and Senior Services to expand its guidelines for who can be tested at the state public health laboratory. Richardson said that private physicians "should feel comfortable and encouraged to order tests through private labs, at their discretion."
Additionally, Richardson said that last week the state's partnership with local health agencies was set to begin a community sampling program in areas hit hard by COVID-19, which will give the state more data and a "snapshot of disease spread" in key areas.
Richardson cited the launch of a personal protective equipment marketplace developed by Google, which lets public and private buyers and sellers of PPE determine demand and supply of all types of equipment. Richardson said that as of the morning of April 27, there were almost 900 buyers and 223 suppliers registered in the marketplace and that purchases will be used to supplement existing PPE supply chains overseen by the State Emergency Management Agency.
Health care capacity
Parson said that Missouri's hospitals are stable and that all regions have shown reductions in the hospitalized COVID-19 cases except for St. Louis, which had seen an apparent stabilization but not reduction of cases at the time of the governor's announcement.
Missouri Hospital Association CEO Herb Kuhn said that a "phased-in resumption of elective procedures" will focus on suppressing the spread of the virus, protecting patients and health care workers, and delivering safe care.
"The suspension of some of these procedures could be done safely and without risk to patients, but others may no longer be safe to postpone," Kuhn said. "Ultimately, it's a decision between a patient and their physician on whether to proceed with a medical procedure, but it's important to understand that we find a balance between the risk between community exposure of COVID-19 and suspended health care for existing conditions."
Kuhn also said that people should "not delay in seeking care" if they are having an emergency, including experiencing symptoms of life-threatening illnesses.
"Hospitals are safe and ready to help," Kuhn said. "The sooner you seek care, the more likely it is that you're going to have a better outcome."