At 101 years old, Crestwood resident Adam Tooley is the oldest living member of the Coalminers' Union of Southern Indiana.
Crestview Senior Living resident Tooley was honored by the miners' union in a ceremony at the assisted-living center Feb. 18. The union honored him with a 70-year plaque and a pin for his hat. Tooley is the longest-living member of the Local 5179 Coalminers' Union.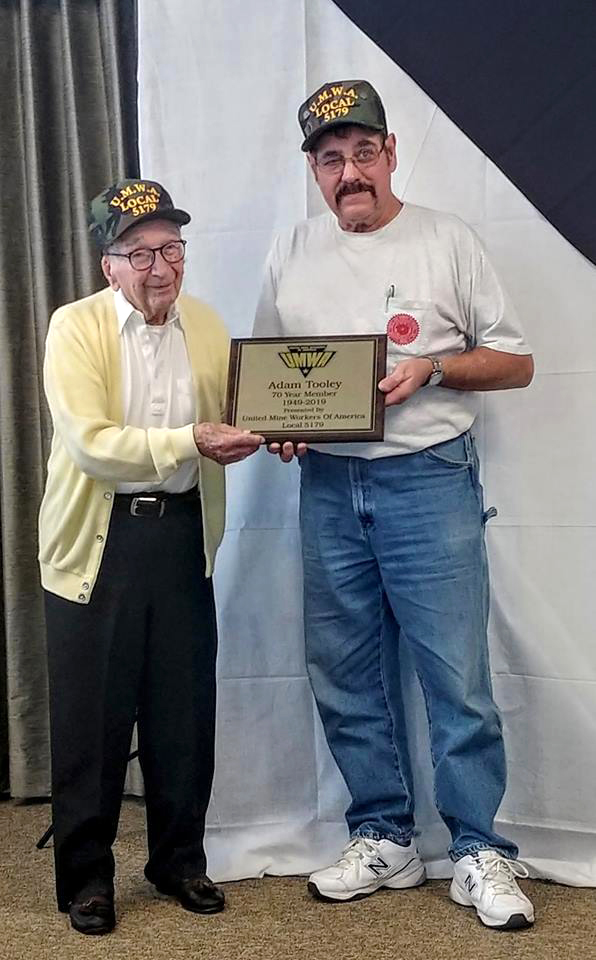 Tooley had worked as a welder in the Enos mine in southern Indiana near Oakland City before he retired and started his own handyman business in Atlanta, Georgia. In addition to his business, Tooley and his wife also managed 1,800 rental apartments.
The president of the Coalminers' Union of Oakland City, Indiana, Robert Schumacher, presented the award to Tooley.
"Mr. Tooley, you well deserve this," Schumacher said. "We are proud to present you with this."
Tooley has been a member of the union since 1949. He praises the miners' organization for its strength: "This is one great organization and still is. The mining industry seems to be disappearing, but these guys are still hanging in there, and they always will. They'll never give up… It's just a big honor to me to belong to (the union)."
Norma Probst, a director at Crestview, said that Tooley has been a resident for about two years, since 2017. Probst added that Crestview has not had someone honored like Tooley.
"We've never had anybody be honored like that here," said Probst. "They traveled from another state" to recognize Tooley.
The delegates from the union came from both Indiana and Kentucky.
Tooley's son, Michael Tooley, said that his family was thrilled about his father receiving the honor.
"We were very excited about that. Dad was just thrilled by that," said Michael. "It was quite the honor."
Michael Tooley said that most of his father's time working for Enos was spent outside repairing and working on equipment.
"(In southern Indiana) it's extreme weather. Either hot or very, very cold," said Michael. "He experienced it all."
Tooley is hoping to go back to southern Indiana at Labor Day this year so he can participate in a Labor Day parade with his brothers from the union.
Tooley will also be doing some international travel in a couple of months when he turns 102.
"I asked him if he knew what a bucket list is, but he said he didn't," his son said. "So when he turned 100, I asked him what is something he's always wanted to do… and of all the things, he said he wanted to see the Panama Canal, so two days after his 102nd birthday, we are going to go on a cruise to the Panama Canal."
Tooley will turn 102 on Oct. 18.