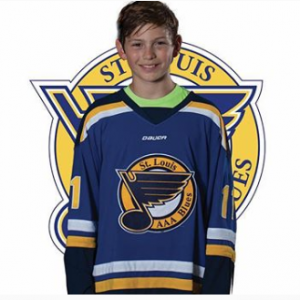 Two worlds collide in this week's edition of The Call.
First, the newspaper's masthead this week honors the St. Louis Blues, who are playing in Game 7 of the Stanley Cup Finals tonight.
This week's newspaper also features the dedication ceremony the Mehlville Fire Protection District held in honor of naming its EMS training center the "Dr. Christopher J. Bosche EMS Training Center" in May.
Bosche, the late medical director of the fire district, died in 2017 of cancer that he developed from his exposure as a Ground Zero responder after the 9/11 attacks in New York City.
And those two stories are connected because Bosche was "forever a Blues fan," as stated in his obituary.
Before Bosche died Sept. 12, 2017 after a three-year battle with cancer, the Blues honored Bosche as their "hometown hero" during a home game, an emotional moment that the Blues captured on video and posted on social media.
He was an emergency room physician at Mercy Hospital-St. Louis in addition to serving as medical director of the Mehlville Fire Protection District since mid-2008.
As a member of Missouri Task Force 1, he responded to emergencies including Hurricane Katrina and the Joplin tornado.
Bosche was so well known in Missouri that when he died, then-Gov. Eric Greitens ordered flags in St. Louis County to fly at half staff.
A love of hockey runs in the family too: Bosche's son Jacob played for the St. Louis AAA Blues hockey team. In a tweet mourning his death, the Blues called Bosche a "@BluesAAA dad."
Jacob and the team went on to win the 14U Tier 2 National Championship this past April.
Our thoughts are with @BluesAAA dad Dr. Chris Bosche and his family. We were honored to have you serve as a Hometown Hero. #BoscheStrong pic.twitter.com/9ztGern2PR

— St. Louis Blues (@StLouisBlues) August 1, 2017
The Mehlville Fire Protection District dedicated its new EMS training facility to Dr. Bosche last month. For more information on the Dr. Christopher Bosche EMS Training Center, read our article on the facility.