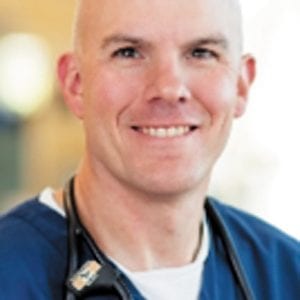 The Mehlville Fire Protection District dedicated its new EMS training facility last month in honor of Dr. Christopher Bosche, the district's late medical director who in the eyes of administrative staff contributed more than anyone else in recent memory to the fire district.
Bosche died Sept. 12, 2017, after a three-year battle with cancer, the result of his exposure as a Ground Zero responder after the 9/11 attacks in New York City.
Bosche had served as medical director of the fire district since mid-2008. On July 26, 2017, the fire board unanimously adopted a resolution to rename the district's EMS training facility the Dr. Christopher J. Bosche EMS Training Center.
Bosche initiated training programs that used the fire district's SimMan mannequin and trained paramedics in "time critical diagnosis," or early recognition of heart attack and stroke patients.
Bosche also designed a treatment process called "Pit Crew CPR," a method that ensures high-quality CPR with minimal interruption. As a result of this process, the district's out-of-hospital cardiac arrest resuscitation survival rate improved dramatically.
"May we all be reminded of the example Chris Bosche set and be reminded of the contributions he made to the fire protection district," said Fire Chief Brian Hendricks at the dedication ceremony May 22. "There is no one that is more deserving of this honor, and his contributions will be felt for many, many years to come."
In attendance at the dedication ceremony were Bosche's wife, Amy, and his two children, Jennifer and Jacob. Board of Directors Treasurer Bonnie Stegman presented Bosche's family with a plaque honoring him.