Vegetarian meals worth the time to prepare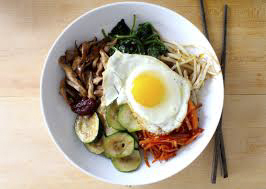 By Bill Milligan
For the Call
 My son married a girl who turned vegetarian while she was pregnant. I know that seems like a trifling thing, but when you're cooking for a family it can become a major hardship.
Especially if the cook isn't all that fond of vegetables.
I admit it: I like vegetables as a side dish, but the idea of vegetables as a main course just leaves me wondering "where's the meat?"
Luckily Ali's vegetarian lifestyle lasted only until her daughter was born. And being the proud father that I am, I took her "disability" in stride and welcomed cooking for her as a new challenge.
   While we were returning to LaGuardia International Airport in New York City from visiting Ali and our son Colin, I promised to come up with a vegetarian meal for Ali before I saw her again.
"Alibop" was my first attempt. Vegetarians have made this meal for a long time as "Bibimbop." I couldn't understand the name, so I changed it to "Alibop" in honor of the girl who inspired it.
Alibop
8 oz. water packed, firm tofu
¼ cup apple cider vinegar
2 tbsp. sugar
2 tsp. garlic, minced
1 tsp. fresh ginger
¼ tsp. crushed red pepper
1 cup julienned carrot
2 tbsp. soy sauce
3 tbsp. dark sesame oil
3 cups wild rice
1 cup bean sprouts
5 oz. shitake mushrooms
8 oz. baby spinach
1 tsp. butter
4 tsp. chili paste
¼ tsp. kosher salt
Cut tofu into ¼-inch cubes and place on a double layer of paper towels. Cover with more paper towels and let sit, pressing down on the tofu occasionally to drain, for 30 minutes.
   Mix vinegar, 1 tsp. sugar, ½ tsp. garlic, ½ tsp crushed red pepper in a small saucepan and bring to a boil. Add carrots, remove from heat and let stand for 30 minutes.
   Place tofu in a medium mixing bowl with 1 tsp. sugar, ½ tsp. garlic, ½ tsp. ginger, soy sauce and 1 tbsp. sesame oil, stirring with a whisk. Add 1 tbsp. soy sauce mixture to tofu, mix and let stand 15 minutes.
Heat rice according to package directions. Heat cast-iron skillet over high heat 4 minutes. Add 1 tsp. sesame oil and swirl skillet to coat. Add 1½ tsp. soy sauce mixture and bean sprouts to pan. Saute for one minute.
Repeat this process with mushrooms, cooking for two minutes. Next add 2 tsp. of soy sauce mixture to pan and cook for two minutes. Keep what you have prepared to this point warm in the oven at 175º.
Next add 1 tsp. sesame oil to the pan, 1 tsp. garlic, and 1 tsp. soy sauce mixture to the pan. Saute for 30 seconds. Add spinach and stir fry until it wilts. Remove to the dish you're keeping in the oven to warm what you've already cooked.
Reduce the heat under the saute pan to medium and melt your butter. Crack eggs into the pan and cook for four minutes, or until done. Remove from heat.
Place the rice into a bowl for each person you're serving. Top each serving with carrots, sprouts, mushrooms, tofu, and spinach. Top each serving with one egg and 1 tsp. chili paste. Sprinkle with salt if desired.