News analysis
By Mike Anthony
Executive Editor
news1@callnewspapers.com
Politics dominated the past year, both locally and nationally.
Locally, we saw a divisive election last April for a seat on the Mehlville Fire Protection District Board of Directors that ultimately led to new leadership for the firefighters' union and a pledge from the union to work with the fire board, ending a more than 12-year acrimonious relationship.
We also saw politics permeate the Lindbergh Board of Education election last April, not to mention political maneuvering and infighting between members of the County Council and County Executive Steve Stenger.
But without a doubt, Aaron Hilmer's election to a third term on the Mehlville fire board is the top story of 2017.
Hilmer, first elected to the board in 2005, prevailed over challenger Jane Kolb in the April election to win an unprecedented third six-year term on the fire board.
International Association of Fire Fighters 2665, Mehlville Firefighters Local, a nonprofit corporation controlled by the then-Mehlville Local 2665 shop leaders, contributed $38,250 to a firefighters' union political action committee in support of Kolb.
But since the election, the leadership of Mehlville Local 2665 has changed, and Capt. Ty Cardona, newly elected shop steward/president of Mehlville Local 2665, pledged in November that the firefighters' union will work with the Board of Directors and the administration.
We believe the district has a bright future as employees, the board and the administration work together for the benefit of the district and the entire community.
No. 2 — Candidates backed by teachers' union win majority of seats on Lindbergh Board of Education.
For years and years, the political ideologies of Lindbergh school board members were a mystery, at least publicly.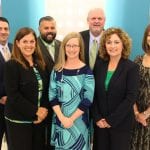 But that wasn't the case in the April election, as candidates backed by the Missouri National Education Association and the Lindbergh National Education Association won election to four seats — Matt Alonzo, a Parkway teacher; Cathy Carlock Lorenz, a Parkway administrator; Mike Shamia, whose wife is a district teacher; and Christy Watz.
Not surprisingly, the board and the LNEA reached an agreement in May on a contract for the 2017-2018 school year that provided an average 3-percent salary increase, ending a roughly two-year dispute over pay.
The dispute between teachers and the district started soon after Kim Scronce took over as LNEA president in 2015 during negotiations over a 3.2-percent average raise.
Teachers sought a 3.5-percent increase instead, which would have required $29,000 in cuts or deficit spending.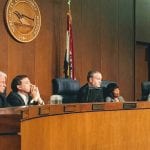 No. 3 — Majority of County Council at odds with county executive.
The past year saw a majority of the County Council led by Chairman Sam Page and Stenger, both Democrats, at odds over the council's hiring of Mark Tucker as auditor, the budget and other issues.
Stenger contends Tucker is woefully unqualified for the auditor's job, since he has yet to produce a single audit despite being on the job nearly a year. But 6th District Councilman Ernie Trakas, R-Oakville, and three other council members filed a lawsuit to force Stenger and two other county officials to bow to the council members' wish to fully staff the county auditor's office.
No. 4 — County, Crestwood voters OK tax-rate increases.
In April, county voters approved Proposition P, a half-cent countywide sales tax for police and public safety.
The measure is estimated to generate $80 million annually, $46 million for the county and $34 million for all its municipalities, and resulted in dramatic pay increases for county police and Justice Center employees.
In Crestwood, voters overwhelmingly approved a 45-cent property-tax increase after Mayor Gregg Roby called on a representative of IAFF Local 2665 to enlist the support of firefighters and police to help pass the ballot measure.
In November, roughly 75 people jammed the city's Aldermanic Chambers to voice their support for IAFF firefighters and police officers, represented by Teamsters Local 610. Many speakers contended city officials were not fulfilling the promises made after approval of Prop P and Prop C.
No. 5 — Crestwood files suit against Affton Fire Protection District.
In May, Crestwood filed a lawsuit against the Affton Fire Protection District challenging the constitutionality of two state laws requiring the city to make annual payments to the district for providing fire service to an area Crestwood annexed in 1997. Since 1997, the city has paid Affton over $5 million.
No. 6 — Great American Solar Eclipse truly magnificent.
An event with so much hype leading up to it seldom delivers. But the Great American Solar Eclipse on Aug. 21 was truly magnificent when the moon blocked the sun, blazing a path of totality from Oregon to South Carolina.
St. Louis had not seen a total solar eclipse in 575 years, and the next one will not pass directly by until 2505.
No. 7 — Mehlville opens school of innovation, Mosaic.
The Mehlville School District opened its new school of innovation, Mosaic Elementary, in August, a school unlike any other in the region and only a few in the nation.
No. 8 — Lindbergh Schools' sixth elementary school, Dressel, officially opens.
Lindbergh Schools officials, students, parents and community members gathered Aug. 2 for a ribbon-cutting ceremony marking the opening of the state-of-the-art Dressel Elementary School. The 650-student school, designed to help alleviate the district's surging enrollment, was at capacity when classes started in mid-August.
No. 9 — Trakas takes office; recall effort launched.
Trakas, a Republican Oakville attorney, was sworn in Jan. 1 to represent the 6th District on the County Council.
During the past year, Trakas has forged an unlikely alliance with three council Democrats in suing Stenger over staffing the county auditor's office.
In June, a political-action committee called "Voices of District 6" launched an effort to recall Trakas, contending a "failure to comprehend and/or adhere to the county Charter," "lack of basic understanding of local governance" and "abuse of power."
No. 10 — No tenants announced for former Crestwood mall site.
Aldermen in March 2016 awarded $25 million in tax incentives to UrbanStreet Group of Chicago for a roughly $104.3 million redevelopment of the former Crestwood Plaza, but no tenants have been announced for the project.
"… The current developer is committed to making this project a reality, but it is possible they could sell the entire property to someone else wanting to develop it who would be bound by his redevelopment agreement …," Roby posted on Facebook Saturday.