Tigers rout Warriors in state quarterfinal
Oakville scheduled to tackle Hazelwood Central Saturday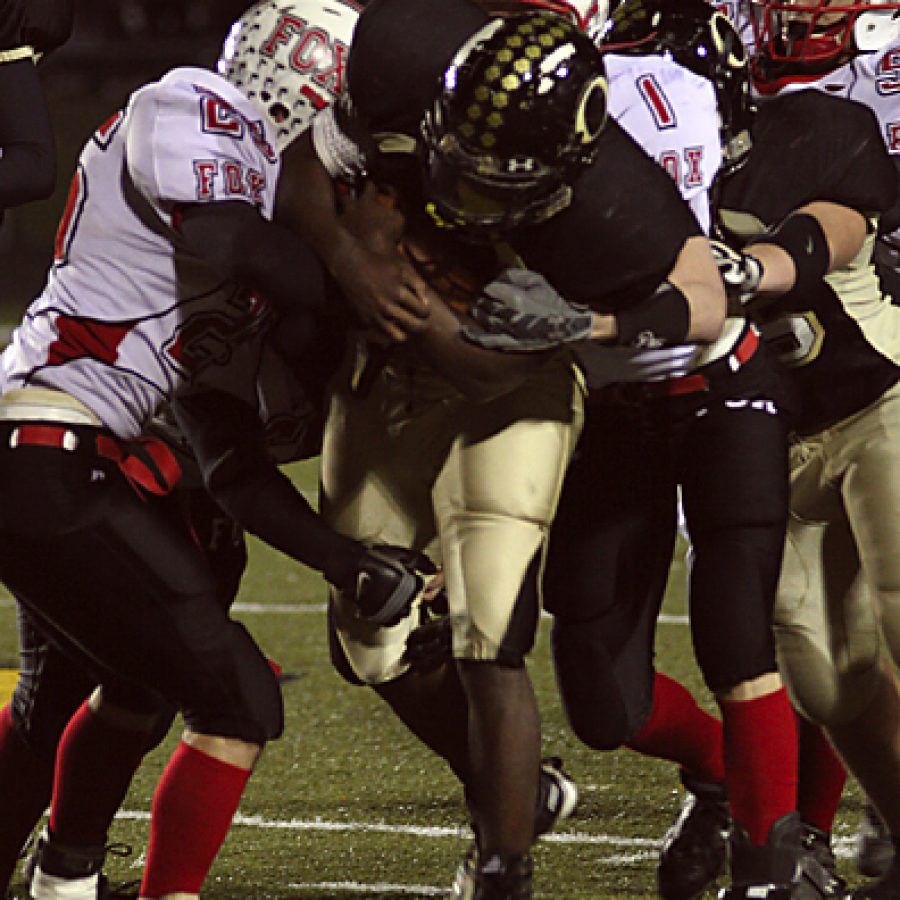 After losing to Fox Senior High School 39-26 in last year's Missouri Class 6 football quarterfinal, the Oakville Tigers were determined not to repeat the past.
And the Tigers didn't, overwhelming Fox 45-17 Friday night at home in the state quarterfinal.
"Considering all the things we had going on, we came out focused and ready to play," Oakville head coach Arlee Conners said. "We knew we had better talent than they did and on our field we could do a lot more things with our team."
The win for Oakville (9-3, 4-3 Suburban West) now puts the Tigers in unfamiliar territory as they will face Hazelwood Central in the Missouri Class 6 state semifinal.
Oakville wasted very little time against the Warriors (9-3, 6-0 Mississippi Area Red) as Darnell Cooper grinded in a 1-yard touchdown run with 7:35 left in the first quarter with Andrew Messmer kicking the extra point. Cooper carried the ball nine times for 69 yards.
"Darnell came to play on Friday," Conners said. "He's really making the best of his ability to run and catch the ball right now."
The Tigers increased their lead to 13-0 when quarterback Joe Plassmeyer scored on a 1-yard run with 1:01 left in the first quarter. A two-point conversion pass from Mike Deguire to Zach Melber gave the Tigers a 15-0 advantage. Plassmeyer carried the ball nine times for 60 yards.
"Joe really managed the offense Friday," Conners said. "He's got the understanding of keeping the drive alive and moving the chains for us."
Oakville continued its assault on the Warriors when Plassmeyer connected with Mike Cyliax for a 5-yard touchdown pass with 11:36 remaining in the second quarter.
After the extra point was missed, the Tigers were ahead 21-0. Cyliax led the Tigers with five catches for 42 yards.
"Mike continues to do what he's done for us all year long," Conners said. "He can do a lot of different things for us in the passing game."
Plassmeyer completed 22 of 28 passes for 252 yards and scored three touchdowns.
"Joe just saw the field really well and was just on top of his game," Conners said. "We're going to need him to be able to make those big time decisions for us (against Hazelwood Central)."
Fox finally responded to the Tigers 21-point outburst when Nick Bartolotta nailed a 29-yard field goal with 5:08 left in the second quarter.
The Tigers nailed a field goal of their own when Messmer hit a 29-yarder with 2:32 remaining in the second quarter to give Oakville a 24-3 lead.
"Andrew had a rough night," Conners said. "He had a couple of extra-point opportunities that got past us, but when we called on him, he did really good for us."
The Warriors then cut into the Tigers' 24-10 lead on a 6-yard touchdown by Jordan Clerkley with 1:0 left in the second quarter. Clerkley carried the ball 24 times for 185 yards.
Oakville finished the first half with an 11-yard touchdown pass from Plassmeyer to Dallas Terry. Terry racked up five receptions for 40 yards.
"Dallas started every game for us this year," Conners said. "It was good to see him finally get into the end zone."
The third quarter essentially was the same story for the Tigers as running back Paul Taylor caught a 15-yard touchdown pass with 8:44 left in the quarter to give Oakville a 36-10 lead.
A two-point conversion run by Mike Deguire gave the Tigers a commanding 38-10 lead. Taylor racked up four receptions for 58 yards and one touchdown.
"Paul's a kid that works extremely hard and is so passionate about winning," Conners said. "It's really nice to see things materialize for him."
The Tigers scored their final touchdown of the game on a 5-yard run by Cooper with 5:59 left in the third quarter for a 45-10 lead.
Fox brought the game to 45-17 on a 1-yard touchdown run by Clerkley with 4:16 left in the fourth quarter and a successful extra point by Bartolotta.
Oakville will travel to Hazelwood Central to face the Hawks at 1 p.m. Saturday.
"Hazelwood Central is a team that has a lot of tradition associated with their football program," Conners said. "It's going to be a rare opportunity to go up against one of the elite football programs in the state."