We're all staying home, and the bright side of this new reality is that we can spend more time cooking.
Here's the perfect dinner for a spring or summer night in. For more recipes, visit the Around the Kitchen section at www.callnewspapers.com.
When I decided to start cooking like a vegetarian, I thought of pasta, and that made it an easy conversion for me. And everyone loves tomatoes and basil.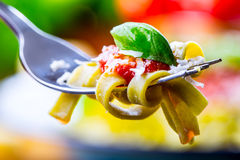 Fettuccine With Basil-Tomato Sauce
2 lbs. fresh tomatoes, chopped
2 tbsp. honey
2 tbsp. balsamic vinegar
2 tbsp. fresh basil
1 tbsp. fresh chives
1 tbsp. fresh parsley
2 garlic cloves, minced
1 lb. fettuccine
Basil leaves to garnish
Combine tomatoes, honey, vinegar, basil, chives and garlic in a large serving bowl. Season with salt, pepper; whisk to blend.
Bring a large pot of water to boil. Cook pasta according to package directions. Drain.
Toss pasta with sauce. Season with salt, if desired, and pepper. Garnish with fresh basil leaves, and serve.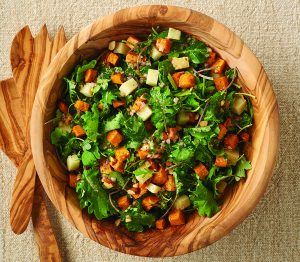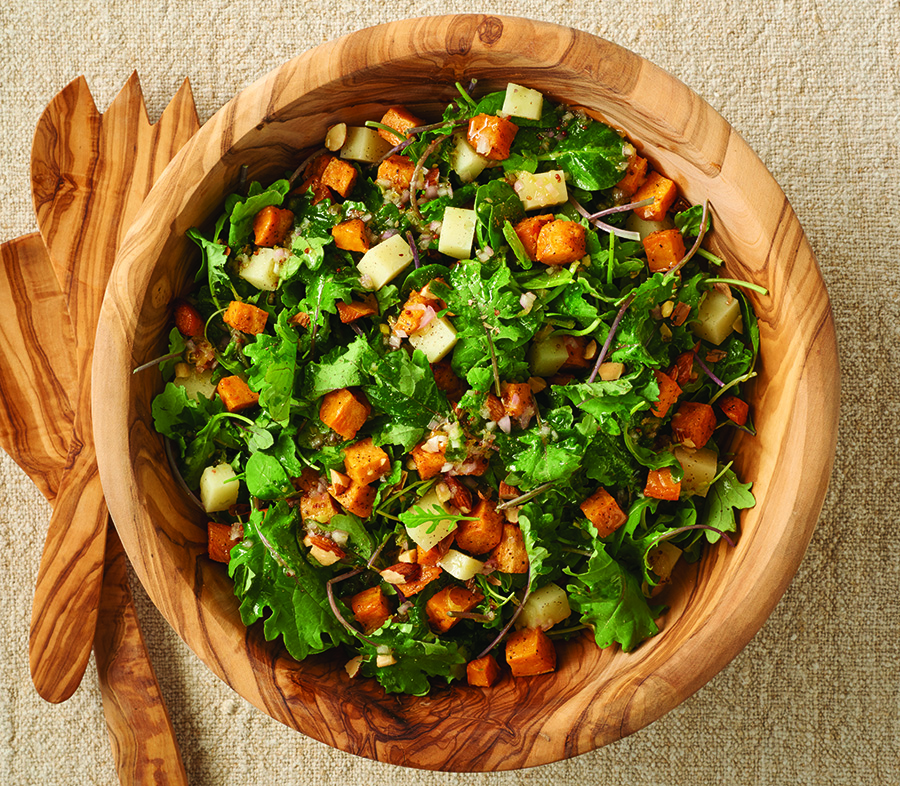 Arugula & Peach Salad
10 oz. arugula
4 peaches
2 red bell peppers, finely chopped
½ cup slivered almonds
2 tbsp. olive oil
2 tbsp. white balsamic vinegar
1 tbsp. orange juice
½ tsp. grated orange zest
¼ tsp. salt
¼ tsp. cayenne pepper
Combine sliced fresh peaches in a large mixing bowl with fresh arugula, bell peppers and almonds.
Whisk together oil, vinegar, orange juice, orange zest, salt to taste and cayenne in a separate bowl.
Before serving, toss dressing with the salad.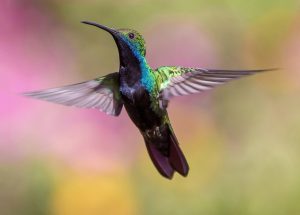 Hummingbird Cake
3 cups flour
2 cups sugar
1 tsp. salt
1 tsp. ground cinnamon
3 large eggs, beaten
1½ cups vegetable oil
1½ tsp. vanilla extract
1 8 oz. can crushed pineapple, undrained
2 cups chopped bananas
1 cup chopped pecans
shortening
cream cheese frosting
½ cup chopped pecans
Preheat oven to 350 degrees. Whisk flour, sugar, salt, baking soda and ground cinnamon in a large bowl. Add eggs and oil until all the dry ingredients are moist.
Stir vanilla, pineapple, bananas and a cup of toasted pecans into your cake mixture.
Spread the batter into three separate cake pans, greased with shortening and dusted with a light coating of flour. Bake for 25-30 minutes. or until a wooden toothpick inserted in the dough comes out clean. Cool cake pans on a wire rack for one hour, or until cooled completely.
Place one layer of cake on a serving platter and spread with ⅓ of your icing. Repeat the process with second and third layers of baked batter. Arrange toasted pecan halves in a circular pattern over the top layer of cake and then comes the best part: enjoy.