St. Louis County has first death from coronavirus; virus reaches community spread
St. Louis County had its first death from coronavirus Friday, a woman in her 60s who is a case of community spread, officials said.
"Today is a sad day in St. Louis County," County Executive Sam Page said at a press conference. "Today we learned that a county resident died from the coronavirus. These are words that I prayed that I would not have to say."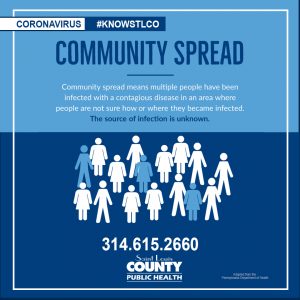 The patient was diagnosed with the virus this week and died in a hospital, Dr. David Tannehill from Mercy Clinic said. The woman had underlying complications other than the virus. She was tested immediately on admission to Mercy March 17, and the test result came back two days later on Thursday, March 19.
As of Friday, St. Louis County had 10 cases who tested positive for coronavirus, or COVID-19. Five cases tested positive Thursday. The St. Louis County woman who died was at least the third death in Missouri from the coronavirus.
A county spokesman declined to provide the area of the county that the woman was from.
Significantly, the woman's case could not be traced to any travel or contact with another person who had tested positive for coronavirus, which means that St. Louis County now has "community spread," or the respiratory illness infecting residents out in the community.
"We do believe that time is here," said county Department of Public Health co-director Spring Schmidt.
Although the county does not identify specific locations of patients who test positive, Page said that cases of the coronavirus are geographically located across the entire county.
"As days turn into weeks, the coronavirus will infect us all," Page said, offering his condolences to the patient's family.