Rogers Middle School students honored as local heroes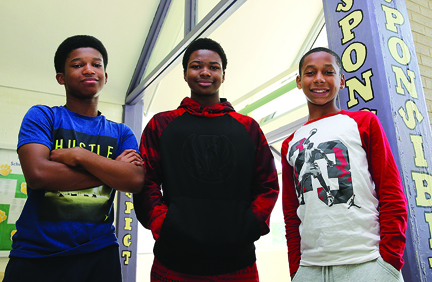 Three students at Rogers Middle School in the Affton School District were recently honored by the city and county as local heroes after coming to the rescue of their ailing bus driver on the way home from school.
County Executive Steve Stenger designated Friday, Sept. 22, as Rogers Middle School Heroes Day in the county, and St. Louis Mayor Lyda Krewson designated the same day as Alex Fisher, Emilio Stewart and Vernon Brown Day in her city, where the three eighth-graders live.
On their way home to south St. Louis Monday, Sept. 11, Alex realized their bus driver was unresponsive, and the bus was headed directly toward a store at the intersection of Michigan and Chippewa.
Alex "quickly took it upon himself to, in his own words, 'hit the brakes really fast,' and with the assistance of witnesses to the incident was able to get the bus to come to a complete stop," according to the County Council's proclamation honoring the three 13-year-olds.
Alex called his two friends, Vernon and Emilio, to the front of the bus. While Alex stepped on the brake, Emilio and Vernon called 911.
A bystander next to the store the bus was headed toward saw that Alex was at the wheel, realized what was happening and tried to get in the bus door, but the boys did not know how to open it. The man climbed in the bus window, and with his help, the boys brought the bus to a stop.
"Thanks to the young men's quick action, no one was injured during the incident, and the driver quickly received medical attention," the council said in its resolution. "… It is appropriate to pause and take notice when young people step up to exhibit such bravery and levelheadedness in an emergency."
Alex, Vernon and Emilio were recognized with an eighth-graders' assembly at RMS for their quick thinking, bravery, calm and resourcefulness during the medical emergency, where they and their families were presented with numerous proclamations and citations for their actions. The council also commended the boys' parents and teachers "for raising and educating three fine young men."
The county proclamation was presented to the boys by 5th District Councilman Pat Dolan, D-Richmond Heights, who sponsored it.
Besides proclamations from Stenger, Krewson and the council, the boys were honored with a citizens' citation of service from the St. Louis County Police Department, a resolution from the Missouri House of Representatives presented by Affton Board of Education member Rep. Doug Beck, D-Affton, certificates of recognition from the Affton Fire Protection District and the Voluntary Interdistrict Choice Corporation, or VICC, and a $200 Visa gift card and a $500 savings bond from Missouri Central School Bus.