Region continues to mourn the loss of County Executive 'Buzz' Westfall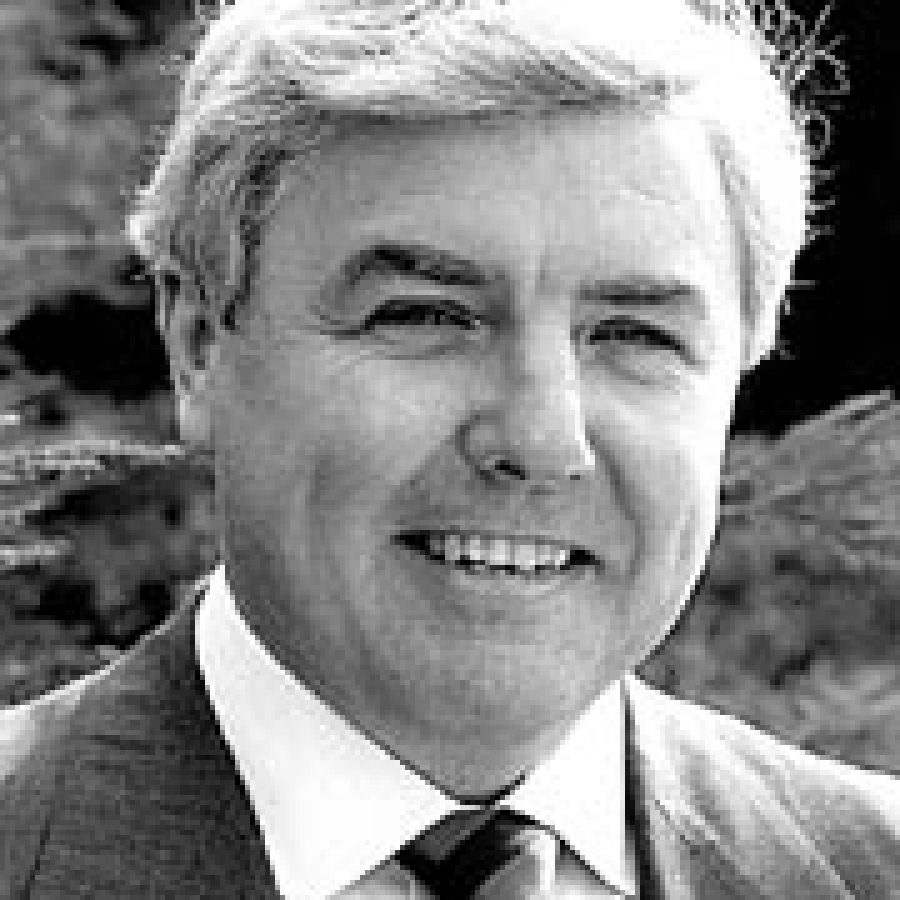 Black ribbons still hang in county buildings while U.S. flags are flying at half-mast.
It has been more than a week since the death of George R. "Buzz" Westfall, 59, and the county continues to show visible signs that it is mourning its county executive who dedicated 25 years to public service.
Westfall spent 12 years as county prosecutor and 13 as county executive. He would have completed his fourth term as county executive in 2006.
On Oct. 5, Westfall checked into Christian Hospital Northeast for back problems. He had suffered from chronic back pain for years, but he developed a serious staph infection just hours after seeking treatment. The infection became more severe and the county executive's office reported he was being heavily sedated and was unaware of his surroundings.
He died at 4:46 p.m. Monday, Oct. 27, after doctors tried to bring him out of his sedation and his infection had grown more severe.
He was the first county executive to die while in office — not how many of those who knew and worked with him want him to be remembered.
Former County Councilman Jeff Wagener, D-south county, and Westfall friend of 10 years told the Call he believed the region has lost its most influential and respected leader.
"He worked with everyone — no matter what political party … He set the bar for public service in the community," Wagener said. "Sometimes people said he was too blunt. He always spoke his mind, but his word was his bond, which is so important in life."
Wagener said Westfall's death was a huge loss on both professional and personal levels.
"He was the most decent, honest individual I have ever known," Wagener said. "He has a notorious banter and dry sense of humor which endeared him to so many."
Wagener said Westfall appropriately placed his family, his "crown jewel" first in everything that he did.
Westfall is survived by his wife, Laurie, and his children Kristin, Steve and Mark.
Several visitation services honoring Westfall took place last Thursday in Clayton. A funeral Mass was celebrated at the Church of the Immacolata, 8900 Clayton Road, Richmond Heights. He was buried at Sunset Memorial Park and Mausoleum, 10180 Gravois Road.
The church, which seats at least 650 people, was packed — not counting the people standing and waiting outside the church, said Mac Scott, county director of communications who served as Westfall's spokesman.
During one of the visitation services Thursday morning at the St. Louis County Memorial Park in Clayton, at least 2,000 people appeared during a closed-casket viewing, Scott said. By the end of the service, he said, attendants stood shoulder-to-shoulder filling the entire plaza adjacent to the St. Louis County government center, 41 South Central Avenue.
Last week was a "difficult week for all of us," Scott said, but county government continued to function and operate during Westfall's hospitalization and will continue despite his death.
However, the Oct. 28 County Council meeting was canceled out of respect for Westfall, he said. It would have been difficult to continue with the county's business so soon after the stunning death of the county executive, he said.
"Personally, I relied on him heavily to do my job," said Scott, who worked 12 years for Westfall. "He relied a little on me, but the truth is I relied more on him. I needed his advice, his counsel and his wisdom, he was always available. He was critical, to everything I did here…and I will miss that …"
Scott and other Westfall-appointed staff members will continue to fulfill normal duties until county councilmen appoint a new county executive. Whoever is appointed will have the authority to keep current staff members or appoint new ones.
It was unknown whether councilmen were expected to appoint a new county executive Tuesday — after the Call went to press. Even though Charlie Dooley, D-north county, has temporarily served in the role as county executive and performed duties accordingly, such as signing county documents, he only was supposed to serve in the role until Westfall was able to return to office.
Since Westfall will not be returning to office, according to the County Charter, councilmen must appoint a new county executive to fulfill part of his term until November 2004 — the date set for a special election for the public to choose the next county executive. The charter states that councilmen must appoint a Democrat, Westfall's political party, but he or she does not have to be a councilman.
In fact, if Dooley, or any other councilman, is appointed, he will have to step down from the council in order to become county executive. According to the charter, councilmen are prohibited from holding other county or state offices. Also, a special election would need to occur in order to fill Dooley's seat on the council if he is appointed county executive.
Scott told the Call Dooley will continue performing county executive duties until the vacancy is filled.
John Campisi, R-south county, said discussions were taking place Monday — when the Call went to press — with Dooley to see if he wanted to be appointed county executive by county councilmen. Campisi said he did not yet know the result of those discussions.
He said the council has taken no action whatsoever to solicit individuals who are interested in the county executive position. Also, he said no one has approached the council asking to be considered for appointment since the announcement of Westfall's death.
"My best wishes go out to his family," Campisi told the Call.