Post-corruption, Trakas focuses on the 6th District
Zoning, problem properties will be focus for four years
Four years into Ernie Trakas' tenure as the St. Louis County Council member for the 6th District, he is finally able to pursue his own vision for St. Louis County instead of opposing one from someone else.
Trakas, 70, an attorney and Republican from Oakville who specializes in defending school districts against disability claims, had never run for office before 2016 and was best known in South County as the husband of Mehlville Board of Education member Lori Trakas, who served from 2013 to 2016. But as Bauer Road residents said then-6th District Councilman Kevin O'Leary was ignoring their zoning concerns about an apartment complex, Trakas stepped up to run for the seat against former Rep. Pat Yaeger, a Democrat backed by then-County Executive Steve Stenger.
Trakas won, and then won re-election for another four-year term in November against then-Rep. Bob Burns.
Trakas' first four years in office were defined by his determination to oppose and later bring down Stenger's corrupt regime — and then cleaning up after it as the council's acting chair/presiding officer alongside new County Executive Sam Page, with a failed city-county merger and a pandemic along the way.
But Trakas hopes to focus his next four years on issues close to home for South County residents such as cracking down on problem properties and finding new ways to get feedback on zoning issues. He receives more complaints about problem properties than anything else and has seen serial scofflaws take advantage of municipal judges to constantly get extensions on cleaning up their properties.
While campaigning, Trakas emphasized his role as the "voice of District 6," bringing the power back to the people. If you hang around often enough, you'll hear him quote Elizabeth Powel from 234 years ago: "Powel asked Benjamin Franklin what kind of government the founders could give them, and Franklin's famous reply was, 'A republic, madam, if you can keep it.' … You folks are charged with keeping the republic. … It's only through you that this gets done."
Adventurous in his youth
The background details on Trakas' website bolster the impression of a settled elected official who's long been familiar with government and what's wrong with it: Trakas grew up in Washington, D.C., and worked as an attorney for the House of Representatives before moving to St. Louis and marrying Lori. Daughter Allyson is now an adult.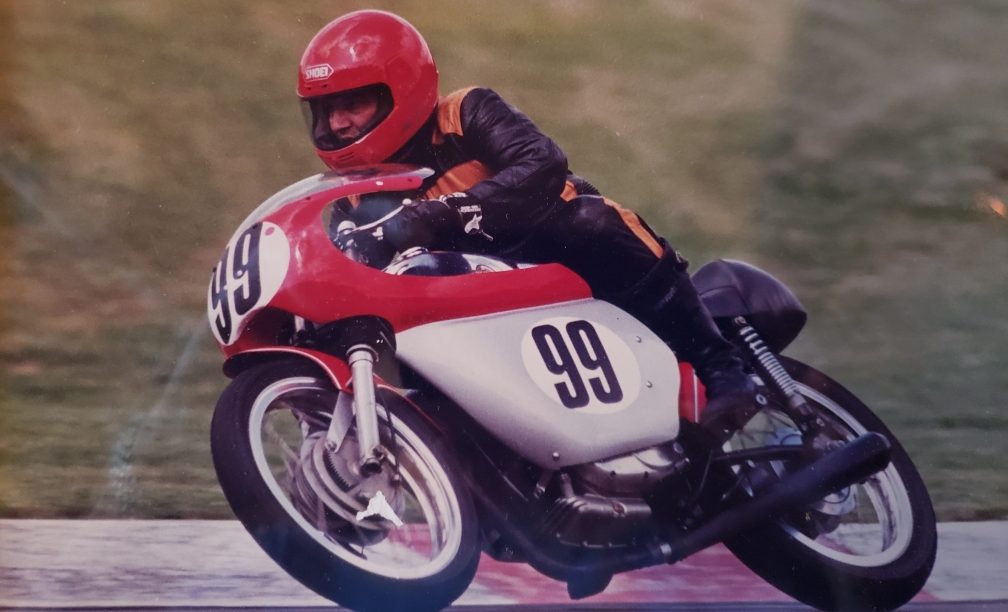 But family life and civic participation hasn't always been what drives Trakas. In his past life, the future councilman raced motorcycles across the country, competed in Ironman triathlons and endurance marathons, climbed one of the world's highest mountains and even hitchhiked to Woodstock as a freshman in college.
Most of those adventures took concerted effort over decades, but Woodstock was more of a fluke than anything: In August 1969, Trakas and a fellow music lover friend hitchhiked from D.C. to upstate New York, with no idea what they were getting into. Once there, trapped for four days instead of the two they'd planned, they made the best of it with up-close views of  Jefferson Airplane and Big Brother and the Holding Company.
From 1991 to 2008, Trakas raced a vintage Ducati as part of a motorcycle team that competed at tracks across the country on weekends, including Daytona and Talladega, Watkins Glen and even the Bonneville Salt Flats Speed Trials. He still rides, but has pared down his collection.
Climbing Mount Everest was an ultimate dream for Trakas, who had frequently climbed in the Rockies, but he settled for summiting the highest peak in both the southern and western hemispheres, Aconcagua in Argentina — 22,841 feet compared to Everest's 29,032.
But now, Trakas' buttoned-up appearance, speeches on family values and finances and a focus on day-to-day details of governance have led to his reputation as one of the most conservative council members — politically and personally.
"They all think I'm just a lawyer who happens to be a politician now too, which is much to my chagrin — the last thing I ever expected or wanted and will probably dislike to the day I die is being categorized as a politician," Trakas said. "I hate that part of it because it's not really why I did it, but I don't think you have a choice. Once you hold office, you're categorized as a politician forever."
Although the St. Louis County Council is admittedly not as exciting as those prior pastimes — which he has never drawn attention to publicly — Trakas believes he brings that same intensity to more mundane citizen concerns in Clayton.
"That's one thing about me: I get passionate about things and I go all in on them," Trakas said.
Yaeger said she got "run over by the Trump train," but since his first meeting Trakas has often staked out surprisingly bipartisan stances, even siding with progressives in a losing court battle this year.
But he agrees with the other Republicans on at least two things, which he states quite simply: "I'm against most taxes. I'm against big government."
Targeting Stenger
Trakas succeeded O'Leary, who had succeeded Stenger as 6th District councilman. From the start, Trakas alleges that Stenger tried to force Trakas out  of office, using a quo warranto case that would have disqualified him from serving and then a recall campaign that failed to gather enough signatures to be put on the ballot.
The councilman, meanwhile, took the reins of the council's new Ethics Committee, sifting through dozens of file boxes of evidence and writing a report condemning the deal Stenger brokered for a new North County Government Center in the former Northwest Plaza mall with his largest campaign donors, the Glarners.
Federal prosecutors indicted Stenger in 2019 on a sweeping pay-to-play scheme for other deals, and at a  town hall, Assistant U.S. Attorney Hal Goldsmith said of the council, "What was remarkable is the bipartisan effort — they called out the county executive for what they saw as corruption and attempted to uncover that evidence. … Their cooperation with our investigation was substantial, and we thank them."
Trakas has no lasting animosity toward Stenger, who was released from prison this month: "I'm not someone who thinks he should have done more time. … He's got young children. … From this point on, I hope he lives a rich and fulfilling life."
Fending off critics
Trakas has always drawn critics, but the organized opposition that sent petitioners out gathering signatures to recall him has faded away. His most relentless critic is still Jane Dueker, an attorney and radio personality. The St. Louis County Police Association frequently criticized Trakas during the campaign, although Trakas has vowed he'll never cut money for police.
Trakas has gone through a series of staffers. In 2020, the county settled a sexual harassment claim from one former aide, after Trakas fired his first aide. An independent law firm found no merit to the harassment claim, although employees of both genders said in the report that Trakas had spoken to them harshly. Trakas "categorically" denies any harassment and said it was the county's choice to settle, not his.
This term, Trakas promises to be more of a "gentleman." If anyone catches his ire these days, it's likely to be developers trying to build car washes and oil-change facilities on key corners in South County.
After gunfire hit Trakas' car while he was driving on Interstate 64 in Frontenac in April, Dueker said that she believed there was more to the story and that Trakas' temper might have provoked the attack.
Trakas said of the shooting, which could be road rage, "It's a crazy, crazy thing — people are too tightly wound. I didn't even do anything, I was just driving."
Zoning in South County has changed
Zoning is one of the primary powers of a council member, who can block businesses from building since other council members typically go along with that area's representative. And Trakas has not hesitated to use that authority to block businesses that he believes are not suitable for South County — especially if nearby residents don't like the proposal.
Most recently that has included rejecting an oil-change facility at Lindbergh and Tesson Ferry and a new car wash on Gravois Road. But he has no qualms about rejecting apartment complexes and storage facilities either. Supporters of Burns contended that Trakas is anti-development, keeping good businesses out of South County. In response, Trakas lists a number of new developments he approved, including hospitals, hotels, the 9 Mile Garden food truck plaza, restaurants and senior housing complexes. Over the years, Trakas has adapted his zoning technique to include more town halls up front with neighbors of the project.
"Where I think it's a good fit for the community and there's going to be buy in, then I'm all in," Trakas said.
But whether a development moves forward or not does not appear to be based on whether Trakas has received a campaign donation from that developer, a frequent practice of Stenger. In 2019, Goldsmith singled out Trakas' campaign because "a lot of individuals who are retired contributed to you, and that's a good thing," since it avoids conflicts of interest.
No 'wokeness' for Trakas
This year Trakas has also focused on criticizing "identity politics and wokeness," as he puts it, which have been taken up by the council in a series of resolutions and opposed by Trakas in a series of op-eds.
A focus on gender-neutral bathrooms and transgender rights is an attack on traditional religious values, Trakas has argued.
"Realistically speaking, why should the council be opining at all on that topic?" Trakas said about one of the resolutions. "What benefit does that have to local governance? I mean, come on."
Trakas also doesn't care for the determination of some of his fellow council members to continually oppose any initiative from Page's administration, including a bill sponsored by Trakas to hire outside attorneys to defend lawsuits. Before this article went to press, the council hired more county counselors on a 4-3 vote.
"That's the problem with the council right now, it's way too focused on political agenda and not enough on governing," Trakas said. "The divides are wide and deep, and I'm not sure that they are bridgeable, to be honest with you."
But that's nothing new for Trakas, who has never been part of a unified council.
The vintage Ducati is still in Trakas' garage, but he says his racing days are over. For now, he's busy trying to keep that republic.