Officer Langsdorf remembered at funeral as a hero and 'amazing father'
To his family members and colleagues, Officer Michael Langsdorf could be described as nothing short of a hero who cared deeply for the people around him.
The funeral for the 40-year-old North County Police Cooperative officer and South County native was held at the Cathedral Basilica Monday, followed by a procession that stretched seven miles to Resurrection Cemetery in Affton.
Surrounded by his fellow officers for the funeral mass, family members and colleagues of Langsdorf gave touching eulogies and paid their respects to the fallen officer.
"They say never to meet your heroes because you will be disappointed," son Kaleb Langsdorf, 18, said about his father at the funeral. "Well, I had the chance to be raised by mine, and he never disappointed."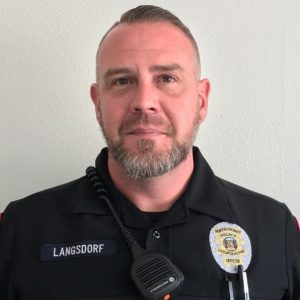 The cathedral in downtown St. Louis was filled to capacity, with funeral-goers overflowing into the aisles and standing against the walls. Guests in attendance included St. Louis Mayor Lyda Krewson, St. Louis County Executive Sam Page, St. Louis County Prosecuting Attorney Wesley Bell and U.S. Rep. Ann Wagner. Hundreds of officers from local departments across the St. Louis metro, as well as police chiefs from New York City and Chicago, were also in attendance.
Langsdorf, who began working for the North County Police Cooperative in April after 17 years with the St. Louis Metropolitan Police Department, was fatally shot June 23 at a food market in Wellston after responding to a call about a man attempting to pass a bad check.
"First and foremost, I want to thank you for sharing him with us," said North County Police Cooperative Chief John Buchannan in his eulogy. "If I had a hundred officers like Michael, I wouldn't have a problem in the world."
Buchannan described Langsdorf as a mentor that other officers looked to for guidance and advice, and said that since his first day with the cooperative, Langsdorf took other officers under his wing.
"Our dad was the most important person in our lives. He was the light of the party and a great chef. But most important, he was an amazing father," said daughter Olivia Langsdorf, 13. "He had a huge impact on so many people and even though he was tough, he had the biggest heart."
The funeral mass lasted 90 minutes before the procession, comprised of hundreds of police cars, fire trucks and other emergency vehicles, traveled seven miles south to Resurrection Cemetery, 6901 Mackenzie Road, for Langsdorf's burial.
Street signs and trees along Mackenzie Road were adorned with blue ribbons, and residents from across the metro lined up along the procession route to pay their respects, donning American flags and waving signs of support for the police community.
Langsdorf was a South County native and a 1997 graduate of Mehlville High School. His father, Jerry Langsdorf, worked for the Mehlville School District and was principal of Margaret Buerkle Middle School before retiring in 2003. His mother Elizabeth was a teacher for the Hancock Place School District.
At the June 25 County Council meeting, Presiding Officer Ernie Trakas requested a moment of silence for Langsdorf and his family.
"I've always said that without our police department, we don't have a civil society," said Trakas. "So these guys are always in harm's way. Let's take a moment … for Officer Langsdorf's family and honor him."
Langsdorf is survived by his children, his fiancee and his parents.
Bell charged Bonette Kymbrelle Meeks, 26, June 24 with first-degree murder, armed criminal action, unlawful possession of a weapon and resisting arrest, all felonies. He is being held at the St. Louis County Justice Center without bail.
BackStoppers has been assisting Langsdorf's family. The nonprofit helps financially support spouses and children of police officers, firefighters, volunteer firefighters and publicly funded EMTs and paramedics who are killed or catastrophically injured on the job.