New principal named for Dressel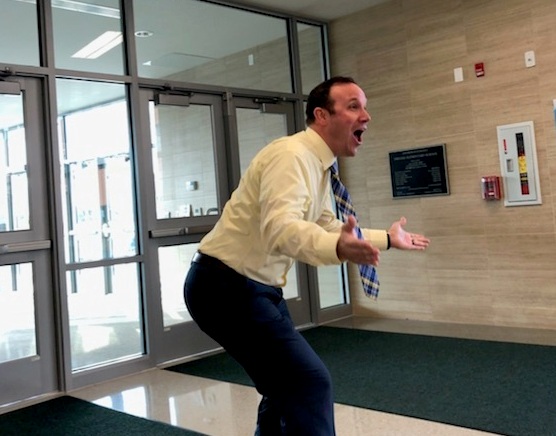 With Dressel Elementary Principal Craig Hamby moving up to Central Office, current Dressel Assistant Principal Patrick Schoenekase will take over as the next principal of the new school.
The Lindbergh Board of Education unanimously hired Schoenekase as Dressel principal in a vote at the April 10 meeting.
He will move into the new position for the 2018-2019 school year, effective July 1.
"The parents wanted him hands down, the teachers wanted him hands down, he's impressed everybody," Superintendent Jim Simpson said. "A really nice man and very personable and caring.
"He beat out some really talented competitors in that. Lindbergh is a very intense process for hiring, more than any district I've ever known…  Pat's great, and everybody's happy. Dressel's extremely happy to have him as their new principal."
Schoenekase is an experienced administrator with 14 years of education experience, including three years as assistant principal for Long Elementary School prior to Dressel opening last fall.
Over the past year, Schoenekase has worked closely with Hamby to ensure a smooth transition for students and staff and build a thriving community at Lindbergh's newest elementary school, according to a news release.
"I am honored to serve as the next principal at Dressel Elementary School," Schoenekase said in the release. "I look forward to carrying on the vision set forth by the students, staff and parents of Dressel."
Schoenekase earned his bachelor's degrees in elementary education and cross categorical special education from Northwest Missouri State University.
He also earned his master's degree in educational administration from Lindenwood University, and his doctorate in educational leadership from Maryville University.
Prior to coming to work for Lindbergh in 2014, Schoenekase was an elementary school Special School District teacher in the Parkway School District and a student teacher in Lindbergh Schools.
"We are excited about this transition and believe that Dr. Schoenekase will continue to bring strong instructional leadership, collaboration skills and a focus on student success to everything he does," Assistant Superintendent of Human Resources Brian McKenney said in the release.
"He has accomplished much during Dressel's first year, and we are confident he will continue to build on the great foundation that has been established during Dressel's inaugural year."