Children 18 and under living in the Mehlville School District will be provided with additional meals through the month of June thanks to Operation Food Search, which will be providing food boxes for pickup alongside Mehlville's grab-and-go meals.
The food boxes are paid for by St. Louis County's federal coronavirus response funds and are provided in addition to the district's grab-and-go meals, a service the district has been providing since schools closed in March due to COVID-19.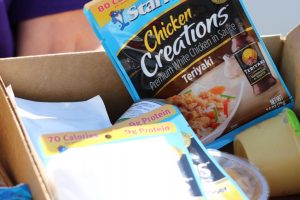 At the May 21 Mehlville Board of Education meeting, Director of Food and Nutrition Katie Gegg told the board that the district has continued to serve meals on Mondays and Thursdays from 11 a.m. to 1 p.m. from seven different sites around the district. To minimize contact, families are able to pick up three days' worth of meals on Mondays and two days' worth of meals on Thursdays. The meals are for children 18 and under living in the district, even if they don't normally attend Mehlville.
Schools are able to deliver meals in more creative ways such as the twice-a-week pickup due to a waiver passed by the U.S. Department of Agriculture. In districts other than Mehlville, some schools are delivering meals on bus routes or allowing parents to pick up multiple weeks' worth of meals at once.
The Families First Coronavirus Response Act, which was signed by President Trump March 18, gives the USDA the flexibility to pass the waivers.
"USDA did extend all the meal flexibility waiver with not being able to offer meals in non-congregate settings, kind of like what we're doing which is grab-and-go, not having to follow any sort of meal times so we can serve breakfast and lunch at the same time, as well as students don't have to be present in cars to receive the meals," said Gegg to the board.
The USDA has extended its waivers through Aug. 31, which gives the district the option to continue serving meals twice a week through July, depending on the data from June.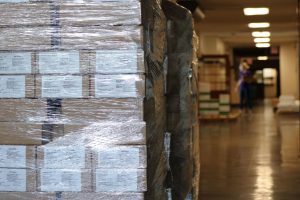 "So this whole extension of the waiver, my position has been that we would continue to provide food service through June 30 because that was when the waiver was going to expire. That got extended… last week, so we've not made a commitment yet," said Superintendent Chris Gaines at the May board meeting. "We kind of want to watch the numbers, we got awhile until we get to July. We want to see kind of what happens in June when we would normally not be providing anything and see what those numbers look like."
Since March 23, the district has given out 36,063 breakfasts and 36,063 lunches for a total of 72,126 meals, Gegg said in an email to The Call. For Monday, June 1, Thursday, June 4 and Monday, June 8, 3,940 breakfast and 3,940 lunches have been distributed.
An additional 1,200 Operation Food Search kits have been distributed in June as well. The boxes contain shelf-stable meals, and the district has the option to continue giving out the additional boxes into July. Those boxes are being provided through the coronavirus response grant from St. Louis County to Operation Food Search.
"We have the ability to carry this deeper into the summer should that be a decision that is made," said Executive Director of Planning and Development Chad Dickemper. "Kudos Katie, for all of her hard work and amazing effort that her folks have put forward since spring break as well."
Meals are available for pickup Mondays and Thursdays at the following locations:
Serving from 11 a.m. to 1 p.m.:
• Mehlville High School (3200 Lemay Ferry Road, St. Louis, MO 63125)
• Oakville High School (5557 Milburn Road, St. Louis, MO, 63129)
• Bierbaum Elementary School (2050 Union Road, St. Louis, MO, 63125)
Serving from 11 a.m. to noon:
• Lemay 1 and Lemay 2 (Adworth Drive and Barracksview Drive)
• The Vineyards (Daiquiri Lane, near tennis court area)
• Serving from 12:15 p.m. to 1 p.m.
• Jefferson Townhomes (Tuckahoe Drive and Poplar Forest)
• Casa Brazilia (Casa Brazilia Drive)