By Gloria Lloyd
News Editor
glorialloyd@callnewspapers.com
The Mehlville School District now has a laptop for every student in the district from kindergarten through 12th grade.
Superintendent Chris Gaines believes that makes Mehlville only the second school district in St. Louis County to go fully 1:1, after starting the initiative in 2012 at both Oakville and Mehlville high schools.
Over time, the district moved from using IBM ThinkPads to Google Chromebooks, which are less expensive and require less software than traditional laptops. Now the district has a Chromebook for every student, with the last delivery made a few weeks ago at Oakville Elementary.
The Mehlville Technology Department has deployed more than 10,000 Chromebooks to students since July 2016, at a cost over three budget years of $2 million.
The unique aspect of Mehlville's 1:1 status is that while it was a goal of the long-term strategic plan of the district, it didn't happen through a specific decision of the Board of Education. The district achieved 1:1 mostly through using its existing technology budget to buy laptops instead of desktops for computer labs.
The board voted a year ago to spend an extra $300,000 to go to 1:1 at every middle school in the district starting in January. The 2018-2019 budget included funding to get closer to 1:1, but there was no specific board discussion on that plan.
And the board took a vote of confidence in 1:1 at the elementary level when it started the district's school of innovation, Mosaic Elementary, last year. Mosaic was 1:1 from the start.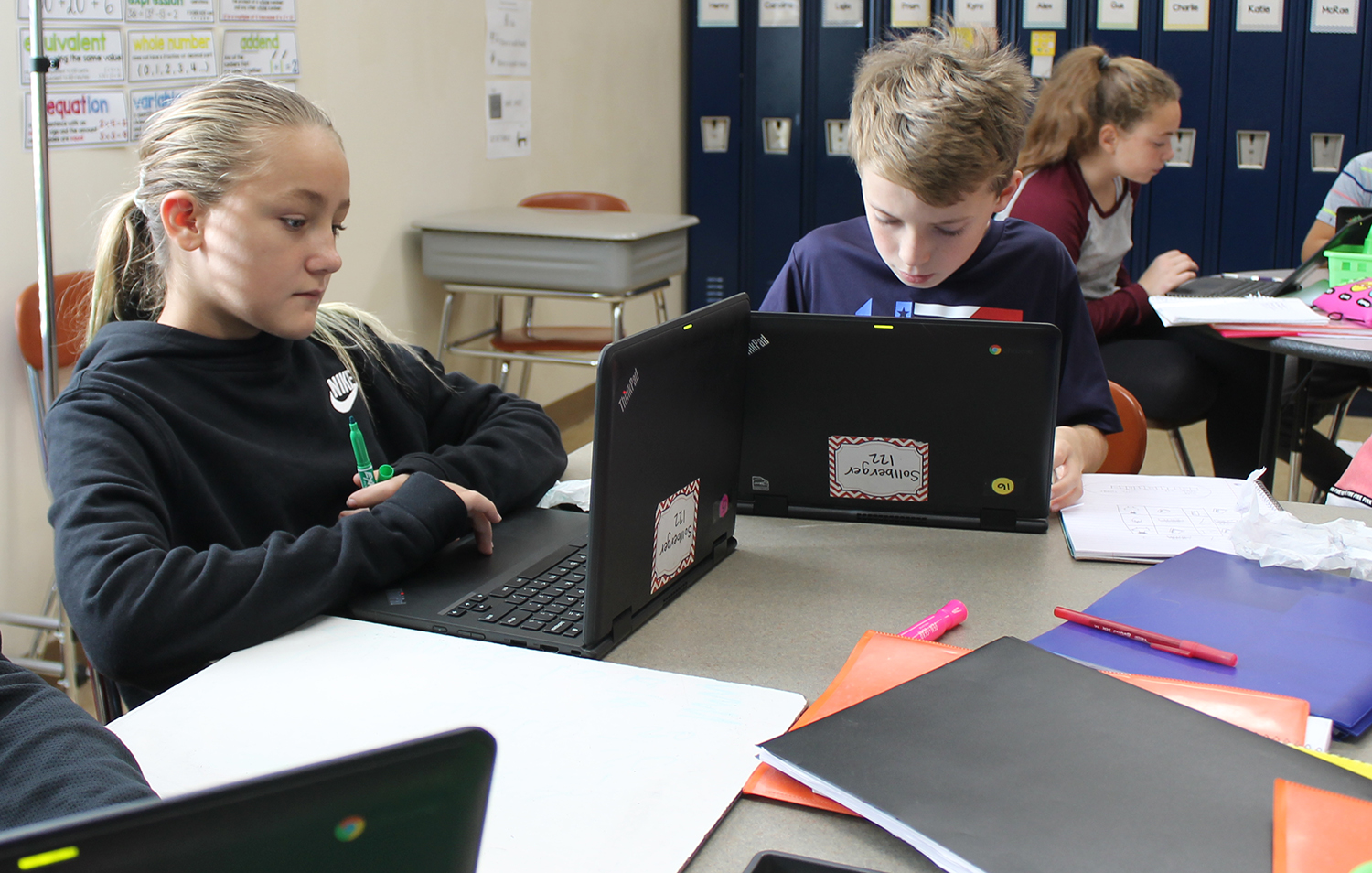 As far as the whole district went, however, no one involved seemed to realize that getting to 1:1 would happen so fast.
"We had laid it out in the strategic plan a few times on what we were shooting to do," Gaines said. "And we've just been slowly plugging away, and we've just been getting closer and closer and closer. Essentially we stopped replacing computer labs, and for the cost to replace a computer lab you can get a whole lot of Chromebooks. So to some extent, we were spending the same money differently."
At the time of the board vote last year, then-board member Jamey Murphy asked Gaines, "If you could spend $200,000 in the district that would most impact our students, would this be it?"
"I have a list," Gaines said. "It's on my list."
Without enough computers for every class, laptop carts
were a hot commodity, and there were not enough to meet the needs of all the teachers who want them for classes, Director of Technology Services Paul Westbrook noted.
One of the reasons the district finished a complete 1:1 laptop expansion earlier than expected is the lower cost of laptops now than when the program started in 2012.
The original ThinkPads cost around $600, while the newer Chromebooks cost $300. They have a life span of five years.
But with every student getting a laptop of their own, that helps teachers to count on using them for lessons.
"I like the idea of falling in line, bringing the 1:1 down to the middle-school level," board President Samantha Stormer said when the district expanded to middle schools last year. "We have kids in elementary schools that are already using Chrome, we also have to look at Mosaic that is 1:1 and having two years before they move back into our middle schools. I like the idea of getting our kids up to date with that 1:1 technology, and I like the idea of leaving them at the school too.
High-school students take their laptops home with them, but students in middle and elementary school leave them at the school charging overnight. In the morning, middle-school students go to their last class, pick up their Chromebooks and then take them to every class.
Just as with any kind of technology, the Chromebooks don't work correctly all the time. But they actually have fewer problems than the prior laptops, Westbrook said. About 99 percent of the time, a problem can be solved by restarting the computer.
But the district is also getting help troubleshooting the laptops from middle and high-school students who are serving as intern-like technology assistants, helping their fellow students with problems while also learning on the job.
"We have kids almost like interns in the tech offices, and when a student comes in with a problem, you've got kids trying to figure out what it is and work on it," Gaines said.
Students from kindergarten through high school should have access and opportunity to learn technology, said Assistant Superintendent Brian Smith.