By Gloria Lloyd
Staff Reporter
news3@callnewspapers.com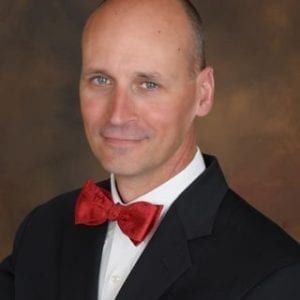 Superintendent Chris Gaines is signing on for another year at the helm of the Mehlville School District, and he hopes to remain even longer.
After the Board of Education voted unanimously to approve a one-year extension to Gaines' three-year rolling contract last month that will keep Gaines in the district through 2021, the superintendent told the Call that he wants to stay in Mehlville at least until his son Zack, 13, graduates from high school.
If that happens, Gaines would have served eight years in Mehlville. That would be longer than any Mehlville superintendent has stayed in three decades, including the seven-year tenures of the late Rogers Elementary namesake Bob Rogers, who retired in 1996, and the late John Cary, who succeeded Rogers.
The 6-0 vote Jan. 17, with board member Jamey Murphy absent, came as no surprise since the same board unanimously voted June 29 to extend Gaines' three-year rolling contract through 2020.
This time, Gaines told the board what he later told the Call: He would like to stay in Mehlville at least through the high-school graduation of Zack, who is in seventh grade at Washington Middle School.
"When was the last time we had a superintendent for more than three years?" board President Samantha Stormer said. "We're very happy with his performance and what he's doing and the changes that are being made, which I know can be painful, but there's a lot of positive reasons for those."
Starting in July, Gaines will serve as the president of the largest superintendents' organization in the country, The School Superintendents Association.
"We're looking forward to having someone on a national level and being able to have that interaction with other superintendents around the country that he can have at his disposal to have conversations about what's working, what's not working, what's successful, what isn't, and being able to bring those back here," Stormer said. "For me, that makes him the right person for Mehlville."
Then-Wright City Superintendent Gaines took the Mehlville job in 2015 after the district saw a series of six superintendents in the decade prior, including Eric Knost for three years before he left for Rockwood, interim Superintendents Norm Ridder and Jerry Chambers, and Terry Noble and Tim Ricker.
And Gaines has made his mark on Mehlville on a number of fronts by "reviewing everything that we do in the district," Stormer said.
He oversaw the passage of a heavily supported tax-rate increase, Proposition R, and came up with the idea to open the St. Louis area's first school of innovation, Mosaic Elementary, in an existing facility.
It opened in August.
He took on the sacred cows and third rails of Mehlville politics, including redistricting and block scheduling at the high school. He continues to follow the strategic plan instituted by Ridder. He is emphasizing academic achievement and has taken steps to improve the district's statewide test scores.
But Gaines doesn't take credit for any of it.
"I don't know that I've done really anything other than ask questions to see if we can expand opportunities for kids," he said. "I think most of that, the actual meat and potatoes of it on the groundwork, has been done by our administrators and our teachers. I think a lot of what I've done is just going have we done this? Or have we thought about doing this? These are opportunities that are happening in other places, why can't we make that happen here?"
Although Gaines tweets often, he has taken a lower-key approach to the social media spotlight than some past superintendents and left it to principals to post Facebook messages and Instagram photos from the district.
"I don't need a whole lot of attention or recognition, I'm just kind of a come-to-work-and-do-work kind of guy," Gaines said. "I've just always been that way."
But even with several years of changes behind him, Gaines sees more on the way, especially in potential facilities improvements.
"I've got this sheet with a big grid, and there's still kind of a lot of stuff that we're looking at over the next few years that we'd like to be able to do and get done," Gaines said. "Expand opportunities for kids, improve facilities a little bit and trying to get to 2021 where we could do something significant in our facilities."
Overall, he is trying to move the district to a more systematic way of operating, which can sometimes be painful, Stormer said.
One of those systems has been the board process of evaluating the superintendent and awarding contract extensions, which is typically accomplished in other districts in January or February but extended into the summer in Mehlville in past years, including last year.
The board conducted a written evaluation of Gaines, with each board member separately ranking him on a 1 through 4 scale where they could use decimal points.
Each board member ranked him highly and within a few tenths of a point of each other, Stormer said. His scores went up this year compared to last year.
Although Murphy could not attend the actual vote, he did fill out the evaluation ahead of time. He also told the Call that had he been present, he would have voted to extend Gaines' contract.
Gaines currently is being paid $210,000.
His salary for the 2018-2019 school year will be $216,300. He will be paid $223,330 for the 2019-2020 school year and $231,147 for the 2020-2021 school year.