Anti-bullying group Lindbergh Upstanders is set to expand to other school districts
The Upstanders co-founders (from left to right) Erica Hoffman, Andrea Soaib, Robert Vogel, Renee McDonnell and Lisa Huffman celebrate the group's one year anniversary in February at Helen Fitzgerald's.
By Erin Achenbach
Staff Reporter
eachenbach@callnewspapers.com
A year after the Lindbergh Upstanders Anti-Bullying Collaborative was founded, the group is expanding beyond South County, although the anti-bullying group says there is still work to be done in addressing and reducing bullying in Lindbergh Schools.
The Lindbergh Upstanders, founded in 2018, is a group of parents and others in the community dedicated to increasing anti-bullying education and awareness, as well as improve existing policies and processes.
The group, which celebrated its one-year anniversary in February, first approached the Board of Education with suggestions in May 2018, after meeting monthly to come up with recommendations to combat bullying.
"We initially just started thinking it was just going to be a couple meetings. Get some things going with the school to try to help," said group cofounder Renee McDonnell at the one-year anniversary party for Upstanders held in February at Helen Fitzgerald's in Sunset Hills. "Then it just blew up into something much bigger than we could have ever imagined it would be. It just keeps getting bigger and bigger, and we're helping more people."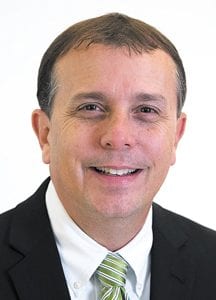 The district responded, saying that it was implementing new policies such as an online form to report bullying incidents, an additional social worker for the 2018-2019 school year and having school staff participate in anti-bullying training.
Issues like bullying and the social and emotional life of students are now directly discussed in the Student Life Committee, which is new this year and is comprised of parents and staff members.
"We want our kids to feel like they can come to school, be successful, be happy and we have systems in place that allow us to teach kids to have responsibility, to be kind, to be empathetic, also to teach the other side of things, also what do you do when you encounter that as well, so having those strategies," Superintendent Tony Lake told The Call. "I think that doesn't just happen in a silo."
He applauds efforts like Unity Day, held each fall, but said the real key to combating bullying happens during classroom time and figuring out how to incorporate anti-bullying into the strategic plan if the district wants to focus on it.
"How do you embed those skills in your academic lessons to teach those kind of things?" Lake said. "So (we're) looking at the overall experience for our kids and what that looks like in the classroom to develop those skills."
Part of meeting with the Upstanders was letting them know what the district was already doing to combat bullying. The district already had a reporting form, but it wasn't online yet.
"A lot of the work that's being discussed is already being done in our system, so it was kind of reinforced," Lake said. "We're doing a lot of these things already."
It's all part of the district's new focus on the "whole child" since Lake took the top job at Lindbergh July 1.
"It's one of those topics that always happens in our district —  how do we create responsible and educated young adults, and it's not just about bullying, it's about being a good person. It's about life skills,  it's about grit, it's about determination. It's about being able to put a lens on and empathize with someone else. That's the whole premise is empathy, looking at someone else's situation and how do you solve that problem. We just want the kids to be good people."
The Upstanders Facebook page has now swelled to over 804 members, and the group inspired Wentzville parents to create the Wentzville Upstanders to address bullying in the Wentzville School District. 
Parent Sarah Knarr heard about the group when it was first starting up, while she was seeking help for her daughter who had been bullied in elementary school.
"I knew my daughter was being failed by the district, but so was this little girl who was bullying (my daughter), because she wasn't getting the resources she needed," said Knarr at the Upstanders anniversary party. "I've found a group of people who can not only share in my pain, but I can share my ideas with them on how we can move forward to make things better… to feel like we're making a change." 
Cofounder Robert Vogel and McDonnell spoke at the school board meeting May 14, a little over a year after the group first approached the district.
"We have a phenomenal opportunity in the district to lead and become a model district for the area, for the state and for the nation… We have the opportunity to create a reputation as a more positive and resilient district and community simply by embracing this issue," said Vogel. "Still, after 17 months, unfortunately there are too many families, too many parents who are scared to come forward or to advocate too strongly… The Upstanders want to be seen as an ally to the board and the administration… We need to engage in policy, processes and practices for 2019-2020… How can we help you to move things forward for the next school year?"
Vogel praised the collaboration between the board and the district in the creation of the incident report form on Lindbergh's website. He said the form is well-received.
"Not recognizing the fact that there's an issue with bullying is in fact bullying," McDonnell said. "In the past year, we greatly appreciate the efforts you've made to help kids in our district in regards to bullying by putting the form in place and hiring another counselor. However, that's not enough… My goal for our district in the next school year is for you to come up with and adopt a consistent discipline schedule."
McDonnell suggested that the district needs to make discipline uniform across the district and to consider a three-strike rule as well as expulsion in certain circumstances.
In addition, McDonnell requested that the district inform everyone in the district how to use the online bullying form, adding that people need to be made aware that it can be completed anonymously.
"I know teachers and administrators do the best they can with what they have, and I'm very proud to be in the district," said McDonnell. "I'm hoping we can be the district to lead the way… Can you imagine the positive reaction we can have if we stand up, invite other superintendents, principals, parents, et cetera, to a meeting with us leading the way to stand up as a powerful group and say we are not going to tolerate this?"