Kennerly principal leaves early in mystery
An incoming Kennerly kindergartener slides at 'Popsicles with the Principal' last year on the school's playground. Photo by Jessica Belle Kramer.
By Gloria Lloyd
News Editor
glorialloyd@callnewspapers.com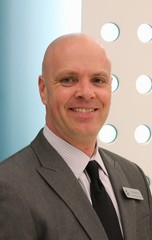 Kennerly Elementary School Principal Todd Morgan was slated to depart the district at the end of this year, but he left months early under mysterious circumstances.
Lindbergh Schools Chief Communications Officer Beth Johnston said she would not comment on Morgan's abrupt departure because it's a personnel issue. The Board of Education accepted his resignation in January, but it wasn't supposed to happen until the end of the school fiscal year June 30.
She declined to say whether Morgan was officially on leave. She did say that nothing had happened at the school and there was no incident involving students related to Morgan's departure. The St. Louis County Police Department also said that police had not been called to the school for any type of incident since January.
On March 28, Morgan was posting on the school's Facebook page as usual. On March 29, however, Superintendent Tony Lake sent an email letter to Kennerly Elementary families announcing that Morgan would no longer serve as the school's principal, effective immediately.
"This letter is to notify you that Dr. Todd Morgan will be leaving his position as principal of Kennerly Elementary School immediately, due to personal reasons," Lake wrote to parents.
"While I cannot share any additional details, I do want to assure you that our immediate focus will be to support Kennerly students, teachers and families through this transition. Dr. Allie Mach will serve as interim principal until Mr. DeAndre Thomas takes over the position on July 1, to ensure continuity of school leadership and student instruction. As assistant principal, Dr. Mach has built strong relationships that will serve the Kennerly community well during this time of transition."
As interim principal, Mach presented the Lindbergh Learning Report to the Board of Education at a workshop in April. She had been the school's assistant principal.
In February, Lake told The Call of Morgan's pending retirement, "He's been at Kennerly the last few years and continues to do good things with kids there, so we wish him the best."
Before being named as Kennerly principal in 2012, Morgan had been with the district for six years as an administrator.