Green Park gets a new alderman, as Pousosa resigns
Then-Concord Republican Committeeman Tony Pousosa presides over a meeting of the Concord-Lemay Republican Club in July 2018. Photo by Jessica Belle Kramer.
By Gloria Lloyd
News Editor
glorialloyd@callnewspapers.com
Green Park will get a new alderman this week after one of the city's most recognizable aldermen resigned his two political positions and moved out of the city.
New Mayor Tim Thuston appointed Scott Treece as the new Ward 1 alderman after longtime Ward 1 Alderman Tony Pousosa, who ran for county executive once and 6th District County Councilman twice, moved out of the city.
Treece was set to be sworn in as alderman Monday night — after The Call went to press. He was appointed at the Aug. 28 meeting, after Thuston had some initial difficulty finding a volunteer willing to serve as alderman that he also wanted to appoint.
Pousosa resigned from the Green Park Board of Aldermen, along with the city Planning and Zoning Commission, and his longtime position as the Concord Township Republican committeeman.
The St. Louis County Republican Central Committee chose Affton resident Bill Heisse to take Pousosa's place in that role.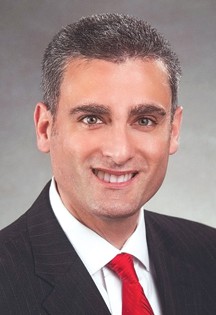 The former alderman sent a resignation letter to Thuston July 26. He now lives in the country near Festus, a move he made because his children are growing older and because he's always wanted to live in the open country.
He searched for another house in Green Park, but houses were being snapped up too fast for him to find one. Instead, he moved to Jefferson County.
"I grew up in the city but I've always been a country boy at heart, and it was an opportunity to move out somewhere," Pousosa said. "I don't have much land, but it's just something that I want to do. I love to garden and landscape and that kind of stuff, and I was always doing that at my home on Antigo. I think it's just time to give someone else an opportunity to keep Green Park where it's at."
Pousosa leaves political life — for now, at least — with the satisfaction of knowing that he was right all along about former County Executive Steve Stenger, who he ran against for 6th District councilman in 2012 and as county executive for the Republican primary in 2014.
"When I tried to tell people about Steve Stenger and pay to play, people just didn't believe what I was saying," Pousosa said. "I knew that eventually something was going to happen with that and it did, fortunately for St. Louis County. I ran in 2012 and it took until 2019 for someone to say yes, there was something going on there. That's a long time in between to have people saying you're crazy."
He also had sounded the alarm about a possible city-county merger for years before the Better Together effort surfaced this year. He still believes the issue could crop up again.
"That's something that they're going to have to be vigilant fighting against," he said of Green Park.
Most of all, he'll miss the city that he grew to love and served for more than 12 years in city government.
"I'll miss everyone and the city of Green Park must go on, but it doesn't rely on the efforts of one person," Pousosa said. "It's going to rely on the efforts of the entire city, the elected official body, governing body and the residents that live there to make sure that they fight for everything they have there."
And they have a lot to fight for, he believes. He ranks the city's "viability" "up there with the city of Chesterfield," due to its financial stability.
"The city of Green Park is a great place to raise your kids — you have a park, two churches, you have the Lindbergh School District and the Mehlville School District," Pousosa said. "You can't ask for anything more."