Eighteen-year-old charged in killing of police officer
County police officer fatally shot in Green Park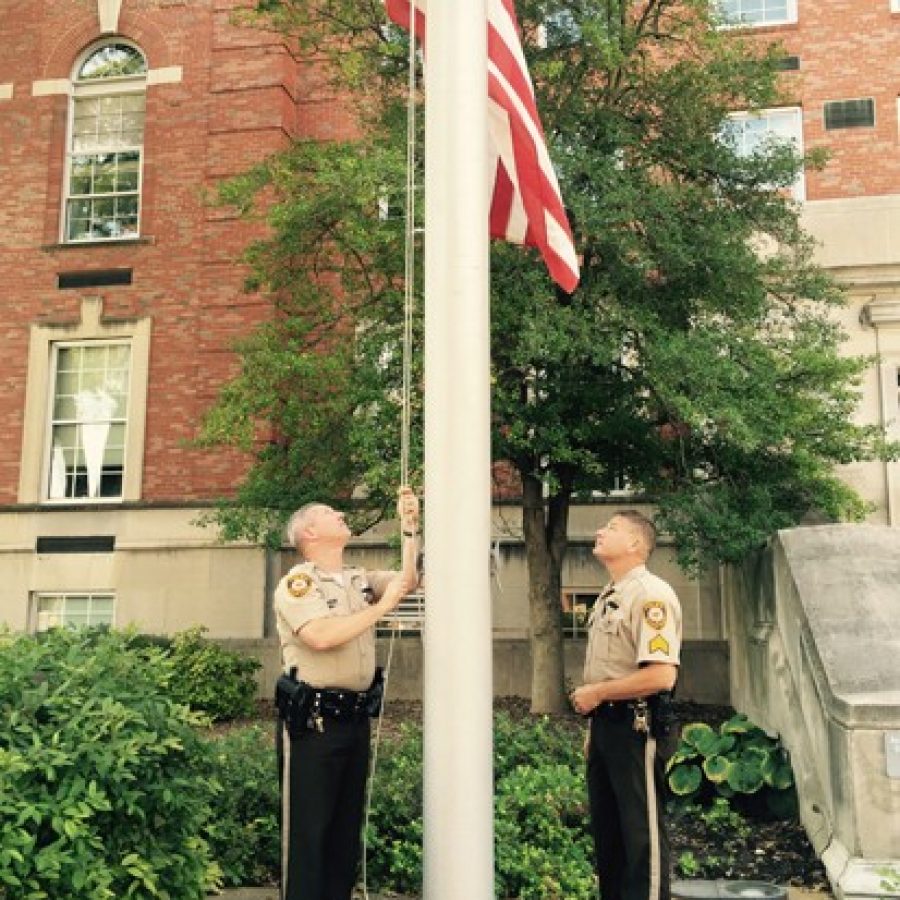 A St. Louis County police officer was shot and killed this morning on a quiet suburban street in Green Park, in what may have been an ambush, police said.
Officer Blake Snyder, 33, a four-year veteran of the St. Louis County Police Department's Affton Southwest Precinct, responded to a call for a domestic disturbance in the 10700 block of Arno Drive in Green Park at 5:04 a.m. Thursday and was almost immediately shot, Chief Jon Belmar said.
Snyder is the first county police officer killed in the line of duty since Sgt. Richard Weinhold was killed on Halloween in 2000. It is the third officer-involved shooting in the Affton Southwest Precinct's coverage area in the last year, but no police officers have been injured in the other shootings. Major crimes are rare in Green Park, and the last murder in the city came during a 2008 robbery at the Steak 'n' Shake, when two employees were killed.
Trenton Forster, 18, of the 9500 block of Sequoia Court, Affton, is charged with first-degree murder and armed criminal action in Snyder's killing, with bond set at $1 million, cash-only, county Prosecuting Attorney Robert McCulloch announced at a press conference.
Forster was a junior at Lindbergh High School last year but withdrew in May of this year and is not a current Lindbergh student, Lindbergh Schools Communications Director Beth Johnston wrote in an email to the Call. He also attended Affton High School last fall for one semester before withdrawing, Affton Communications Director Erica Chandler told the Call.
Snyder arrived at the Green Park house two minutes after a resident called 911 to say Forster was "allegedly banging on the door and wanted in … and they were reluctant to let him in and called the police," according to the account Belmar gave.
The house is in a quiet neighborhood off Mueller Road by Clydesdale Park in the heart of the city, across the street from the house of Lindbergh Board of Education member and former Rep. Vicki Englund, D-Green Park.
When Snyder arrived at the scene, he found Forster in the driver's seat of a car in front of the house and demanded that the teenager put his hands up where the officer could see them, the chief said.
"The suspect produced a pistol and shot Officer Snyder point blank," Belmar said. "It was an immediately fatal wound."
Snyder's backup arrived, saw the shooting and returned fire at the suspect, who was shot between four and six times and was taken to a local hospital, where he is in critical but stable condition and is expected to survive, McCulloch said.
Snyder was shot once, and the immediate nature of the attack suggested to Belmar that it might have been a targeted ambush. In a separate case, Forster faces a felony charge for possession of narcotics, and Snyder was an officer on that pending case, Belmar said. That area of Green Park has no streetlights and would have been completely dark at the time of the shootings.
"It has characteristics of (an ambush), I've seen that in my career before," Belmar said. "You walk up to a car and you're just beginning to engage somebody, there isn't much that has really happened yet and within moments you're shot. This would have been a few seconds, and he was shot."
When asked if Snyder and Forster had any previous relationship, however, McCulloch said they did not.
Although dashboard and body camera footage of the shooting does not exist, the shootings were seen by a witness that Belmar believes to be the 911 caller.
Belmar commended both the firefighters from the Mehlville Fire Protection District who tried to resuscitate Snyder and the emergency room staff at St. Anthony's Medical Center, who worked for an hour trying to save him. The chief met with Snyder's family at the hospital before his press conference and said that they were devastated, as is the entire police force.
Neighbors of the house told the Call that Forster was the boyfriend of a girl living in the house, but authorities did not confirm that.
Snyder is survived by a wife, Elizabeth, and a 2-year-old son. He was a "great guy" and a "dedicated police officer" who had made the choice to enter law enforcement in his late 20s rather than the more typical early 20s, Belmar said. The chief said he knew the officer and last saw him and shook his hand at the Affton Days parade Sept. 24.
"I wouldn't have to know him to tell you that he's tremendously dedicated, that he's an outstanding police officer and if you ask him why he's a police officer, he would tell you without hesitation that he wanted to help people," Belmar said of Snyder.
Police recovered a 9mm gun at the scene. A neighbor told the Call that some of the bullets from the exchange of gunfire flew across the street into a neighbor's house, with one bullet narrowly missing the neighbor's dog and another lodging in the attic.
That is too close to home for comfort, neighbors said, but they also see the event as a unique situation that shows that bad things can happen anywhere.
At the time of the shooting, Forster was out of high school and unemployed, McCulloch said. His social media accounts are a chronicle of drug use, references to dropping out of school and negative thoughts on the police and courts. His Twitter bio is "I smoke marijuana." On May 26, he tweeted, "I want f*** the police carved into my grave," and on May 28, he tweeted, "If anybody will kill me it'd be greatly appreciated." His Facebook profile photo showed him with drugs and money.
Whether it was a premeditated shooting or whether Forster bought ammunition in the days before the incident will be thoroughly investigated, McCulloch noted.
Even more important than the investigation into Snyder's killing, however, is supporting his family, McCulloch said. His own father was an officer for the St. Louis Metropolitan Police Department who was shot and killed in the line of duty more than 50 years ago, and the prosecutor said said the family's pain will never go away.
"Honestly, I think the investigation is very important but takes second seat to doing what we can be doing to at least provide some comfort to the family," McCulloch said. "It's a devastating loss to any family under any circumstances, and I've said that many times before — to lose a loved one to violence, but in this particular situation it is so sudden, and the circumstances so devastating — we will have a great deal of support which will help her through it, but it won't make her sense of loss go away. That I know."
Backstoppers, the St. Louis-area organization that provides financial assistance for the families of fallen police officers and firefighters, posted on Facebook that the organization already gave Snyder's family $5,000, with much more support to follow. A Friday fundraiser at Bandana's Bar-B-Q in Sunset Hills will donate 15 percent of the day's sales to Backstoppers.
The city of Green Park contracts with county police for police services, with dedicated Officer Matt Kappler stationed at Green Park City Hall during office hours. Outside of those hours, officers from the Affton Southwest Precinct respond to calls.