Crestwood amends code about relatives
Update outlines rules related to employment/appointment of relatives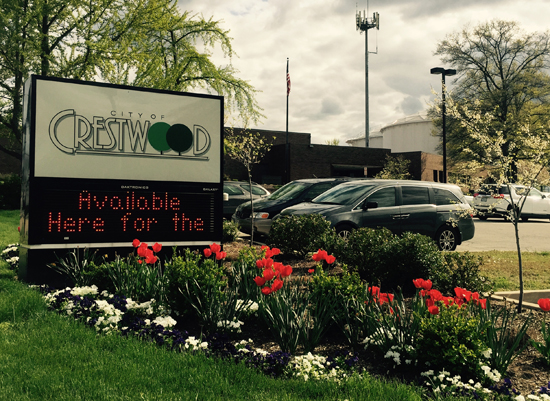 The Crestwood Board of Aldermen amended the city's code in May to change how the city handles employment and appointment of relatives of city officials.
The new ordinance changes the city code to allow close relatives of city officials — whether it is a husband, wife, brother, sister, mother, father, son, daughter, son-in-law, daughter-in-law, brother-in-law or sister-in-law — to serve on a volunteer advisory board, committee or commission. However, city officials would still be prohibited from participating in the vote to appoint a relative.
The bill appeared to pass on a 4-3 vote, but due to a new city rule for voting, it ended up as a tie broken by Mayor Grant Mabie. Ward 1 Alderman Richard Breeding, Ward 3 Alderman Greg Hall and then-Ward 1 Alderman Mimi Duncan voted "no" at the April 13 meeting, while Ward 2 Alderman Justin Charboneau, Ward 3 Alderman Scott Shipley, Ward 4 Alderman Tony Kennedy and former-Ward 4 Alderman Ismaine Ayouaz voted in favor. Ward 2 Alderman Mary Stadter was absent.
Because of the passage of a different ordinance last year, abstentions are counted as "no" votes during roll-call votes. Absences are counted as abstentions and since Stadter was absent and therefore abstained, it counted as an additional vote against the ordinance, triggering Mabie to break the tie. He voted in favor of the employee-relative ordinance. It is the first instance of the city counting abstentions as "no" votes.
State law bans the employment of relatives of elected officials, but not those relatives serving on a volunteer board. The local Crestwood code went above that to ban even volunteer participation. Some other cities have a similar ban, but most do not, the mayor said.
"My personal feel is if we have people willing to donate their personal time to the city and serve as volunteers that are not implementing policy or directing city funds, I don't see any reason for this prohibition," said Mabie. "We'd be better served removing it so we can have the widest possible net to have volunteers serve."
The ordinance first appeared before the board on the consent agenda in March but at the request of several aldermen, the matter was postponed until April so that aldermen could get more information about how the code change came to be.
Mabie, who was the one who requested City Attorney Lisa Stump draft the changes to the code, was absent from the March meeting.
"It would have been nice … if you had this discussion with us at the last meeting, because it was your remarks that you had put on the agenda and you have supported it and you weren't there. … So that was one of the things that I was disappointed in," said Duncan.
"The timing of this is questionable. Had it been done when … this situation … occurred, and had been done proactively instead of reactively, I would have liked that a lot better."
Mabie said the city made several changes to its code in the past few years, but sometimes unexpected changes come up due to unforseen circumstances.
"We've done more code changes in the last five years than I think the previous 20 — we've rewritten a lot," said Mabie, an attorney who has at times scoured the city code as an alderman and as mayor for things that need to be updated in the decades-old code. "It seems like every year situations pop up and we look at our code and we realize there's an appropriate amendment … so it came up for review."
Duncan asked whether in a situation where a relative is on a commission that makes recommendations to the aldermen, like the Planning and Zoning Commission, if the related alderman would still be permitted to vote on proposals recommended by the commission.
"Yes, the prohibition under the constitution really just applies to the appointments of people to those boards," replied Stump.