Church tries again to move to Sunset Hills office park after past denials
Artist's rendering of the proposed Jubilee Church. Image courtesy of Sunset Hills Board of Aldermen and Jubilee Church.
Emily Klein
Staff Reporter
Jubilee Church has not given up trying to open a new church in an office park in Sunset Hills, with another vote expected in October.
It marks the third time the church has tried to gain approval, after the Sunset Hills Board of Aldermen twice denied the proposal this summer.
A handful of people involved with Jubilee Church made their case to the board Sept. 11 for why their church is suitable for the unconventional space at 10801 Sunset Office Drive. No alderman made a motion for a second reading, so the bill will appear on the agenda at the meeting set for Tuesday, Oct. 9.
In past votes, aldermen were torn between saving the space for a future business or accepting the church for the space.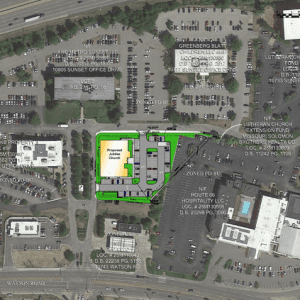 The church is one of the few proposals the office park has received in a long time.
"I know we may not be the prettiest girl at the dance, but at this point we're the only girl at the dance," Jubilee head pastor Bryan Mowrey said.
But some aldermen contend that an office park is not an appropriate location for a church because a church can go on any property in Sunset Hills, but commercial businesses can only go in commercial property.
Ward 4 Alderman Mark Colombo and Ward 3 Aldermen Nathan Lipe and Kurt Krueger voted against approving the church's proposal at the last vote in July.   
Ultimately, the motion failed without a five-vote majority. Ward 2 Alderman Casey Wong was absent.
The office park is owned by Chris Kreutz, who said that he has tried multiple times to recruit companies to lease in the office park, but few companies have taken him up on the offer over the years.
Mowrey quoted Genesis and said the church wants to be a positive addition to the community because God has blessed his congregation, and it wants to give back through community service and business for local restaurants and retail.
"We want to come and be a blessing to the city, and that's been our track record for the past 21 years," Mowrey said.
Jubilee Church is currently located at 4228 S. Kingshighway Blvd., in the Bevo Mill neighborhood. The church rents out the gym at Nipher Middle School in Kirkwood to provide services to members who live farther away from the Kingshighway location. The church hopes that they can build an actual church in Sunset Hills to take the place of the rental situation at Nipher.
Church Elder John Haasis said since the church currently meets in Kirkwood, building a church in Sunset Hills made sense so attendees wouldn't have to travel much farther. Jubilee has a plan to have multiple locations throughout the area, and a Sunset Hills location would serve a "mid-county" area.
"We feel this is a great location, but of course we are not in business of going against the wishes of the local municipality," Haasis told the Call. "We don't want to go in fighting, we want to go in being a blessing to Sunset Hills."
Ward 4 Alderman Thompson Price concurred with Mowrey that although the church is not a business, attendees will bring business to Sunset Hills after they get out of church. He noted that after Sunday service, most people go out to lunch or breakfast, or maybe even shop. People attending Jubilee may not live in Sunset Hills, and therefore will want to check out what's around town after church.
"It would be nice to drive down Watson and see something being built — something new," Price said. "To me, that's progress. To just leave it sit and wait for something better, I don't know what better could be."
Krueger told the board the city has a limited amount of commercial space — less than 20 percent. And that 20 percent of commercial space is extremely important to the city's financial viability, he said.
Haasis knows that people will go out after church and visit local businesses, but he understands that the board wants a business that will bring in tax revenue.
"They want the best development, and of course the tax revenue is a big issue with limited funding," Haasis said. "They didn't particularly say that that's why they want an office building there, but that's the obvious factor."
Vince Lindwedel, a Sunset Hills resident and the real-estate broker for Jubilee Church, told the board that the vacancy rate within the office park is "overwhelming," with around 69,000 square feet available between land and buildings.
Lindwedel added that Sunset Hills has over 224,000 square feet of vacant office space on the market. He told the board that he and the Jubilee team have had to jump through a lot of hoops to get this far with the proposal.
"However, Jubilee Church feels it's all worth it," Lindwedel said. "They're a great group of people and have a lot to offer the community."
One of the hoops they had to go through involved an encroachment on the property. Currently, the adjacent hotel has parking spaces that are on the property Jubilee Church wants to develop on. When the two properties were owned by the same person, there was a written agreement that the parking spaces were fine, but since the hotel property was bought that agreement has been nullified.
In the owner's perspective, the hotel has no legal right to have the parking spaces past the property line, but Haasis realizes that without those parking spaces the hotel won't meet city requirements. In the building proposal, the church can fit in the required 76 parking spaces without tearing up the hotel's parking. So rather than having the city make the hotel get rid of the spaces, Jubilee agreed to let the hotel keep the spaces if they would let churchgoers use them for overflow parking on Sundays.
"We called it being a good neighbor — kind of a biblical term. It would have put the hotel in a pickle, so we just said let's just let them keep the parking," Haasis said.
Haasis said it would take a special type of building to fit on the small property, and be believes that Jubilee can be that building.
The city recommends only a small 12,000 square-foot, two-story building to exist on the property, but the average commercial building size is around 20,000 square feet. Jubilee Church's square footage comes in right at 12,000. Haasis said that the church wouldn't expand on that location, and if they had an increase in attendees they would move to multiple service times.
Ward 1 Alderman Dee Baebler said that the church she attends is built on a commercial lot and if it was being proposed today, it probably wouldn't be accepted because "it's just not appropriate where it is." Price pointed out that it's better to have the church there than nothing, especially since there haven't been many building proposals for that property.
The church staff is hoping the next meeting will go better since they were expecting Wong to vote in favor. But Wong told the Call that he has some concerns.
Since many proposals for this lot haven't gone through, church officials are holding out hope  that Jubilee will be the one that's approved.
"We believe God is in control, and if he wants us to have this church, it'll work out. Sometimes he puts us in a different direction than we were expecting, but it all works out in the end," Haasis said.