Break-in at Grasso Plaza store appears to be isolated incident
A break-in at Grasso Plaza in Affton last weekend appears to be an isolated incident, police said Tuesday.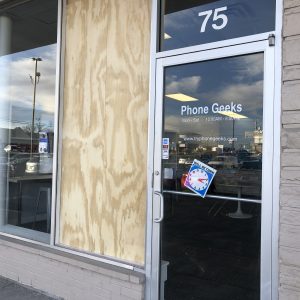 The Affton Southwest Precinct of the St. Louis County Police Department received a call at 6:41 a.m. Saturday about a break-in at Phone Geeks, 75 Grasso Plaza. The smashed window and break-in at the phone store happened sometime between 9 p.m. Friday and 6:30 a.m. Saturday.
Police are still searching for suspects in the case.
The suspect or suspects used a brick to break the front window of Phone Geeks and come into the store, stealing several electronic items.
The robbery at Phone Geeks was the only report police received of any break-in in that area, so it is believed to be an isolated incident.
It is the latest in a string of smash-and-grab robberies in and around the 63123 ZIP code, including a string of six robberies at businesses in the Lindbergh-Lin Ferry corridor in July.