Bell's Day 1 changes opposed by police
By Gloria Lloyd
News Editor
glorialloyd@callnewspapers.com 
As promised, new St. Louis County Prosecuting Attorney Wesley Bell started making changes to the way the county treats crimes on his first day in office, gaining his first criticism in the process.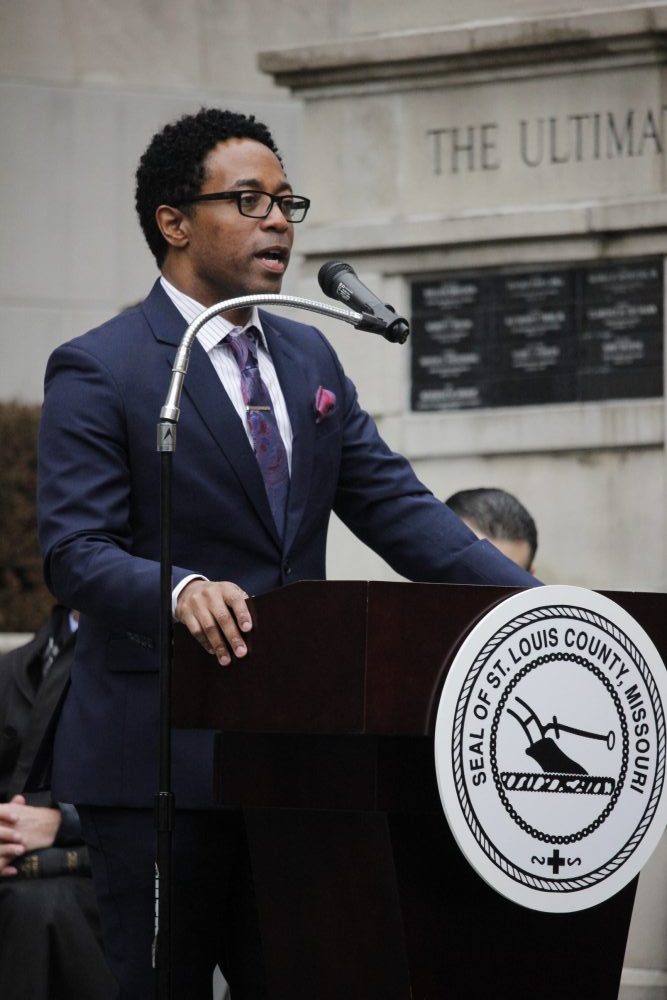 On his second day in office and first official day at work Jan. 2, Bell fired three assistant prosecutors, including two veterans who had worked in the office more than 30 years.
But even more than his first firings, Bell saw his first resistance after he issued what was purportedly an "internal policy" that listed dozens of fairly major changes to the way county prosecutors approach cases and charge defendants.
Among the sweeping changes, Bell said he would immediately decriminalize the possession of less than 100 grams of marijuana and only prosecute for over 100 grams if a person seemed to be a dealer; would decriminalize failure to pay child support and instead encourage victims to pursue civil action; and would not ask for bail or warrants for any misdemeanors or D or E felonies.
Misdemeanors would be limited to one year of probation, and felonies to three.
The policies published by media were marked "internal office discussion/circulation only" and came with the caveat that while they were effective immediately, they would not be finalized until Bell got feedback from current prosecutors.
Bell is an attorney, but is not a criminal prosecutor.
He said at his swearing-in, "Know that everything that I do is to make sure that this county stays safe and to make sure that everyone gets a fair shake."
Among the new policies, he said that prosecutors should not threaten or intimidate witnesses and could not "overcharge" defendants, or load up each court case with extra charges to "pressure the accused to admit guilt." Following the "Brady vs. Maryland" court ruling, he said all files should be handed over to defendants through discovery in advance of trial.
Exceptions to the no-cash-bail rule could be made with written permission of a supervisor if a victim displays "signs of physical injury" or there is "clear and convincing evidence of danger to a witness and/or victim that cannot be alleviated by conditions of release, including, but not limited to: an order of protection."
In the case of the D and E felonies, a prosecutor could possibly get bail if a defendant had made a "direct threat" to a witness or victim before, during or after the arrest, has more than one prior conviction involving the same victim or has more than two failures to appear in court in the last two years. Even in that case, the failures would have to show a willful wish to escape prosecution.
The St. Louis County Police Association, led by Joe Patterson of Oakville, a detective with the county Police Department, said officers are "disappointed and discouraged" by the new policies and urged Bell to "take immediate action to stop some of these changes and find a better and safer path to implement his platform."
Doing away with charges for failure to pay child support endangers single working parents, and doing away with warrants for D and E felonies "places the citizens of St. Louis County at risk for repeat victimization," Patterson said.
"Law enforcement agencies throughout St. Louis County must now enforce the laws with one hand tied behind their backs," Patterson said. "This comes at a time when manpower shortages are commonplace and the murder rate is the highest it has ever been in the history of St. Louis County…. We understand Mr. Bell has a vision and change is expected, but many of these new policies are a step backwards for every citizen in St. Louis County, and we know they share our concern for public safety."
Some of the crimes that might not be given bail or warrants are "shockingly heinous," Patterson added, including variants of rape, child molestation, sexual contact with a student, child pornography, child abuse, burglary and domestic assault.