With latest CD, 311 continues to 'evolve''
Originally Published: 8/26/2003
By ALAN SCULLEY
For the Call
With a title "Evolver" that immediately evokes the name of "Revolver," the classic 1966 Beatles album, S.A. Martinez of 311 knows his band is drawing a lofty and potentially touchy comparison.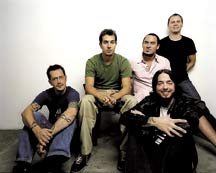 "You know, we talk a lot about the Beatles on this record," said Martinez, singer and co-writer of many of the band's lyrics. "One thing we want to make clear is we're not trying to compare ourselves to the Beatles or how they sound or anything. It's just the spirit in which they created music is what we're going after. They're a band that constantly reinvented themselves and that's basically the spirit behind 'Evolver.' It's about taking this band up a notch."
"Revolver" is widely viewed as the album that took the Beatles beyond the straightforward, three-minute pop of preceding albums and set the stage for the Beatles to create such ambitious pop songs as "A Day in the Life," Sgt. Pepper's Lonely Heart's Club Band," "I Am the Walrus" and "Lucy in the Sky With Diamonds."
Undoubtedly, 311 never will have the wide-ranging impact of the Beatles or create music on the scale of the Fab Four. But Martinez doesn't hesitate to assert that "Evolver" takes 311's music to a new level. He said that he and the other band members — Nick Hexum (singer/chief songwriter), Chad Sexton (drums), Tim Mahoney (guitar) and P-Nut (bass) — came into the project determined to raise their game musically.
"We had some moments on 'From Chaos' that were pretty sweet, but it wasn't a really consistently strong record through and through," Martinez said, mentioning the group's previous CD, which was released in 2001. "So with this record, we really wanted to make it an effort to challenge ourselves and to really dig and come out with a great record, and a great rock record at that.
"I think 'Evolver,' hands down, is the best record we've done," he said. "The fans, well, they'll either agree or they'll disagree. But it's just something we're really proud we've been a part of, honestly."
One reason "Evolver" came out so well, Martinez said, was that the group members hit their stride creatively earlier in the writing process than usual.
"We always had like great songs come out at the end. And we might not start so strong. But I think with 'Evolver,' we just had a great foundation to begin with. Then we built on from that. It was just something we kept adding to. And still, I think we finished stronger than we started … I mean, we were just on the same page and everything was firing at once and we had a lot of great magic on this record."
Another advantage on "Evolver," Martinez said, was that the entire CD was recorded and mixed at the group's own studio. He praised producer Ron Saint Germain for his ability to make the most of the sonic capabilities of the facility.
"Evolver" comes 10 years after the release of 311's major-label debut, "Music."
And it certainly has been a busy decade for the band, which formed in 1990 in Lincoln, Neb., and self-released three albums before moving to Los Angeles to pursue a record deal.
Since the release of "Music" in 1993, 311 has released five more studio CDs as well as a 1998 live record. While the band has cultivated a strong grassroots following, 311 also has enjoyed major commercial success with several albums and their musical mix of rock, funk, hip-hop and reggae.
The biggest hit, was the 1995 self-titled CD — commonly called the "Blue" album — which yielded major radio hits in "Down" and "All Mixed Up," and sold more than 3 million copies. But the band has enjoyed significant airplay from other CDs as well, with "From Chaos," for instance, producing two top-10, modern-rock hits, "Amber" and "You Wouldn't Believe."
Martinez said he believes that 311 is as strong as ever as a unit, and as his satisfaction with "Evolver" suggests, that the group is as creatively energized as at any point in the band's career.
"We've got great communication within the band," Martinez said, explaining how 311 has kept a strong chemistry. "You know, I think that's the most important thing. If a band isn't talkative to one another, it's not going to happen. You know, we do, we communicate. We're friends on and off the court. But yeah, that's the testament to our endurance, this many years into the game. We're fortunate, and for us it's easy."
311 headlines a 7 p.m. Aug. 8 show at UMB Bank Pavilion. Tickets for the concert cost $29.50. OAR, Something Corporate and DHP also are on the bill.