VIDEO: UrbanStreet breaks ground for Crestwood mall demolition
Mall top development priority in south county, Sifton says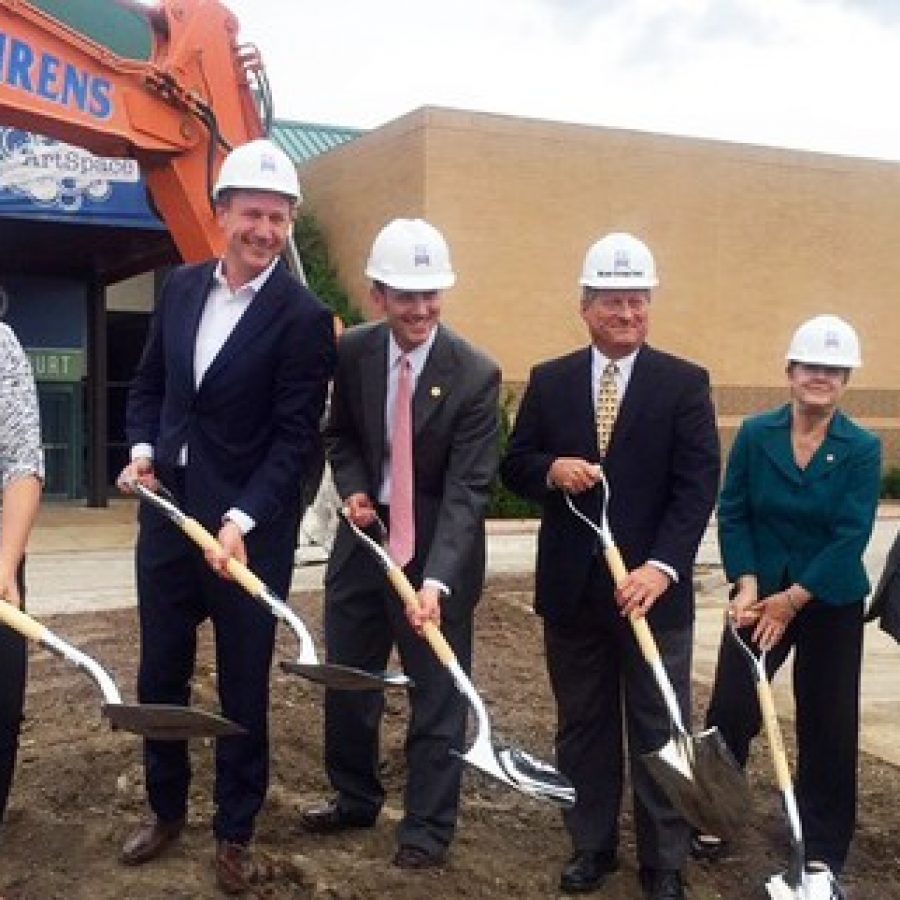 It's not every day that a developer breaks ground for a demolition rather than construction on a project, and it's not every day that a groundbreaking includes a mini-demolition demonstration — but everyone involved with the groundbreaking for the Crestwood Plaza demolition Tuesday agreed this project was unlike any they'd ever seen.
Unlike most groundbreaking ceremonies that herald the beginning of construction, this groundbreaking happened before anyone present knew exactly what they were breaking ground for – no tenants are officially signed on for the $104 million mixed-use development, Mayor Gregg Roby said.
Nearly two years to the day since Chicago-based developer UrbanStreet Group bought the property on Auction.com, UrbanStreet managing partner Bob Burk said Tuesday that everyone involved in advancing the project deserved a day of celebration, including seeing "Big Daddy" the excavator tear down the mall entrance outside the event.
First known as Crestwood Plaza and then Crestwood Court, the open-air mall was closed in during the 1980s and thrived until eventually stores began to leave. The lone last store, LensCrafters, left in 2013.
Roby, Burk and Sen. Scott Sifton, D-Crestwood, welcomed the beginning of the demolition and wielded shovels in the mall parking lot to break ground.
Roby, who made developing the mall a priority of his 2014 mayoral campaign, was the "man of the hour" for getting the project's tax incentives approved, Burk said.
The Board of Aldermen unanimously approved $25 million in tax incentives for the proposed $104 million mixed-use development, which could include retail, dining, a movie theater and senior apartments, Burk said — but not a fitness center as originally envisioned, since the city could soon have five gyms already.
Of the $25 million in incentives, $15 million could come from either tax-increment financing, or TIF, or a Chapter 353 tax abatement.
Getting a new development at the former mall site has been the top development priority of residents in Sifton's Senate district since his term began four years ago, the senator said.
"Isn't it great that this day has finally come?" Sifton said. "Since before I took office as the state senator for Crestwood and surrounding areas, this has been far and away the No. 1 local development issue in my district, without question. I couldn't even tell you what's in second place relative to the importance of getting this done for Crestwood and for all the communities in the area.
"I want to congratulate Mayor Roby, UrbanStreet and the council members — this has been the city of Crestwood getting this done along with UrbanStreet and along w all the partners you see here — I'm very much looking forward to a bright future at what has been a very challenging site for us for a number of years. very much looking forward to having it done."
The event was also attended by Rep. Jeanne Kirkton, D-Webster Groves, Crestwood aldermen and other current and former city officials, including former Ward 2 Alderman Tim Trueblood, who was warmly greeted by Burk when he arrived.
Notably absent from the groundbreaking was anyone from Lindbergh Schools, including Superintendent Jim Simpson, who regularly attends area groundbreaking ceremonies.
The school district, which stands to lose most of the diverted property taxes from a TIF or Chapter 353 incentive, has opposed the development from the start because school officials believe it will add extra children to already-packed schools while taking away tax dollars.
"We have never experienced the community engagement that sparked on this project," Burk said, noting that more than 700 people attended an open house at the Community Center last year to voice their concerns or support of the project. "It was tough … it was out of control, but it was wonderful."
The apartments at the site will be senior apartments or UrbanStreet will make payments to the school district to make up for the lost tax revenue, Burk told the Call.
As far as Lindbergh's budgetary concerns, Roby said, "Crestwood Plaza was a cash cow for the Lindbergh School District when it was first built for many years before any other developments were created around here, and 2. I think that Crestwood Plaza again is going to be a huge benefit to Lindbergh School District once it gets developed and it starts producing revenues."
Wearing a custom hard hat after "Big Daddy" tore down the mall entrance, Roby told the Call he had mixed emotions on seeing the mall that used to be such a vibrant part of the city torn down.
"I gotta tell you, it's a little melancholy," he said. "I actually sold newspapers here when I was like 13, 14 … You could say I had a paper route here."
The Call took a rare tour of the inside of what some websites have called a "zombie mall" in the past, which is now covered in graffiti and littered with trash. Stay tuned for photos from the tour.