Two Lindbergh educators named state Teacher of the Year finalists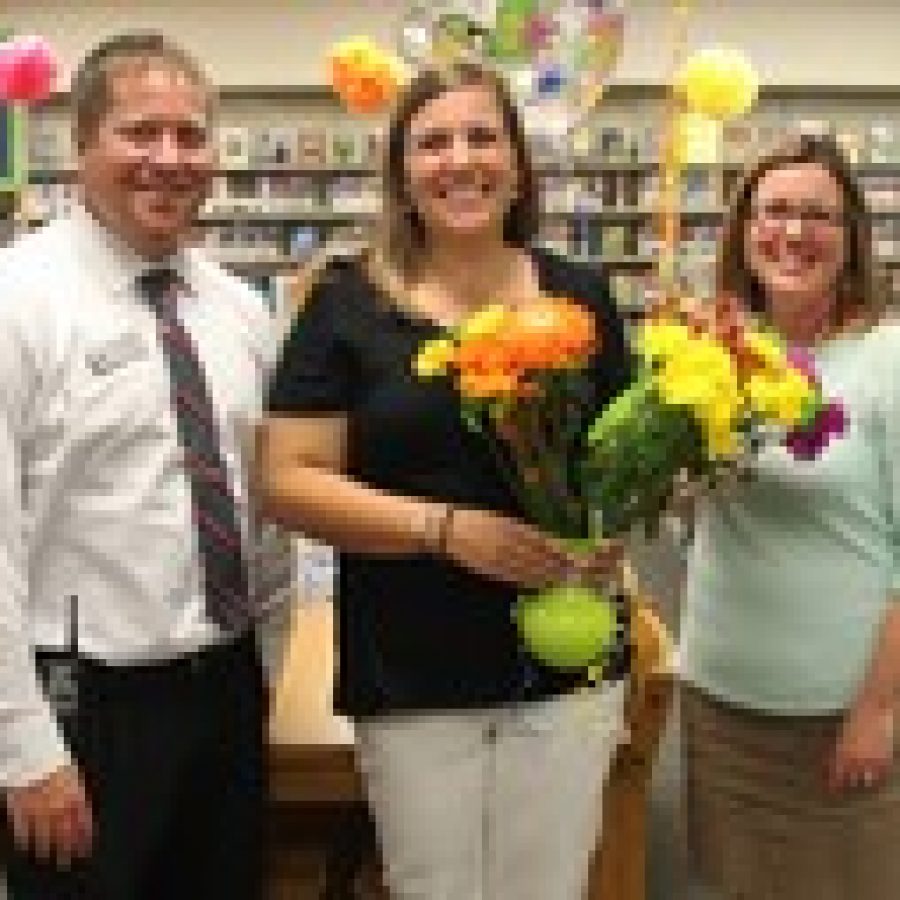 Not one, but two Lindbergh Schools educators have been named finalists in the Missouri Teacher of the Year program.
Truman Middle School science teacher Melissa Nussbaum and Special School District teacher Kim Dailey are two of six finalists statewide for the prestigious honor.
Nussbaum, Lindbergh's 2015 Teacher of the Year, has been a middle-school science teacher for eight years, and department chair for the past five years.
She is leading the science curriculum's progression to create process-driven classes that focus on scientific inquiry and critical thinking. This increased engagement is a big reason for the 20-percentage point jump in middle-school science achievement at Lindbergh, according to Principal Tara Sparks.
"It is an honor to represent Lindbergh and all of the great teachers in Missouri as a finalist for Teacher of the Year," Nussbaum said during a surprise announcement last week. "I was surprised and flattered to hear all of the kind words from my colleague, because they've made me the teacher I am today."
Dailey was named Special School District's Teacher of the Year in 2014, and applied for the state title this year. Dailey has been teaching for 29 years, most recently at Lindbergh High School.
Her ability to bring people together blends the lines between SSD and general education, through programs such as Lunch Club, which pairs students at lunch to foster a positive social experience. Dailey also sponsors Key Club, a community-service-based student organization and serves as a team coach for Special Olympics.
"I'm only as good as the staff I work with and they are fabulous," she said to the LHS faculty during her surprise announcement last week. "Thank you for all the connections and relationships you've built, not only with me and our colleagues, but with our kids. We do some fabulous things here. We do, not just me. This is an honor. Thank you so much."
Besides Nussbaum and Dailey, Sappington Elementary School's new Assistant Principal Ta'Keshia Parker was Kirkwood School District's 2015 Teacher of the Year. She became ineligible for the state finalist process when she moved into her new administrative position at Lindbergh.
Six outstanding public school educators were chosen from a pool of nominations submitted by school districts throughout the state. A selection committee appointed by the Department of Elementary and Secondary Education reviewed the candidates' written applications and selected finalists. The other finalists are from the Ritenour School District, the Blue Springs R-IV School District, the Lee's Summit R-7 School District and the Pattonville R-III School District.
The selection committee will interview the finalists Sept. 14 in Jefferson City and will select the Missouri Teacher of the Year, who automatically will become the state's nominee for National Teacher of the Year.
The finalists will be honored at a banquet Oct. 26 in Jefferson City. Chris Holmes, of Crestwood, a journalism teacher at Hazelwood West High School, is Missouri's 2014 Teacher of the Year.