Tigers pummel SLUH in 31-3 victory
Oakville will face Fox Friday in Class 6 state quarterfinal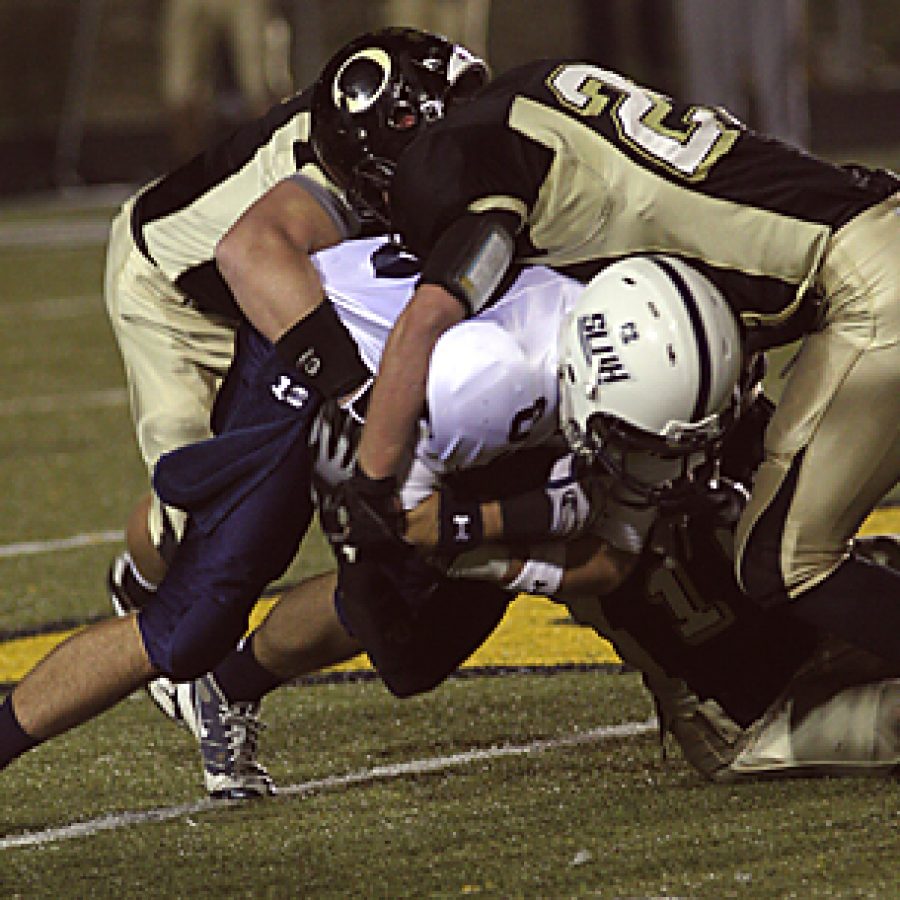 The Oakville Senior High School football team is one step closer to the Missouri Class 6 championship game after a 31-3 victory over St. Louis University High Friday night at home.
"We put it all together Friday night," Oakville head coach Arlee Conners said. "I've been waiting all year long for us to play two good halves and Friday night was the first time we did that."
The Tigers (8-3, 4-3 Suburban West) struck first with a three-yard touchdown run by Paul Taylor and the extra point by Andrew Messmer to give them a 7-0 lead over the Junior Billikens with 3:02 left in the first quarter. Taylor carried the ball five times for 87 yards.
"Paul continues to be big for us down the stretch," Conners said. "We dialed up his number a couple of times Friday night and he delivered once again for us."
SLUH (5-6, 1-3 Metro Catholic) responded with a 25-yard field goal by Andrew Meyer to trim Oakville's lead to 7-3 with 8:35 left in the second quarter.
Taylor struck again for the Tigers when he busted out a 70-yard touchdown run with 6:26 left in the second quarter. The touchdown was Taylor's 13th of the season.
Oakville went into halftime up 21-3 after quarterback Joe Plassmeyer hit Mike Cyliax for a 12-yard pass with no time left on the clock. Plassmeyer completed 14 of 19 passes for 150 yards and one touchdown.
"Joe played very well," Conners said. "He made very few mistakes and really made some good decisions throughout the game.
"I think that he's really picking up his game at the right time of the year."
Cyliax led the Tigers with seven receptions for 80 yards in the win.
"Mike finds a way to get open," Conners said. "He's got good hands and runs good routes and Joe has a way of finding him."
Both teams were quiet for most of the third quarter until Andrew Messmer nailed a 9-yard field goal with 21 seconds left in the quarter. He has four field goals this year.
"Andrew's somebody that we know we can count on," Conners said. "For him to get the field goal in the playoffs was good experience for him."
Oakville's final touchdown of the game came midway through the fourth quarter when Darnell Cooper grinded in a 6-yard run with 5:18 remaining. Cooper carried the ball eight times for 50 yards.
"Darnell is another one that delivered when his number was dialed up," Conners said. "When you give him the opportunity, he knows what to do with the football."
The Tigers return to action at 7 p.m. Friday when they play host to Fox in the Class 6 state quarterfinal.
Fox (9-2, 6-0 Mississippi Area Red) is coming off an impressive 31-28 win in overtime last Friday over previously undefeated Lindbergh. Quarterback Bobby Mahoney completed 9 of 11 passes for 136 yards, two touchdowns and one interception in the win.
One thing Conners does not want to repeat is last year's win over Fox in the district playoffs, then falling to the Warriors 39-27 in the Class 6 quarterfinal.
"This is a totally different team than we had against Fox last year," Conners said. "It's going to be a tough ball game and they're a tough ball team. It's going to come down to the team who wants it the most is going to be the one that's going to get the win."