By Gloria Lloyd
News Editor
glorialloyd@callnewspapers.com
Voters in south county and across the state overwhelmingly voted last week against Missouri becoming the 28th right-to-work state with the decisive defeat of Proposition A, delivering a statewide "beatdown" and marking the first time any voters nationwide overturned a right-to-work law.
Prop A was defeated in St. Louis County 72.78 percent to 27.22 percent, 196,046 votes to 73,312. The results were similar statewide, as more than 1.3 million voters cast 937,241 "no" votes compared to 452,075 "yes" votes, or 67.5 percent to 32.5 percent.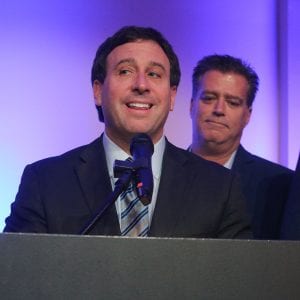 After the Missouri Legislature enacted right-to-work following the election of former Gov. Eric Greitens in 2017, union groups turned in 300,000 signatures to hold the law until voters could weigh in on a referendum to decide whether to ratify it or strike it down.
The result was Proposition A, which Republicans moved from the November ballot to August in a calculated move not to increase turnout in the U.S. Senate election between incumbent Sen. Claire McCaskill, D-Kirkwood, and Republican challenger Attorney General Josh Hawley.
Instead, the historic vote marked the first time nationwide that voters directly overturned a right-to-work law, although Ohio voters overturned a similar law in 2011.
A "yes" vote would have enacted the law. A "no" vote rejected right-to-work and keeps unions' ability to charge workers mandatory fees.
It is still unclear whether the Republican supermajority in the Legislature, which overwhelmingly passed right-to-work, will pass the legislation again next year.
Some Republicans up for re-election this year have said the voters' opinion of the measure should stand.
But the Legislature has gone against the wishes of the voters in the past, most recently overturning regulations on puppy mills after voters approved them.
The Legislature also enacted concealed carry of guns four years after voters rejected it in 1999.
Although "No on Prop A" signs dominated the electoral andscape in St. Louis County leading up to the vote, observers weren't as sure that the rest of the state would follow through and weigh in against the measure.
Unions nationwide poured money into the race, with about $15 million spent for the "no" campaign and $3 million spent on the "yes" side.
"How about the work we all did together to deliver the beatdown on Prop A?" County Executive Steve Stenger said at his own victory party, after narrowly edging Democratic challenger Mark Mantovani for re-election. "I am so proud of organized labor and Democrats who worked together tirelessly to defeat Proposition A… I've been supporting organized labor my entire life, so I'm really particularly proud about what we accomplished."
Sen. Scott Sifton, D-Affton, sent out a fundraising email congratulating Missouri on rejecting the law.
The resounding rejection was a "major victory on behalf of working families," Sifton said.
The email continued: "Proposition A was an abhorrent attack on workers' rights and would have undermined wages and benefits. So-called 'right-to-work' laws like Proposition A have led to lower wages in states that have passed them. Missourians can't afford to turn our backs on workers and unions, both already under siege by Republicans in Jefferson. Our voters know a bad deal when they see one."