Residents continuing to clean up after violent storms pummel area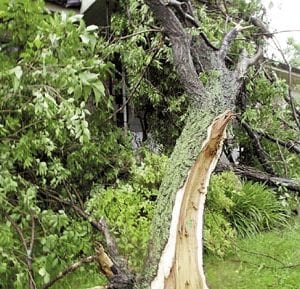 Power was restored early Saturday morning to parts of south county and northern Jefferson County that had been without power since rain and heavy windstorms knocked out power to nearly 100,000 area homes on June 10.
"It's one of the largest storms we've ever encountered," AmerenUE spokeswoman Susan Gallagher told the Call. "Your coverage area in south St. Louis County — Affton, Lemay and Fenton — were the hardest hit."
Gallagher said last week's storm knocked out power to 169,000 homes and businesses across the metropolitan re-gion's power grid, breaking poles and severing power lines. Line crews from Illinois and Iowa were called in to restore service.
"At one point the 911 service was overloaded with calls," said Nick Gragnani, deputy director of Emergency Management Service for St. Louis County.
Gragnani urges anyone with storm-related damage to contact his office at 628-5400 to report their losses. He said businesses that suffered losses during the storm or the resulting power outage also should contact him.
"Right now it's a numbers game," Gragnani said. "If the losses are high enough, we may be able to qualify for emergency assistance. We can help people who weren't 100-percent covered by insurance."
County police are helping to gather the information Gragnani needs.
"We're out doing damage assessments," said Affton Precinct Capt. Ted Hylla. "We had a lot of damage to houses and vehicles — especially in the Baptist Church Road, Meath and Ross Commons areas."
Mary Croghan had just replaced the roof on her home at the intersection of Tesson Ferry Road and Lakeford Lane in Affton.
"I heard a terrible noise and saw the trees blowing real hard," Croghan said. "I went to the basement as quick as I could."
When the storm subsided, Croghan discovered the 12-inch thick tree in her front yard had been blown on to her roof and front porch.
A 36-inch diameter tree across Tesson Ferry had blown over blocking four of five traffic lanes and severing power lines and leaving in its wake a lot of work for tree services that grind fallen limbs into mulch.
"It's amazing how strong that wind is," said Brian Keilholz, owner of Keilholz Tree Service. "A lot of people have been really lucky, the storm hit one house and missed another. The worst things were how soon can I clean up my yard and how quick can I get the power back on."