Police ask for video in string of South County burglaries on animal hospital, five other businesses
Pictured above: Police cars, detectives and the Crime Scene Unit respond to a business break-in Tuesday morning at Medcuro and Tailor's Boutique on Lin Ferry Drive in Green Park. Photo by Gloria Lloyd.
The businesses broken into in a string of burglaries overnight Tuesday in South County include an animal hospital, a car dealership, a car tire business and a dry cleaner, and police are asking the public for video to find the person or people responsible.
The six smash-and-grab burglaries appear to be related, St. Louis County Police Department spokeswoman Officer Tracy Panus said.
The break-ins happened between 12:30 a.m. and 3 a.m. Tuesday, all with forced entry.
Various amounts of money were stolen from each business.
The businesses include:
South County Dodge Chrysler Jeep Ram – 7127 S. Lindbergh Blvd.
Concord Cleaners – 11415 Concord Village Ave.
Concord Animal Hospital – 11705 Baptist Church Road 
Auto Tire – 11711 Baptist Church Road 
Tailor's Boutique – 9951 Lin Ferry Drive 
Medcuro Orthotics and Prosthetics – 9959 Lin Ferry Drive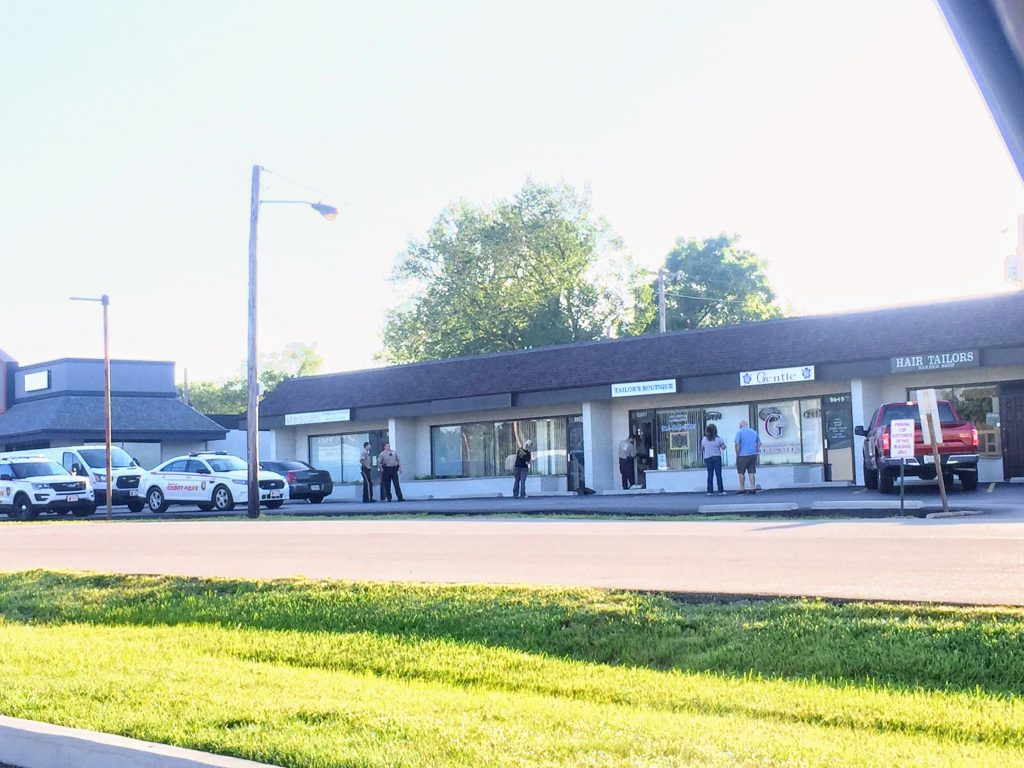 The St. Louis County Police Department said it is adjusting manpower in the area to conduct extra patrols and working with the affected businesses.
Police are also asking for the public's help with any surveillance or video images they may have from the area between midnight and 4:30 a.m.
Medcuro and Tailor's Boutique, a sewing and alterations shop, are in a strip mall across from the Fresh Thyme Farmers Market grocery store and close to Concord Village Avenue and Baptist Church Road, where the other burglaries happened.
Detectives were on Lin Ferry with the Crime Scene Unit at 7:30 a.m. Tuesday. The glass front door was completely broken.
Police are not yet sure if they are looking for one person or multiple suspects.
The nearby Heyde Sewing Machine Company was burglarized in June, with an expensive sewing machine taken.
The St. Louis County Police Department's Bureau of Crimes Against Property is leading the investigation. 
Anyone with information for detectives is asked to contact the St. Louis County Police Department at 636-529-8210 to speak to investigators.
To remain anonymous or potentially receive a reward, police ask witnesses to contact CrimeStoppers at 1-866-371-TIPS(8477) if they have any information regarding the incident.