Panthers suffer their first shutout loss since 2002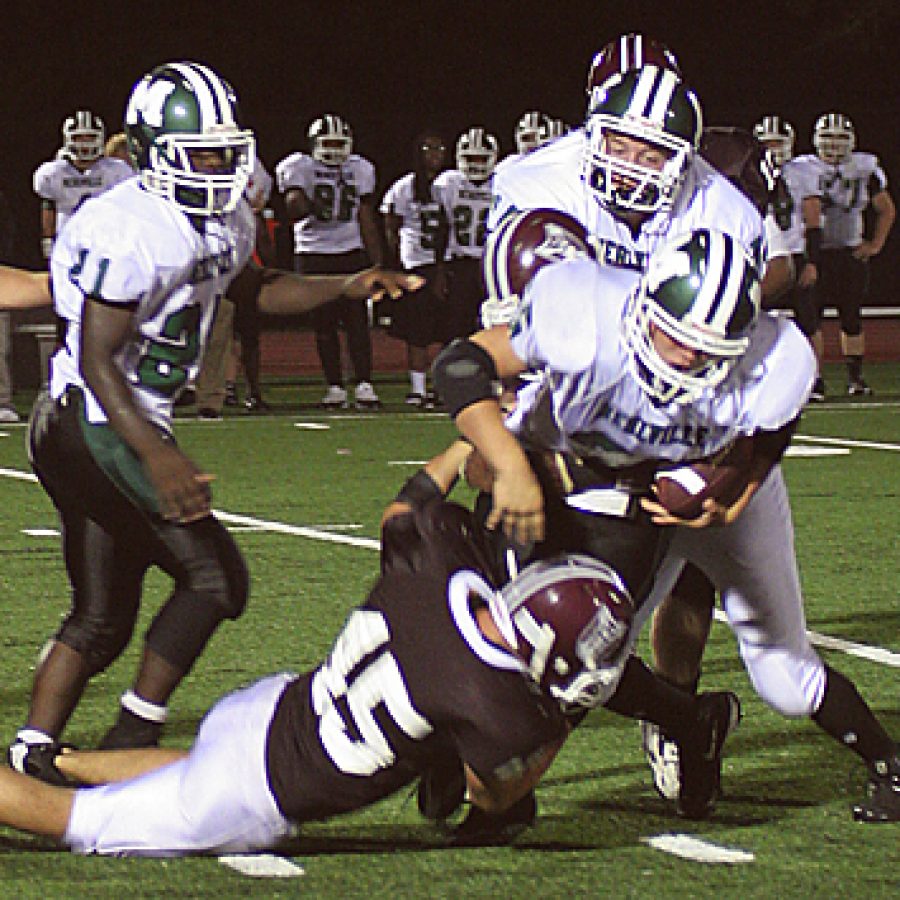 The Mehlville Senior High School football team suffered one of its worst losses of the decade Friday night in a 38-0 defeat at De Smet.
The last time the Panthers suffered a shutout loss was Sept. 27, 2002, when Lafayette posted a 3-0 win at Mehlville.
"De Smet is a good football team and we knew that we'd have our hands full against them," Mehlville head coach Eric Meyer said. "It's frustrating because I think we can play better football. What we need to do now is look at what we did wrong and then try to fix those things and play better ball."
De Smet jumped out to a 3-0 lead on a 28-yard field goal by Chris Adams with 7:59 to play in the first quarter.
The Spartans extended their lead to 10-0 when Malcolm Agnew scored on a 14-yard touchdown run with 12 seconds to play in the first quarter.
"De Smet is going to be a tough team," Meyer said. "We've have just got to get better for next week."
Mehlville's woes continued in the second quarter when Teddy Corwin caught a 10-yard touchdown pass from Steve Kaiser with 6:26 left in the quarter to give De Smet a 17-0 lead.
David Hill gave the Spartans a 24-0 lead with a one-yard touchdown run with 2:52 left in the second quarter.
The Spartans continued their assault on the Panthers when Kaiser connected with Durron Neal on a 54-yard touchdown pass with 48 seconds left in the first half.
De Smet scored its fifth and final touchdown of the game with 39 seconds left in the third quarter when Kaiser again hit Neal on a 25-yard touchdown pass to give the Spartans the 38-0 win.
The Panthers return to action Friday when they travel to Oakville for a 7 p.m. meeting with the Tigers, who are coming off an 18-7 win over Vianney as they racked up 204 yards rushing.
"We just want to go out there and win the football game," Meyer said. "We can't turn the ball over like we did against De Smet, and we've got to play sound defense."