Panthers roll over SLUH 34-7; will face CBC Friday night in state semifinal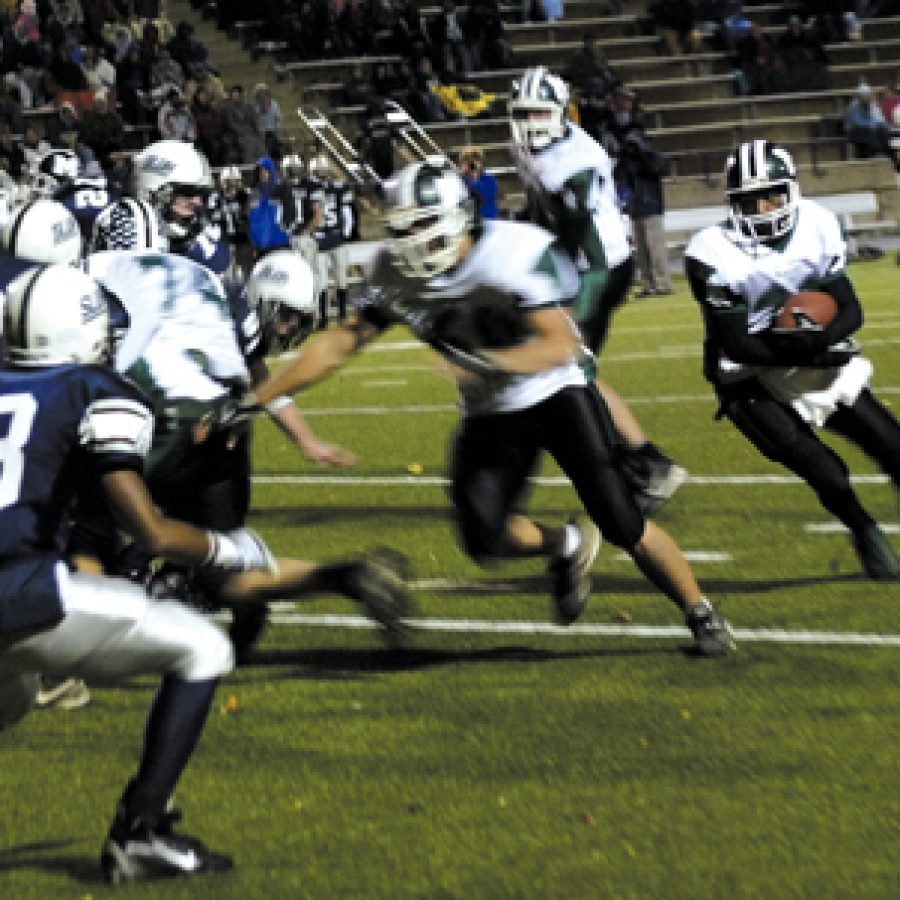 Like an army of bulldozers, the Mehlville Senior High football team amassed 460 yards rushing in a 34-7 win over St. Louis University High Friday night.
"We've been running the ball pretty good," Mehlville head coach Gary Heyde told the Call. "The first part of our game plan was to run the ball. When we saw that it was working so well, we stuck with it."
The Panthers' (8-3, 6-1 Suburban West) win over the Junior Billikens now advances them to the Class 6 state semifinal against CBC Friday night. The game will feature two teams that were 2-8 last season and will be a rematch from Sept. 8 when CBC grabbed a 34-21 win at Mehlville.
"They (CBC) have improved a lot like us," Heyde said. "They're hitting on all cylinders, so it's going to be a challenge."
Mehlville found very little challenge against the SLUH defense despite the score being tied 0-0 after the first quarter. The Panthers took a 7-0 lead midway through the second quarter when junior running back Joel Fieseler scored on a one-yard touchdown run. Fieseler carried the ball 21 times for 90 yards and two touchdowns.
"Joel is always picking up the tough yardage for us," Heyde said. "He's been playing real solid for us."
Mehlville increased its lead to 14-0 when senior running back Rashad Wilson scored on a 20-yard touchdown run with 2:28 left in the first half. Wilson carried the ball 15 times for a whopping 203 yards.
"Rashad had a great night," Heyde said. "He ran the ball really well, but he's also been blocking really well for us too."
SLUH finally answered the Panthers' 14-point outburst with a one-yard touchdown run by John Swanston with 1:20 left in the first half. But Mehlville immediately responded when offensive guard Steve Fazekas recovered a fumble by Travis Shores to score a one-yard touchdown.
"We got the ball back with about 1:06 left and had a pretty impressive drive down the field," Heyde said. "Travis was hit at the one and fumbled, and Steve picked up the ball and scored. That was a big drive for us to score because it was only 14-7 at that point in the game."
Shores had a solid evening for the Panthers as he racked up 158 yards rushing on 17 carries.
"Travis had a good night," Heyde said. "He had a touchdown called back on a penalty and then had the fumble on the one-yard line. We had all three running backs running well that night."
Fieseler scored on an eight-yard run with 8:18 to play in the third quarter to bring the score to 20-7. Mehlville ex-tended its lead to 34-7 in the fourth quarter when Wilson pounded in a 23-yard touchdown run. Senior linebacker Zack Cook led the Mehlville defense with 12 tackles and three assists. He also leads the Suburban West Conference with 133 total tackles this season.
"I've had a lot of good linebackers, but none that have led the conference in tackles," Heyde said. "He had a good, solid week for us."
The Panthers are on the road at 7 p.m. Friday when they travel to CBC (10-1, 4-0 Metro Catholic) for a rematch with the Cadets.