Oakville starting pitcher a formidable opponent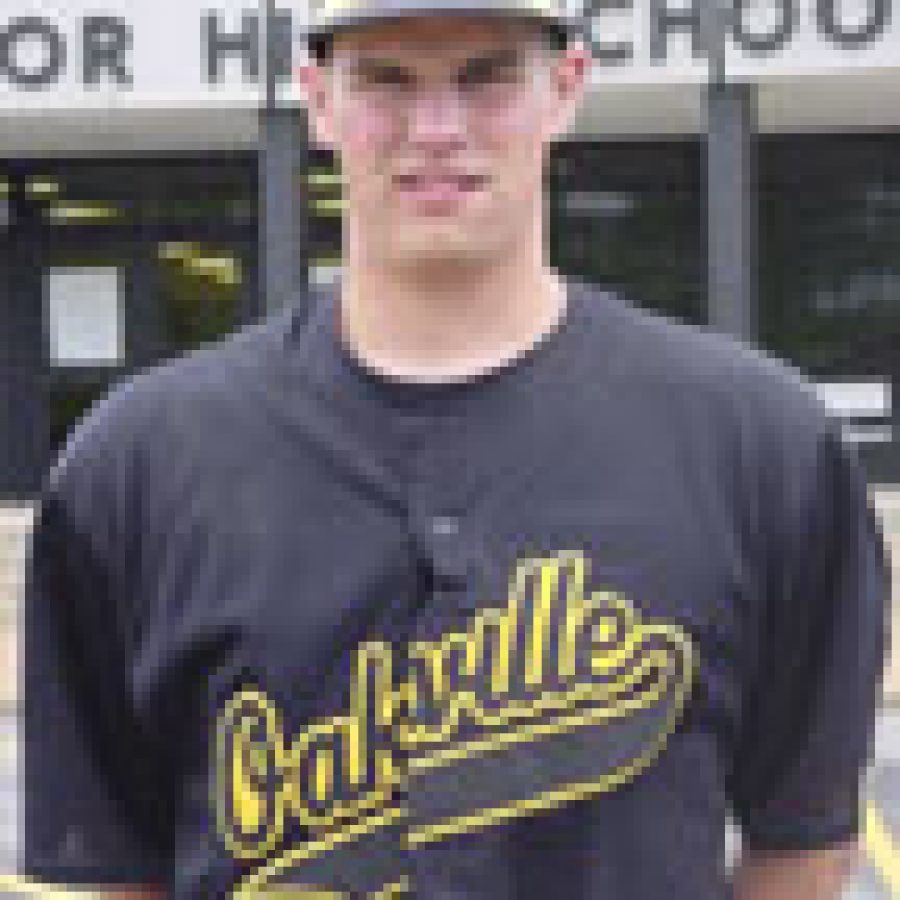 In some ways, Oakville Senior High School starting pitcher Pat Doyle is like a gunslinger from the days of the Wild West.
That impression might come from the hardened look on his face when he towers over the mound with his 6-foot-plus frame.
Or perhaps it's his intensity that's quickly noticed when he mentions that he prepares for an opponent for nearly a week in ad-vance.
Nonetheless, Doyle is one pitcher on this year's Oakville starting rotation whose presence strikes fear into the hearts of opponents.
"Dan is very composed and very mature out on the mound," Oakville head coach Rich Sturm said. "He does what you would expect out of your ace starting pitcher."
But even before Doyle set foot at Oak-ville Senior High, the Tigers' head coach knew that the senior hurler was all about business when it comes to baseball.
"I had Pat in middle school and I knew coming into high school that he was serious about being a good pitcher," Sturm said. "He's got a lot of natural, God-given talent, but he's also worked extremely hard in the off-season."
Doyle acknowledges that his hard work in the off-season has paid huge dividends this season, but also credited former pro Lance Schuermann for his success on the field.
"In sixth grade, I took lessons from a guy by the name of Lance Schuermann," Doyle said. "If it wasn't for him, I pretty much wouldn't be where I'm at today."
Doyle currently is 5-1 overall with an im-pressive 1.25 earned run average. He has 47 strikeouts and has managed to keep op-ponents to a frigid .198 batting average.
"Pat's extremely consistent," Sturm said. "He's smart in that he understands what he can and cannot do and he also understands what his opponents' weaknesses are."
The 2006 season essentially has been a continuation of the 2005 campaign, in which Doyle racked up a 3-1 record with a 2.07 earned run average. He also struck out 22 batters while keeping his opponents to a .252 batting average.
After graduation from Oakville this spring, Doyle is expected to enroll at Mis-souri State University, where he hopes to help the Bears improve on their 27-20 record with a 12-8 mark in the Missouri Valley Conference.
Yet the decision process to go to Missouri State was exhausting for Pat as coaches from all across the region kept in constant contact with their potential recruit.
"From July 1 to about Nov. 9 was probably the toughest time in my life," Doyle re-called. "I had a really good bond with their (Missouri State) pitching coach, and they have a beautiful new stadium. They're also one of the powerhouses in the Missouri Valley Conference."
Before he trades his Oakville uniform for one in the collegiate ranks, however, Doyle believes that his teammates have some unfinished business to take care of this week in the District No. 3 tournament.
The Tigers were scheduled to face Mehl- ville in the first round of the tournament Monday — after the Call went to press.
"It all begins before you even get on the mound," Doyle explained. "I've been pre-paring for this game against Mehlville since last week. I prepare myself mentally about what pitches I want to use against each one of their players."
Perhaps such preparation and intensity will send the Tigers to even greater heights this season.