Oakville softball team aiming high in '09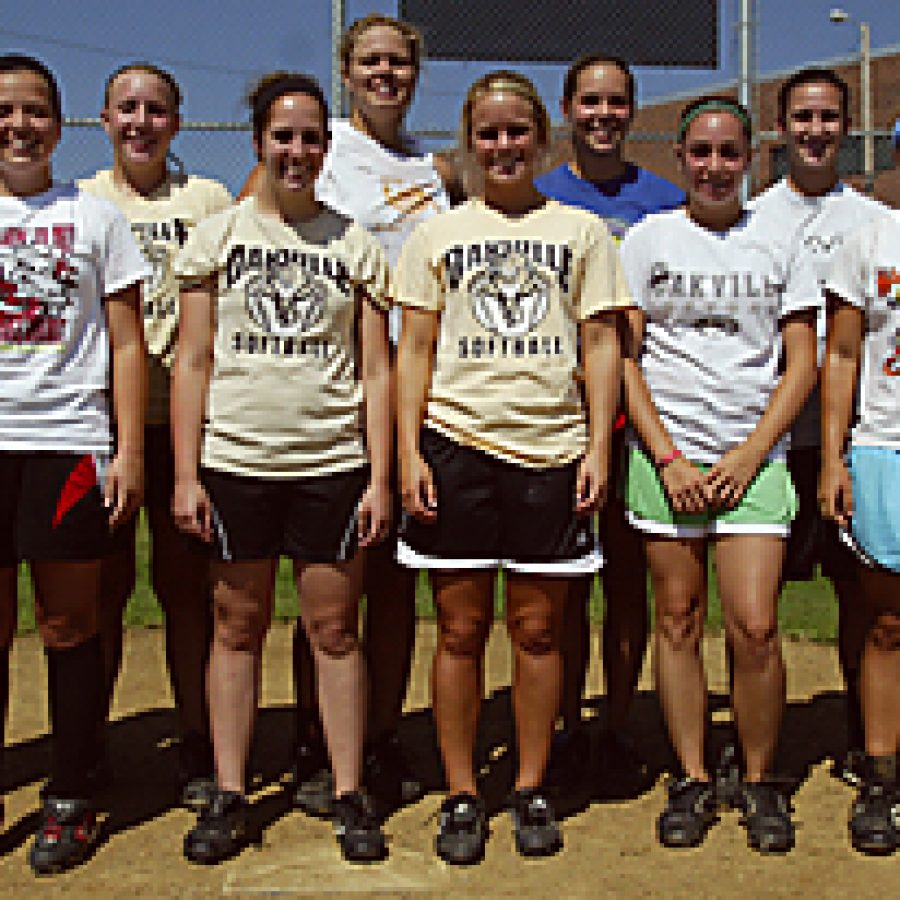 Oakville Senior High School fields one of the best softball programs in the state year in and out and 2009 should be no different for the Tigers.
Oakville finished the 2008 season with a 19-8 record that included a 6-1 mark in the Suburban West Conference. The Tigers won the Class 4, District 2 Tournament as well as the state sectional game before losing in the quarterfinal to Parkway South 8-4 in eight innings.
Tigers head coach Rich Sturm believes his squad once again will be competitive with nearly all of its starters returning.
"We didn't graduate anyone, so that should be a plus," Sturm said. "We return our core nucleus of players and we've got a couple of freshman and sophomores we're looking at. So as always, it's going to be a work in progress."
Senior Maggie Ruckenbrod returns for her fourth and final season on the varsity squad after batting .440 with 19 RBIs. The three-time All-State selection should finish her career as one of the best catchers in the state.
"In my opinion, Maggie's the best defensive catcher in the state," Sturm said. "She's one of the best hitters to come through our high school and is one of the true leaders on this team."
Junior starting pitcher Remy Edwards will take the mound once again as she looks to improve on last season's performance that included a 16-7 record overall with a 1.68 ERA. Edwards batted .363 with 16 RBIs.
"Remy was a really big part of what we did last season and I'm very excited about what she can do for us on the mound," Sturm said. "But I'm also excited about what she can contribute offensively."
At third base will be junior Julie Kernen, who batted .500 with 21 RBIs. The two-time All-State selection led the Tigers with a total of 10 doubles, while also racking up four triples and two home runs.
"Julie's a great run producer that gets her share of extra-base hits," Sturm said. "She's a solid hitter in the middle part of our lineup, and with her being a two-time All-State selection at two different positions, it tells you how versatile she is."
Senior shortstop Marissa Simon is another four-year starter after batting .310 with a total of 7 RBIs last year.
Simon also appeared in 10 games on the mound last season for the Tigers, going 3-0 with a 1.79 ERA.
"Marissa struggled a bit last year, but we look for her to bounce back and raise her batting average," Sturm said. "One thing that's great about Marissa is that she can also pitch for us and was 3-0 last year."
The second-base duties most likely will go to sophomore Lauren Fussell, who batted .324 with 16 RBIs.
"Lauren is just a tremendous athlete who's always calm, cool and collected," Sturm said. "Right now, we're leaning toward putting her at second base."
At first base this season will be junior Chloe Wolf, who batted a solid .265 with three doubles and 3 RBIs.
"Chloe's someone that's made great strides offensively," Sturm said. "She's a player that adds to the depth of our starting lineup and we have a lot of confidence in Chloe."
Senior Mackenzie will take charge of the outfield this season after batting .347 with 19 RBIs.
"Mackenzie had a really solid season last year," Sturm said. "Most of the runs she drove in were during games that were really close. She's just a strong hitter in clutch situations."
Another player that will be competing for a starting outfielder's job is junior Danie Farnham, who saw limited action last season as a sophomore.
Oakville Varsity Softball
Aug. 28 Rockwood Summit Inv. A TBA
Aug. 31-Sept. 3 Conference A TBA
Sept. 8 Hillsboro H 4:15 p.m.
Sept. 9 Incarnate Word A 4:15 p.m.
Sept. 10 Lindbergh H 4:15 p.m.
Sept. 14 Marquette H 4:15 p.m.
Sept. 16 Northwest A 4:15 p.m.
Sept. 18-19 B. Springs S. Tourney A TBA
Sept. 21 Mehlville A 4:15 p.m.
Sept. 23 Parkway South H 4:15 p.m.
Sept. 24 Eureka A 4:15 p.m.
Sept. 25 Kirkwood A 4:15 p.m.
Sept. 28 Lafayette A 4:15 p.m.
Sept. 30 Affton H 4:15 p.m.
Oct. 1 Seckman H 4:15 p.m.
Oct. 2 Fox H 4;15 p.m.
Oct. 6 Cor Jesu A 4:15 p.m.