Oakville American Legion baseball team comes up short against Maryland Heights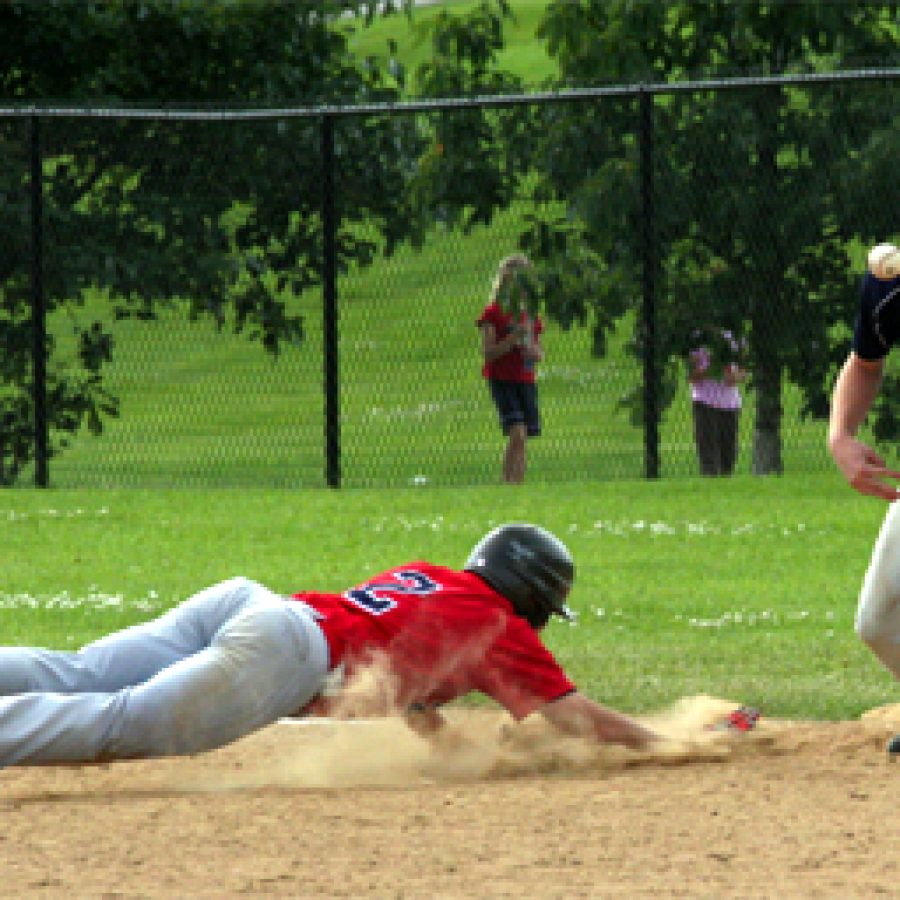 Despite scoring 12 runs, the Oakville American Legion baseball club came up short Sunday afternoon in a 15-12 loss to Maryland Heights.
"I think we didn't get beat, we beat ourselves," Oakville head coach Matt Boyer said. "This is a game of nine innings and you've got to take it one inning at a time and you have to make the plays. When we make those plays, I like our chances. But naturally we didn't do that today."
Oakville starting pitcher Ryan Ernst threw just two innings and gave up seven runs of which three were earned runs. The loss for Ernst was his first of the season.
"Ernst threw the ball decent and he gave us what we needed and we needed some innings from him today," Boyer said. "He came in, got some work in, and they were hitting the ball hard."
Oakville pitcher Kolby King came in to relieve Ernst in the third inning and gave up six runs, two of which were earned over 32⁄3 innings pitched.
"Kolby came in for relief, and he did what we needed in that he came in and threw strikes," Boyer said. "He made the pitches, we just didn't make the plays."
Todd Platz finished the final 21⁄3 innings of the game and gave up a total of two runs with none of those runs being earned.
"Todd came in and basically shut the door," Boyer said. "He kept us in the game and gave us a chance to win."
Jordan Tipton led the Tigers with a two-hit performance that drove in three runs and also generated one sacrifice.
"Tipton goes up there and sometimes tries to do too much," Boyer said. "But when he lets the ball come to him, he hits the ball harder than anybody."
Alex Roedner led Oakville with four hits and one RBI.
"He's not flashy, but he goes up there and does his job," Boyer said. "He usually puts the ball into play, and he'll single and double you all day long."
Grant Steiger's three-hit showing for Oakville drove in a run. He also drew a walk in the loss against Maryland Heights.
"Steiger's one of three sophomores on the team," Boyer said. "He was on vacation for a week, so he was kind of stagnant, but he's getting his swing back. He's hitting the ball pretty solid and is probably one of our best all-around players on the team."
Oakville will be back in action at 5:30 p.m. Friday when it takes on Wentzville at Ballwin Athletic Association.