Mehlville schedule committee urges return to block schedule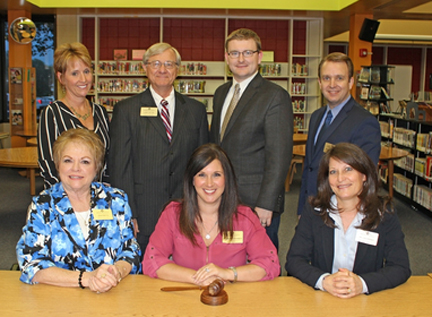 By Gloria Lloyd
Staff Reporter
news3@callnewspapers.com
After more than a year of discussion on how to change the schedule at Oakville and Mehlville high schools, a Mehlville School District committee is recommending that the schools go back to the original block schedule.
The Schedule Review Committee will present its recommendation to the Board of Education when it meets at 6:30 p.m. today — Thursday, Dec. 14 — in the Mehlville High School Library, 3200 Lemay Ferry Road.
The panel previously recommended that the high schools move to a flex schedule, or a combination of block and traditional schedules, next year with a transition year this year which adds one day of a traditional schedule on Mondays, called the "C day."
It was all part of an effort by Superintendent Chris Gaines to add more innovative courses at the district's high schools. With a flexible schedule, students can take courses based more on their learning style than on tradition.
"It's kind of been the sacred cow, and I'm kind of like, why should we have a sacred cow?" Gaines said when he first hinted scheduling changes could be on the horizon.
The changes were suggested in a cost-savings survey as a way to save money, including by current high-school teachers, he said. The district spends nearly $2 million a year more on block schedule at the high schools than it would on a traditional schedule, which requires fewer teachers.
Under block scheduling, students at OHS and MHS attend longer classes than the traditional seven-period school day and alternate their daily schedule, attending each class every other day.
Until this year, students attended four 90-minute classes on A days, then three 90-minute classes and a 90-minute study hall/character-education hybrid class on B days.
With the C day added this year, A and B days still consist of 90-minute blocks, but the C day imitates a more traditional schedule. On Mondays, students attend all their classes in 45-minute periods.
The block schedule was implemented in 1997. Until Gaines came along, it was seen as a "third rail" of Mehlville education and never came up as a possible budget cut even as the elementary schools saw round after round of budget cuts. As part of Gaines' push for continuous improvement, he believes every program should be examined for its academic value, efficiency and cost-effectiveness.
Studies show a block schedule has "no discernible effect on academic achievement," yet it costs more than other schedules, Gaines noted.
Even in the Schedule Review Committee's latest report recommending a return to block, the panel said it found no academic benefits beyond traditional schedules for either block or flex after studying the issue for more than a year.
Committee members changed their minds on flex based on feedback from surveys of students and teachers, according to the committee presentation published in advance of the meeting. Even the slightest change away from block was unpopular with students and parents, who packed the board's listening session last week to let the district's elected officials know how unhappy they are with the schedule.
The new schedule is so disliked that the committee is taking the unprecedented step of recommending that schools return to a full block schedule at the start of the second semester in January, rather than follow the original plan and wait until next school year.
It comes down to a common theme from many of the changes Gaines has proposed since last year, he said: Changing the status quo is difficult.
"It's what you're used to," Gaines said. "People who are on seven-period days are like, 'I don't see how we could do that in a block.' And people on a block are like, 'I don't see how we could do that in a seven-period day.'"
Most teachers did not have the time, training or experience to adapt their lessons to fit a schedule that was mostly block, but with the temporary twist of one traditional day — a schedule that some teachers had never taught or hadn't taught in more than 20 years, students said.
"There are 220 HS teachers, and there were 220 different approaches to C day," board Vice President Jean Pretto said when she took a group of Oakville students aside to talk to them about their concerns.
In the students' perception, teachers either tried to squeeze too much instruction into the day, not enough, made it a test day or, in the most common complaint, assigned students too much homework the night of the C day that was due the next day. Students were not used to having to complete homework for every single class in one night.
"I do homework from the time I get home to the time I go to bed," OHS sophomore Demi Elrod said.
Students weren't used to having so much homework due after a weekend, and they weren't able to plan ahead over the weekend to what homework would be due on Tuesday like they could under full block, they told board members.
In anticipation of the listening session, a parent collected data on her son's hours of homework that he had to complete in advance of Monday's C day classes this year and compared it to his schedule last year.
Some nights he has seven hours of homework, especially Monday night or the days leading up to Monday, since homework is assigned both Thursday and Friday for Monday.
"On a typical Monday night, I cut him off at 11," she said.
At the beginning of the year, officials said teachers and students would get used to the schedule, but it hasn't happened, she added.
Another parent, from Mehlville High, agreed that her daughter has too much homework this year.
"She's staying up till 12:30 most nights," the mother said. And especially with the problem of getting homework finished Monday night, "it starts the week off wrong."
Oakville students told Central Office administrators that getting the classes they need before graduation was much more difficult this year with the change in schedule.
"Classes just vanished into thin air," OHS senior Erica Seidel said. "I've been dealing with this for half a year, and I am very, very done with it."
OHS parent Liz Rauls noted that since so many students couldn't get the classes they wanted through official channels, roughly 50 students formed a group on messaging app GroupMe to trade classes and schedule advice.
"They're helping each other communicate and it's cool, but it's not cool," Rauls said.