Mehlville innovation heads to the four middle schools
Superintendent Chris Gaines getting sworn in as president of The School Superintendents Association.
By Gloria Lloyd
News Editor
glorialloyd@callnewspapers.com
Every middle school in the Mehlville School District will have an innovative "school within a school" starting this fall, extending the problem-based and project-based learning at Mosaic Elementary to four middle school "academies."
Superintendent Chris Gaines originally had the idea for a single middle school academy along the lines of Mosaic in 2017, with a working name of "Academy 255" for the interstate that runs through all of Mehlville.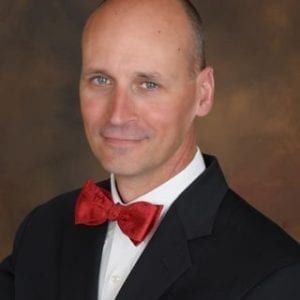 And like the innovative elementary, "it's gonna be a blend of a personalized and problem-based approach… something Mosaic-like," Gaines said.
But Gaines shelved the idea when it became clear that the original idea of a single school wouldn't work beyond the first two years due to space and costs.
But inspired by a standalone academy they visited in Surprise, Arizona, Gaines and Oakville Middle School Principal Mike Salsman devised an alternative plan to house separate academies at Oakville, Bernard, Washington and Buerkle middle schools rather than a single one districtwide.
"I've been joking that Academy 255 is dead and rising in its ashes are four academies, one at each middle school," Gaines said.
The Academy 255 name has been scrapped in favor of personalizing the schools for each school: Spartan Academy, Patriot Academy, Bobcat Academy and Eagle Academy.
And each school could be different based on the school it's inside or the teachers heading those classes.
One of the problems with the idea of Academy 255 was that with a standalone school, students wouldn't have had access to physical education or other electives like band.
To figure out how to bring the school focused on problem-based learning to Mehlville, Gaines and Salsman had to solve their own problem — and they did once they saw it from a different angle.
"We figured it all out," Gaines said. "It's not in one place, it's in all the places… The visit helped us think about it in a different way, and being able to think about it in a different way helped us get to a solution. So it opened our minds."
The four academies should be able to take up to 50 students in each school without costing the district extra money. Since they don't cost extra money, the academies didn't need to be approved by the school board.
They will not be decided by a lottery unless demand exceeds space, Gaines said. Demand is expected to grow in the second year.
The academies will be open to any student, not just those who have attended Mosaic, an elementary school of innovation that opened in 2017 and took its first class of fifth graders this year.
All middle-school students at Mehlville already have 1:1 laptops, as of last year. The style of learning at Mosaic and at the academies uses technology so that teachers can work more one-on-one with students while others work ahead.
This fall, one class of sixth graders will kick off the academies, then expand to seventh grade the next year and then eighth in the third year.
Board member Peggy Hassler said she likes that Mehlville students can now expect innovative learning at their schools earlier and earlier.
"It'll be great that kids learn more and more, and this innovation is going to be pushed into middle school and then high school so they can plan their lives accordingly if they're planners and know they have the opportunity," Hassler said, noting that those opportunities weren't available to her daughter Madi, who graduated from Oakville High School this year.
How it will work
Existing Mehlville middle-school teachers who said they were interested were chosen and have been getting professional development training for the academies since February, Gaines said.
To make the academy possible and so that students could take its classes "so kids have more choices" and can still take electives like band, the middle schools switched to an eight-period day from seven periods last year.
Academy students will spend five of those periods with two teachers per school, who will teach in blocks by combining subjects for two blocks of math and science and three blocks of English and social studies.
The students will still have to take physical education and two electives, which could be band, technology or Project Lead the Way, Gaines said.
Besides the advantage of scaling up, seventh and eighth graders will be brought into the academies last because they pose a few issues with implementation.
First, like elementary teachers, sixth-grade teachers are certified to teach all subjects, which eases the block concept. But seventh- and eighth-grade teachers are certified in subject only, which means some teachers may have to get extra certifications through the state in order to teach in the academy.
Eighth-grade math also complicates the idea, because some students could be taking Algebra 1, while other students take typical eighth-grade math.
And those two subjects would have to be taught in the same classroom by the same teacher to those students.