Mehlville firefighters' union pledges to work with fire board
Spirit of cooperation ushers in new era at fire district
By Mike Anthony
Executive Editor
news1@callnewspapers.com
Above: Mehlville Fire Protection District Capt. Ty Cardona, left, shop steward of Mehlville Local 2665 of the International Association of Fire Fighters, shakes hands with Board of Directors Chairman Aaron Hilmer, signaling a new era of cooperation between the union, the board and district administration.
The new leader of the Mehlville Fire Protection District firefighters' union pledged last week to work with the Board of Directors and the administration, ending a more than 12-year acrimonious relationship between union leadership and the board.
Flanked by roughly 30 MFPD union members, Capt. Ty Cardona told the board Nov. 1 that Mehlville Local 2665 of the International Association of Fire Fighters wants to build "a great relationship" with the board and district administration.
A nearly 18-year district employee, Cardona recently was elected Mehlville Local 2665 shop steward/president.
"… I do not take this responsibility lightly, and it's a privilege. I will do my best with the intention to do the right thing, which sometimes may not be the easy or popular thing to do," he said. "I will hold myself accountable to God and this fire district, which includes the employees, Board of Directors, district administration and district residents.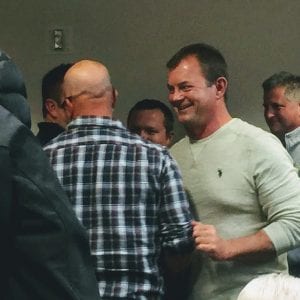 "We, as employees, will from this point forward treat you with the respect that is due to you, the board and administrative staff. We intend to build a friendly working relationship, team and firehouse family. The kind of relationship where we, employer and employee, are always looking out for each other with best intentions. Where it's not an us, the employee, versus you, the employer, but a we the employer and employee versus the daily grind, the calls for service and budgets and everything else that goes along with running a fire district.
"We will continue to be the best employees you could ever think of hiring. We hope to build a great relationship and again make this fire district the place that other fire districts and their employees strive to be like and work for. We look forward to our future together. Thank you," Cardona concluded to a round of applause.
Board Treasurer Bonnie Stegman said, "We look forward to working with you guys, too … Like we've always said, if you have any suggestions or proposals, we're open to hear them. So just bring them forward and we'll talk about them."
Board Chairman Aaron Hilmer said, "Yeah, well thanks, Ty. Like I told you before, in my opinion, what is past, it's under the bridge and it's over. It's not anything I focus on. I don't think it's anything these two (Stegman and Secretary Ed Ryan) focus on …"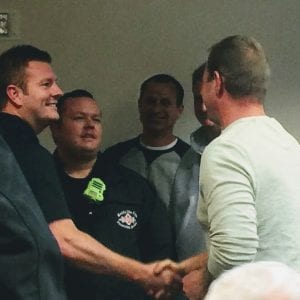 Hilmer and Stegman first were elected to the board in April 2005, after running a reform campaign in which they vowed to eliminate fiscal waste and roll back a 33-cent tax-rate increase, Proposition S, that voters had approved in November 2004. Two years later, Ryan was elected to the board after running a campaign in which he supported the reforms enacted by Hilmer and Stegman.
"… I don't think about the past. I think the one thing we should agree on is that there are people out there who are only interested in dredging up the past, and they're not good for this district," Hilmer said. "They're not good for you guys. They're not good for the community we live in, and I think we should leave them where they're at, and that's in the past and behind. So thanks to all for coming in …"
Ryan said, "… I really consider it a pleasure to be on the board, and whenever I've been out in the district, I've always been greeted by the men in a very friendly fashion. I've always considered safety our No. 1 priority so that every night we all go home safely. And I feel the chief (Brian Hendricks) and his crew have strived to provide some of the best equipment that we can, and there's never been any shortchanging in that.
"And I congratulate you for your professionalism. We have many letters from individuals that have been served by the fire district who have nothing but the highest comments and statements of lives saved because of your knowledge, your abilities. And it's been a thrill to be on the board because all that you've done reflects on Mehlville Fire District and it's been a real pleasure to be a part of that. Thank you very much."
Hilmer began meeting with members of firefighters' union after April election
Hilmer told the Call that he believes the union's announcement ushers in a new era of cooperation and collaboration among employees, the board and the administration. He couldn't be more pleased, noting that the board hasn't made any major changes "that someone could construe as a negative impact on a benefit or a pay thing" in roughly 10 years.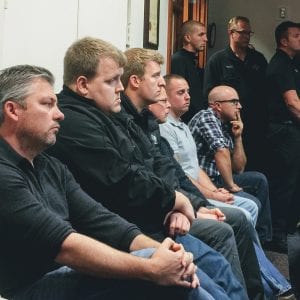 "I mean, that's how long it's been, and we couldn't have been more forthright than when we were elected that we were going to make these changes," Hilmer said. "And that's why we fought so hard to keep getting re-elected to do it."
Since his initial election in 2005, Hilmer was re-elected in 2011, defeating Mike Klund, and again this past April, defeating Jane Kolb.
Hilmer, 43, will have served 18 years on the fire board with the completion of his current six-year term.
In the April 2011 election, firefighters' groups, including then-IAFF Mehlville Local 1889, spent close to $100,000 supporting Klund. In the fall of 2011, Local 1889 merged with Local 2665.
This past April, Kolb and her supporters spent nearly $42,000 in an unsuccessful effort to oust Hilmer.
IAFF 2665, Mehlville Firefighters Local, a nonprofit corporation controlled by the then-Mehlville Local 2665 shop leaders, contributed $38,250 to a firefighters' union political action committee in support of Kolb.
Hilmer noted that one of the reasons he decided to seek a third term on the board "was because I felt there was a silent majority of (employees) who have the same motivations and interests that the board does, and I think this kind of proves that out. It reached a point of critical mass where people stood up and shut down this hate crowd."
After his re-election in April, Hilmer said some of the union employees, including Cardona, approached him for a meeting.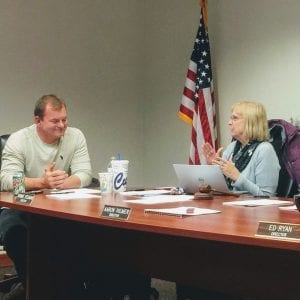 "I met them. I think that that really got things going …," he recalled. "I've got to hand it to them. What was really impressive (was) there were people out there who I guarantee you weren't charter members of the Hilmer and Stegman fan club in '05, and they went around engine house to engine house over the last several months, talking to people about this — kind of setting the record straight on some of the stuff that went down over a decade ago that was totally misconstrued. And I think in the process, I think that we came to where we're at today."
As for Cardona's comments, Hilmer said he believes they were heartfelt and sincere.
"I think the one thing that struck me, if I had to describe what I sensed, was not just Ty, but all the other people who took time out of their lives to come up to a board meeting," he said. "I sensed — the one word was 'sincerity.' I really felt that there was a sincerity to their actions."