Long list of weapons gives football Flyers ample arsenal for another winning year
Lindbergh football team set to face Lafayette Friday night.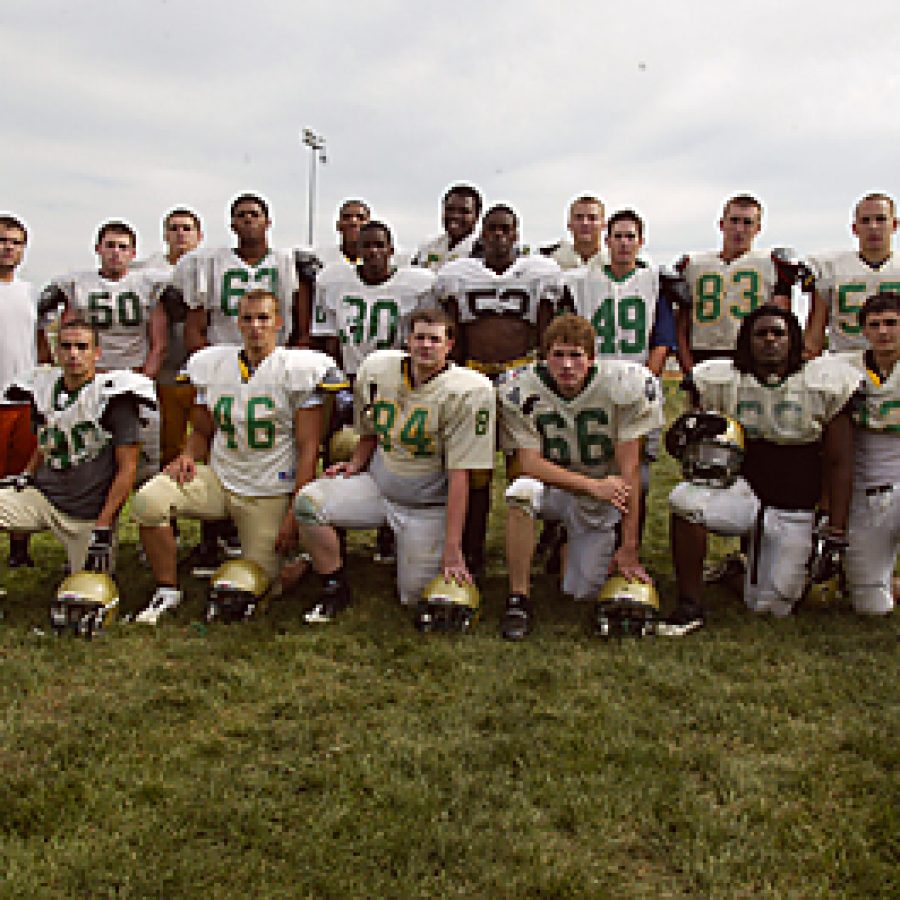 A long list of weapons gives the Lindbergh High School football team a great chance of completing back-to-back 10-win seasons.
Lindbergh is so deep at nearly every position that even the quarterback position, where junior Peter Simpson made his first varsity start Friday night in a 39-7 victory over Oakville High, was a three-man battle when practice started last month.
"We're going to give them all a shot and see what they do. Simpson probably is a little ahead having another year," Flyers head coach Tom Beauchamp said.
Simpson and sophomores Matt Dahle and Jordan Harmon all went under center in preseason practice in an effort to re-place the versatile Eric Schwartz, who graduated in May.
What Lindbergh will get from its quarterback is the biggest question this season.
"Whenever you have a new quarterback, it's going to be a challenge. But that's all part of the game. That's what you have on every level until the pros when they can stay awhile," Beauchamp said.
The Flyers believe their defense is certain to carry them through at least a tough first three weeks.
"We have seven back on defense, so we have to think that's a strong part of our team," Beauchamp said.
Senior Sam Smith is a Second-Team All-State linebacker, and he's ready to call the shots for a hungry defense. He will line up at wide receiver, too, where he proved to be the Flyers' big-play threat last year with an average of more than 23 yards per catch.
Lindbergh's season sacks record holder, senior Tom Robinson, will line up in front of Smith on defense.
Junior Grant Krueger is expected to anchor the defensive backfield for the Flyers. Smith, Robinson and Krueger were the team's top tacklers a season ago.
Lindbergh lost a lot of offensive production to graduation, but is still loaded.
Seniors Adam Schremp, Will Spitzfaden and Smith were Lindbergh's top receivers last season, combining for more than 800 yards and seven touchdowns. Schremp led Lindbergh in receptions, receiving yards and receiving touchdowns. Spitzfaden is the third in a long line of brothers who have flourished under Beauchamp.
"Those Spitzfadens are good, hard-working kids," Beauchamp said.
Flying out of the backfield will again be senior Tim Hamm-Bey.
"Bey is tough and fast," Beauchamp said.
Hamm-Bey is also expected to start at defensive back and spark the return game as he did last season.
On the line are the experienced Robinson, senior center Ryan Trudzinski and senior Tom Million.
"He was a stalwart for us on both lines last year," Beauchamp said of Million.
Lindbergh will need solid play out of its linemen early and often as it faces Oakville, Lafayette and Fox in its first three games.
"We jump right out of the frying pan into the fire," Beauchamp said. "It's a tough beginning to the year, but we'll find out what kind of players we have."
It will be a valuable test for the Flyers who will definitely go through another tough stretch later in district play.
De Smet Jesuit replaces Ritenour in the district that also includes Mehlville and St. Louis University High.
Lindbergh Varsity Football
Sept. 3 Lafayette A 7 p.m.
Sept. 10 Fox H 7 p.m.
Sept. 17 Parkway South H 7 p.m.
Sept. 24 Marquette A 7 p.m.
Oct. 1 Eureka A 7 p.m.
Oct. 8 Northwest H 7 p.m.
Oct. 15 De Smet A 7 p.m.
Oct. 22 Mehlville A 7 p.m.
Oct 29 SLUH H 7 p.m.