A Lindbergh Schools teacher at Crestwood Elementary was surprised Friday with the news that he is the 2021 Missouri Teacher of the Year.
Darrion Cockrell, who is better known as "Mr. DC" to his physical-education students at Crestwood Elementary, interviewed for the state's top teacher honor Tuesday along with six other finalists from across the state. He will now compete for National Teacher of the Year, which will be announced in May.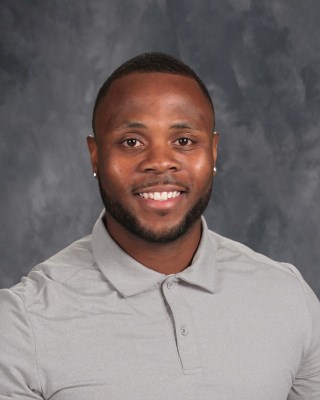 Lindbergh Schools students, staff, administrators and Board of Education members surprised Mr. DC at 1:30 p.m. Friday with the news and an outdoor parade and celebration. This is breaking news. Look for more coverage of the celebration on callnewspapers.com. 
The Missouri Department of Elementary and Secondary Education said a team of teachers, business leaders and education organization officials made the decision after the interview process.
The Teacher of the Year program spotlights the positive impact excellent teachers have on their students. The finalists were chosen from 15 semifinalists narrowed down from the Missouri Regional Teachers of the Year.
Cockrell will be honored by DESE during a virtual banquet and celebration Oct. 15.
This is the second time a Lindbergh teacher has won the state honor. Tara (Shaw) Sparks was the state honoree in 2004. She currently serves as Lindbergh's chief academic officer, an assistant superintendent position.
About Mr. DC:
Cockrell has taught physical education at Crestwood Elementary school since 2015. During his five years at Crestwood, the district said Cockrell continues to create relationships with his students to show the importance of staying active and provide a positive experience with exercise.
"Mr. DC is a role model for his students, and he is an outstanding representative for Lindbergh teachers districtwide," said Superintendent Tony Lake in a news release. "He is someone who is always willing to lend a helping hand, inspires his fellow teachers, and motivates everyone at Crestwood. Most importantly, he is an amazing teacher who cares about his students and loves what he does."
Outside of the classroom, Cockrell is an active member of Dads Club and created a weekly after hours open gym, Crestwood's Diversity Committee, and serves as the Read, Right, Run Coordinator at Crestwood Elementary School. He also serves as a strategic planning team member and Wellbeing committee for Lindbergh Schools.
Lindbergh has frequently had teachers named as finalists for state Teacher of the Year, and won the top honor once before.
Cockrell is the district's sixth Teacher of the Year finalist since 2011.
That year, Lindbergh High School Principal Eric Cochran, then an LHS social studies teacher, was a finalist. An English teacher from LHS, Katie Arens, was a finalist in 2016. Truman Middle School media specialist Megan Vallis was named a finalist in 2017. Melissa Nussbaum of Truman and Kim Dailey, LHS Special School District, were both named finalists in 2015.