Hard work in off-season pays dividends for Lindbergh goalkeeper Hayley Fox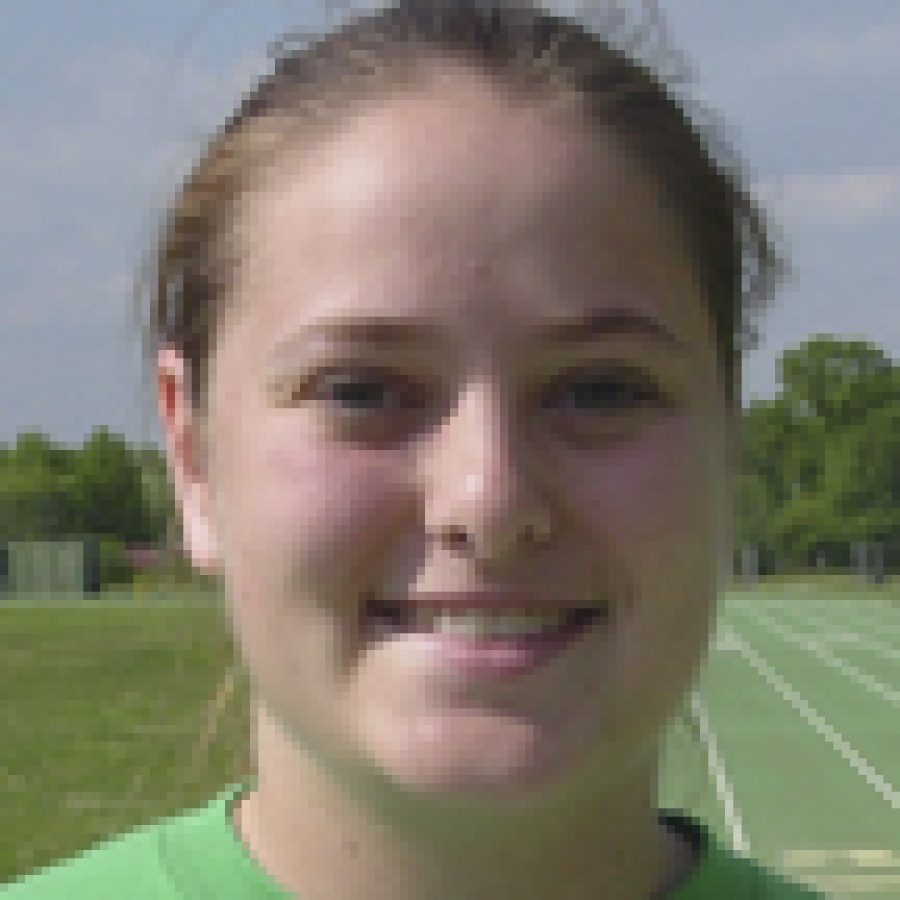 Strong goaltending is the foundation of any good soccer team, and Lindbergh High School has one of the area's best goalkeepers — Hayley Fox.
Fox is 11-3-6 this season with a 0.43 goals-against average and 12 shutouts. That currently ranks her fourth in the metro area among goalkeepers with more than 1,000 minutes played. In fact, Fox leads the metro area in minutes played with 1,679, and her shutout total also is tops in the area.
Lindbergh head coach Mark Giesing will be the first to tell anyone that Fox, a senior, earned such honors through hard work in the off-season.
"I think that between her sophomore and junior years, she really began to look beyond high school and really devoted herself in the off-season," Giesing told the Call. "She worked on some areas of her game that were weak, and that's resulted in better play."
As a freshman, Fox split time with then-senior Claire Ward and amassed an overall record of 2-9 with a 1.23 goals-against average that included three shutouts.
She then put together a record of 13-10-1 during her sophomore season with seven shutouts and a 1.31 goals-against average.
But as Giesing noted, Fox's junior season is what really redefined her career at Lindbergh as she went 13-7 overall with a 0.99 goals-against average and nine shutouts.
Fox acknowledges that her hard work through a goalkeeping trainer has paid huge dividends.
"I've been going to a goalie trainer for the last couple of years," Fox said. "I feel as if I can do the best that I can in every game that I play."
Fox began playing soccer in first grade at Seven Holy Founders Catholic Church and began taking on goalkeeping duties by fourth grade. She's also an accomplished basketball player at Lindbergh, averaging 3.2 points and 1.9 rebounds a game along with 18 assists and 15 steals as a guard this past season.
After graduation from Lindbergh, Fox is slated to head to St. Louis Community College-Meramec where she hopes to help the Magic improve on last season's 7-7-3 record. She hopes that Meramec not only will help get her general education courses out of the way, but also be a factor in her future as a soccer player.
"I felt as if I wasn't ready for a four-year college," Fox explained. "At Meramec I can get my general education classes out of the way because I'm unsure about exactly what I want to do in the future."
For the time being, Fox and the Flyers are looking to advance out of the district tournament next week with the likes of Cor Jesu, Nerinx Hall, Notre Dame and Webster Groves being the biggest obstacles to making any run in the playoffs this season.
Giesing believes that if the Flyers are to take a run at Lindbergh's second-place finish at the 2000 state championships, solid goaltending will be the key to success.
"Lindbergh has always been able to pride itself on strong goaltending," Giesing said. "If we're to make a run in the playoffs, we're going to need good goaltending, and right now, Hayley really seems to be peaking."