Gardner a leader on the ice in practice, during games for Oakville hockey team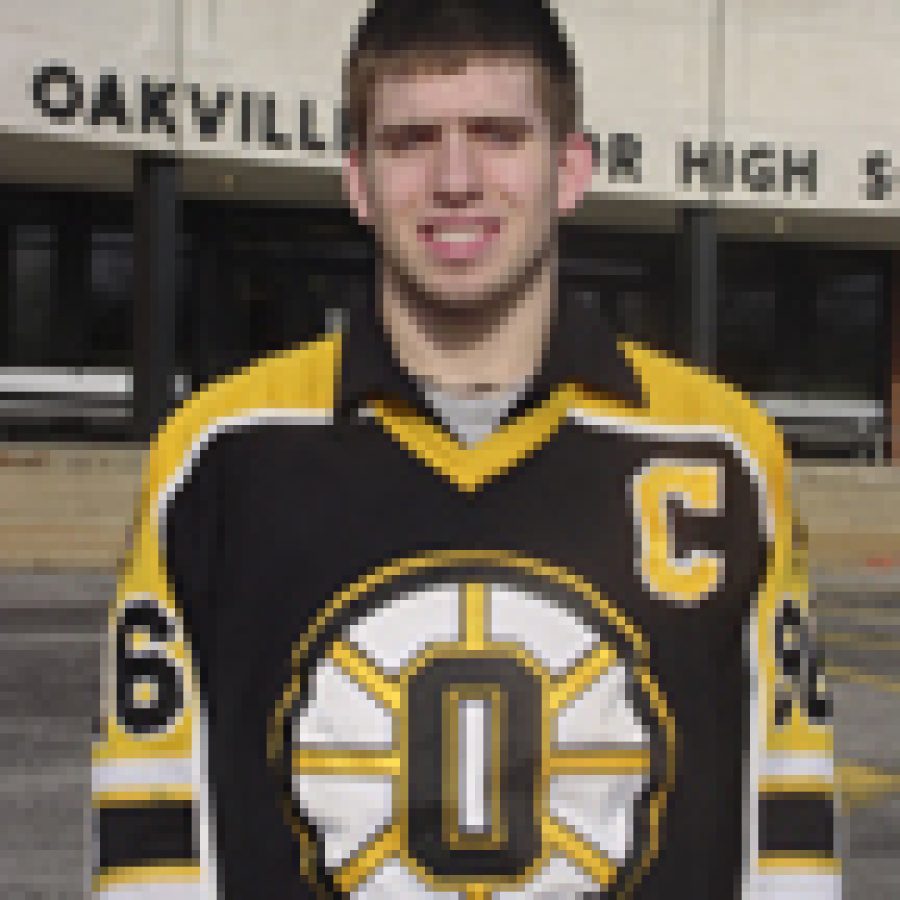 In a game where players have refined their positions since their first moments of strapping on a pair of hockey skates, Oakville's Tim Gardner is a throwback player of the past.
The senior forward for the Tigers' hockey team is known to be a vocal leader on the ice during both games and practice.
He's also known for doing whatever it takes for his team to win as he moved from defenseman to forward during the playoffs last season to give the Tigers a bigger presence near the net.
"Up until the playoffs last year, Tim had played defense, but we decided to move him to forward and he didn't question it one bit," Oakville head coach Ben Lamperti told the Call. "He always does what's best for the team."
Gardner will be the first one to admit that the transition from defenseman to forward was somewhat difficult despite playing forward when he was younger for the Affton Americans.
"It (the move from defense to forward) was weird because I hadn't played forward for a long time," Gardner told the Call. "Once I felt used to playing forward, it actually felt pretty good."
The move from defense to forward paid huge dividends for the Tigers as Gardner scored 23 goals and 27 assists with seven game-winning goals and two hat tricks for the 2005-2006 season. Gardner's 23 goals scored this season topped his 22 goals scored over the past three seasons as a Tiger.
Despite being an offensive force for the Tigers, Gardner is most known for being a leader during games and in practice.
"At practice, he's the type of guy that will start yelling at the guys to stay focused and to pick up the pace," Lamperti said.
Gardner began playing hockey around the age of 4 and then joined the Affton Americans when he was 7. He attributes his love of hockey to watching his brother Gary play when he was younger. Gary now plays hockey at Lindenwood University.
"My brother Gary was the first one to play hockey in our family," Gardner said. "He was definitely the biggest influence in me getting into hockey."
When he was younger, Tim Gardner always dreamed of winning the state championship in hockey. But even up to the start of this season, he thought it was nothing more than a dream.
"I never really thought that it would happen," Gardner said. "Even this year, it was more of a dream than a reality. But when our team started coming together, I realized that we could beat CBC."
When Gardner scored Oakville's second goal against CBC in the championship game of the Mid-States High School Club Ice Hockey Association's Challenge Cup tournament, he then knew deep down that his Tigers had a chance to take down the Cadets.
"It was like a whirlwind in my mind," he said about his game-tying goal against CBC. "We went up 1-0, and then they scored two goals, so I knew that we had our work cut out for us. After that goal (that I scored), I knew we had a chance if we kept digging away at it."
The Tigers went on to defeat CBC 3-2 to capture the state hockey title, snapping the Cadets' 132-game winning streak.
After graduation, he hopes to attend Lindenwood to play with his brother Gary.